Recruiting spotlight: Antonio Langham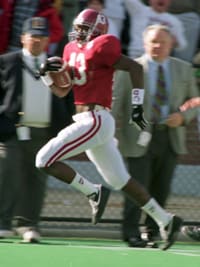 TUSCALOOSA | If you're from Town Creek and are talented enough to play major college football, you go to the University of Alabama. That's just the way it is.
There's a lineage of football players from the hamlet in the northwestern part of the state that leads directly to Tuscaloosa.
Part 1: Assembly required
Chris Goode, Clyde Goode, Kerry Goode and Pierre Goode all played football at Hazlewood High School and then for the Crimson Tide.
When it came time for their cousin, Antonio Langham, to make a pick, it was only natural that he follow them down Highway 43 to Tuscaloosa. Only it almost didn't happen.
"The recruiting process for me wasn't very hard," Langham said. "I had four cousins already there. But Alabama really wasn't recruiting me at the time Coach (Bill) Curry was there."
Curry left after the 1989 season to take the head coaching job at Kentucky. A door opened for Langham, a future first-round draft pick of the Cleveland Browns of the National Football League.
"Coach (Gene) Stallings came in and Coach Larry Kirksey and Woody McCorvey and then Bill Oliver came along and they started to recruit me," Langham said. "At the time Coach Curry was there, Auburn was actually the front-runner because they were recruiting me pretty hard. When Coach Stallings and his coaching staff came in, that all changed."
Langham was a two-time all-state selection (1988-89) at Hazlewood, playing wide receiver, running back and free safety. But to the Curry staff, Langham wasn't high on the priority list.
"I was somewhat shocked," Langham said. "I couldn't figure out what was going on or what the problem was. At the time Walter Lewis was working at the university. He was dating a lady from Town Creek at the time. Actually, she was my cousin. So he would come there to visit and he would go to some games, and he actually saw me play a couple of times. He went back and he said, 'Look, there is a kid at Town Creek at Hazlewood High School. You don't coach instincts for the football like this. This is just natural, God-given instincts to go after the football.'
"But I guess they felt at the time, even though he was telling them all this, I guess they didn't believe I could actually play big-time football. So they really didn't pull the trigger and recruit me like they should have."
He was a 5-foot-10, 165-pound athlete with a natural ability to play the ball in the air.
Auburn and Miami recruited him vigorously, and others like Tennessee and Notre Dame were interested, but when Alabama offered everyone knew it was over.
"I almost wanted to tell Alabama, 'Let's just forget my official visit,'" Langham said. "You can give that official visit to someone else.
"Even Coach (Pat) Dye knew it. I went in on my official visit to Auburn and was in Coach Dye's office for maybe 10 minutes and that was the end of our meeting. Later on down the road I ran into Coach Dye and I asked him, 'Coach, why did you only give me 10 minutes in your office on my official visit?' He said, 'I really gave you too long. After five minutes I could look at your face and in your eyes and tell you were going to Alabama. How could I match up when you were raised in a household where every kid in the house went to Alabama? Really, did I have a chance, son?' I was like, 'Well, Coach, I guess you have a point there.'"
Reach Aaron Suttles at aaron.suttles@tuscaloosanews.com or at 205-722-0229.