How Jalen Hurts' progression is "night and day" from last year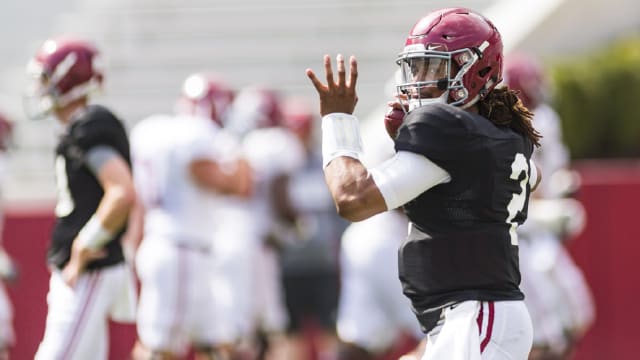 TUSCALOOSA, Ala. — Alabama wide receiver Calvin Ridley didn't say what would be different with the Crimson Tide's offense during A-Day on Saturday, just that there would be "lots of little differences."
More: Depth Chart Projections | Highlights from Tuesday
Popular: Alabama's 5 biggest position battles heading into A-Day
The star receiver was more blunt when describing the difference in starting quarterback Jalen Hurts.
"I think it's night and day. He's gotten so much better," Ridley said. "He sits in there and sometimes when I'm not in, and I look and he's stepping up, making good throws. So, he's gotten a lot better."
Saturday will be the first time the public will be able to judge Hurts' progression for itself. So far, early indications point to better decision making from the SEC Player of the Year heading into his second season.
Hurts completed 62.8 percent of his passes for 2,780 yards and 23 touchdowns with nine interceptions last season. However, he was far better known for his ability on the ground, rushing for 954 yards and a team-high 13 touchdowns.
This spring, teammates have noticed more patience from the starting quarterback in the passing game.
* Sunday Pulpit: Hurts vs. Stidham Iron Bowl could be a must-see matchup
"I just see him step up, when the pocket breaks down, he just steps into it and makes a good throw," Ridley said. "And sometimes he used to when the pocket breaks down, he would take off. And now he's getting a lot better at it. It's going to help us a lot."
According to Alabama head coach Nick Saban, Hurts completed more than 50 percent of his passes and threw for four touchdowns during Alabama's first scrimmage. Saban didn't discuss his quarterback's performance directly following the second scrimmage but did state that "the balance on offense was good."
* Things are slowing down for fast-learning Jalen Hurts at Alabama
Of course, Hurts' improvements go further than his performance on the field. With the departure of Cooper Bateman and David Cornwell from last year's team, Hurts returns the oldest of Alabama's three quarterbacks.
"He's really stepped up as a leader," Alabama offensive lineman Ross Pierschbacher said earlier this month. "Vocally, he's become more of a leader even in this offseason just leading us in the huddle or the sideline telling us the direction that we want to go."
There has never been any doubting Hurts' physical skills. During Alabama's spring workouts, he recorded a 4.48 time in the 40-yard dash, according to Al.com. The 6-foot-2, 210-pounder also had a 315-pound power clean, bench pressed 335 pounds and squatted 455 pounds.
* Sunday Pulpit: What to make of the enigma that is Jalen Hurts
Combine that with an added maturity and better decision making on the field, and it's easy to see what Alabama is so excited about heading into next season.
"Like I've said, the maturation process, the being mature part, the experience part of it has helped a lot this spring," Hurts said earlier in camp. "Slowing the game down, seeing things faster. So I think the whole growth, physically that helps, the experience part helps, and just being a student of the game, learning what I can, being coachable, taking coaching and all that."
Alabama will hold its A-Day Saturday at 2 p.m. inside of Bryant-Denny Stadium. The game will be televised on ESPN.