'Fresh' Josh Jacobs discusses coming back from injury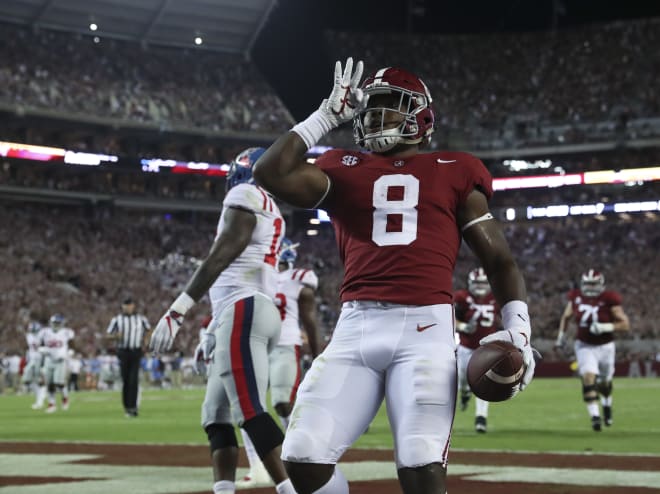 Sign Up For A Premium Subscription
* Humble Levi Wallace doing his best to soak up success at Alabama
* Henderson: Alabama Hot 11 going into Week 6
* BONE: 10 recruiting thoughts
TUSCALOOSA, Ala. — Josh Jacobs was excited. The Alabama running back had reason to be, too. After a breakout freshman year that saw him rush for 567 yards and four touchdowns, this season was set up to be his statement year.

Jacobs came into the year with a new number, switching to the No. 8 he wore in high school. He had a new role too, establishing himself as the Crimson Tide's most dangerous option on passes out of the backfield.
With fellow returning starters Bo Scarbrough and Damien Harris both out for most of the spring, Jacobs saw plenty of reps and started with the first-team offense during A-Day. Things were shaping up pretty well for the former three-star prospect who was beginning to make a name for himself due to his sharp cuts and dynamism on the field.
Although, during preseason camp momentum cut in a different direction.
"It happened actually the last play of practice," Jacobs said. "I was running and basically I caught the ball and I was running down the sidelines. I decided to plant, and it just snapped."
The play resulted in a hamstring injury that kept Jacobs out of both of Alabama's preseason scrimmages as well as its first two games this season. That meant watching from the sidelines as the rest of Alabama's backs continued to rack up reps and experience.
"Well it's always hard watching," Jacobs said. "It's different like watching and knowing you can't do nothing than watching and waiting your turn. So I was kind of basically just trying to make sure I didn't fall behind. Stay up on my plays and all of that."
Jacobs made his season debut against Colorado State, carrying the ball just one time for 6 yards. The next week he ran the ball four times for 28 yards in a blowout of Vanderbilt. Now describing himself as "fresh," the 5-foot-10, 212-pound running back is coming off a season-best performance against Ole Miss. Jacobs ran for 51 yards on two carries last week, pulling in two receptions for 36 yards, including an 18-yard touchdown from quarterback Jalen Hurts.
Saturday's touchdown came on a play-action pass as Jacobs faked like he took a handoff from Hurts before losing defenders at the line of scrimmage. Once he was able to do that, the rest was easy. After breaking free from the shuffle Jacobs found himself wide open, allowing Hurts to hit him at the 3-yard line for an easy score.
"I actually kind of knew [I'd be that open] because we repped it the whole week, and throughout the whole week, it was basically open," Jacobs said.
Through three games this season, Jacobs has 85 yards on seven carries, a team-leading 12.14 yards per attempt. While that's a nice start, the sophomore will most likely still see a drop from last year's total as he shares a backfield with Scarbrough and Harris as well as talented freshmen Najee Harris and Brian Robinson. Jacobs said he is excited about the extra competition and said it only allows each back to push each other to their highest potential.
After all, the limited carries also come as somewhat of a perk, especially to a running back coming back off of an injury.
"I don't think I've had a bruise or anything yet," Jacobs said with a smile. "It's been good to me."