Humble Levi Wallace doing his best to soak up success at Alabama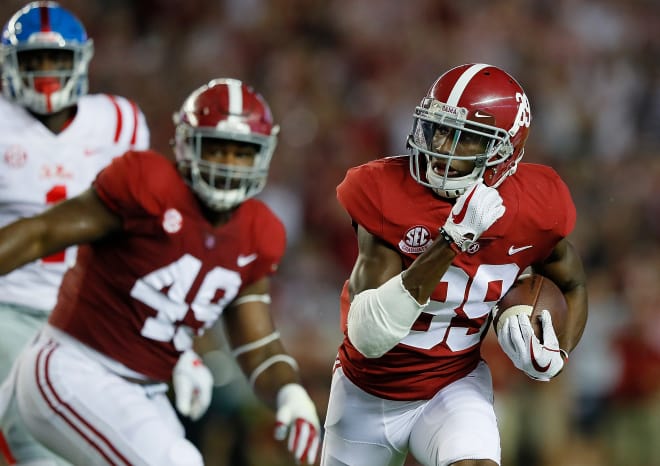 TUSCALOOSA, Ala. — Levi Wallace couldn't believe he caught it, but with the way things have been going lately, the Alabama cornerback shouldn't have been surprised.

Dropping back into coverage against Ole Miss wide receiver DaMarkus Lodge last Saturday, Wallace got a jump on an overthrown slant pass from Shea Patterson at the Ole Miss 35-yard line. After juggling the ball, Wallace looked down surprised to see it still in his hands.
The rest of his touchdown return is a bit of a blur.
"I really couldn't tell you, it went that fast," Wallace said. "I just kind of threw my hand out there to see what's going to happen. I looked down and I just had the ball and just tried to make a play on it.
"Like I said, I thought I dropped it. I think he must have thought I dropped it. I looked up and I was running and I was like, 'did I drop that?' So, I really wasn't sure. I just ran into the end zone."
The interception was one of two on the night for Wallace and helped him earn SEC Defensive Player of the Week honors on Monday. The 6-foot, 183-pound cornerback now has three interceptions on the year, tying him with Texas A&M's Armani Watts and Kentucky's Mike Edwards for most in the SEC. Wallace's six pass deflections are second to only Auburn's Carlton Davis.
That's not too bad for a former walk-on.
Wallace has done a lot since earning his scholarship during last season's preseason camp. After recording his first career interception during this year's season-opener against Florida State, he hasn't looked back. He made his first career start the following week against Fresno State and recorded a career-high four pass breakups in Week 3 against Colorado State.
While the casual fan might not have known his name a few months ago, Wallace has now earned the nickname "Levi Wallace Island" by the Alabama faithful.
Wallace might be becoming more of a household name, but the star cornerback will be the last one to sing his own praises. Playing in a position generally defined by outward confidence and trash talking on the field, Wallace's softspoken nature breaks the mold of a typical lock-down cornerback. In fact, paired on the opposite side of equally-modest senior Anthony Averett, Wallace said the rest of Alabama's secondary sometimes jokes with its cornerbacks about being too quiet.
"Minkah (Fitzpatrick)'s kind of the complete opposite of us," Wallace said. "On the sideline, he's like, 'Levi, you and Ant are just so calm all the time.' And he's jumping up and down, him and Ronnie. I don't know, I guess it's just how we are."
While Wallace's silent confidence is generally kept to himself, his teammates have been quick to brag on him this season. Linebacker Shaun Dion Hamilton went up to Wallace following his second interception and accurately predicted that the cornerback would win SEC Defensive Player of the Week. Of course, that kind of performance is now expected from the former walk-on.
"I've been watching Levi since I got here," linebacker Anferenee Jennings said. "The three years I've been here he's been doing the same stuff in practice. He finally got his opportunity and he's doing his best."
Wallace said he found out about earning the SEC honor right before his Monday workout. Like most of his success this season, the award is appreciated but hasn't fully sunk in. That's just the way things have gone for the senior this season.

It might be a wild ride, but Wallace doesn't plan on slowing down anytime soon.
"I really don't look back at it," Wallace said of his progression. "My mom says I'm sometimes too casual about things. I just try to move forward and focus on the next challenge ahead of me."