Alexander inspires Oxford despite injury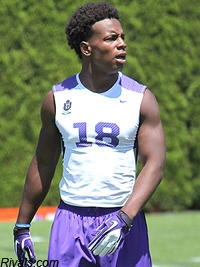 OXFORD | Football is a funny game. In an instant, a player can experience the ultimate high, or in the case of Oxford linebacker
Kwon Alexander
, experience the ultimate low.
In the fourth quarter of Oxford's 40-24 win over Austin earlier this year, Alexander made a plant his foot and changed direction. Then he heard the unimaginable. With most of his weight on his left leg, he stuck his right toe in the ground and felt a pop. It didn't take long to realize his ACL was torn.
"It was a plant cut," Oxford head coach John Grass said. "You watch it on tape, and you think there's no way he tore his ACL. It was just a weird, freak accident, and you just never know."
The senior leader, considered one of the best players in the state, lost his final year of high school football.
Alexander, went in for surgery the following week. Even though he's expected to make a full recovery, it hasn't been easy to cope with the idea of not being able to play football again this year.
"He was just real depressed," Grass said. "It's depressing when you know you've lost your senior year. This team meant so much to him, and he meant so much to us. It's a tough pill to swallow. I think he finally realized when he had surgery, and it kind of put a finality to it. That was pretty tough."
The injury was also a huge blow for the team with aspirations of a state title. Without their leader on defense, the Yellow Jackets lost the very next week on the road at Auburn High.
"It was emotionally bad, but we still went out and played a good game against Auburn that next game," sophomore running back Racean Thomas said. "It just didn't feel the same without him. It was like a missing part."
Although it was just days after his surgery and he was still in quite a bit of pain, Alexander made the trip to Auburn with his teammates, giving them a little extra motivation.
"I think it helped us out a lot as far as coming out with a bang and scoring real quick, but we just didn't have enough depth after the half to stay with them in a shootout," senior athlete Trae Elston said. "I talk to him like everyday and tell him, just stay in the game. It will help our team out if he stays with us and motivates the
team. He comes to practice and all that. I know it's hard on him sometimes, but he's taking it well."
Since the injury, Alexander has been serving as a player coach for Oxford, breaking down film and helping with the linebackers. His presence has given his teammates something extra to play for.
"In practice, he helps out," Grass said. "He's been doing really well with the player coach role, and that's helping him on film study and stuff like that. That's also lifted his spirits a little bit."
Some of the players have started writing Alexander's number on their gear, bringing him out on the field with them in spirit. Whatever they're doing is working.
After the loss to Auburn, Oxford has ripped off five-straight victories, including a 44-8 win over Central-Phenix City on Friday night, finishing the season 9-1 and 7-0 in region play.
"We're adapting to playing without him," Grass said. "You're not going to replace him, but I think you learn to play without him. We've been able to do that and improve on that, so hopefully in the playoffs we'll be able to compensate for that and continue to get better."
The Yellow Jackets open the playoffs with a home game against Shades Valley on Friday night, and although Alexander won't be able to contribute on the field, he will play his part on the sidelines as his team goes for a state title.
Reach Greg Ostendorf at greg@tidesports.com.