Why the key to stopping FSU is keeping Deondre Francois on the ground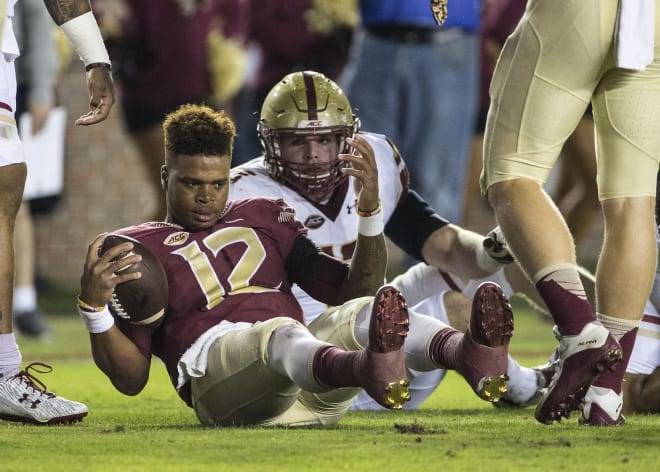 TUSCALOOSA, Ala. — Shaun Dion Hamilton has seen plenty of tape on Deondre Francois. He's seen the Florida State quarterback take punishing blow after blow only to get right up and deliver touchdown after touchdown.
Saturday, Hamilton and the rest of Alabama's defense will look to change that.
"He's a baller. That's the first thing I think about with him," Hamilton said. "Relentless competitor. You don't see too many quarterbacks who get killed and throw a 50- or 60-yard touchdown pass and get up like nothing happened to him. He's a guy who we've really got to try to keep him in contain. We've got our hands full."
Read: Tuesday Scoop | Family, Florida State on Jalen Hurts' mind heading into opener
Francois burst onto the scene last year, passing for 3,350 yards and 20 touchdowns with seven interceptions. While he wasn't prone to running much, the 6-foot-2, 205-pound quarterback flashed glimpses of his 4.5 speed, rushing for 196 yards and five scores on the ground.
So how does Alabama plan to limit the talented sophomore when it meets up with him Saturday night?
"Just like any other QB that we face in the SEC or anybody that we play," cornerback Anthony Averett said last week. "Just got to keep him under control, keep him in the pocket and can't let him do too much. Push that pocket."
Well, that and by keeping his backside firmly planted on the new turf inside Mercedes-Benz Stadium. Despite his success, Francois took a beating last season. Suffering from inconsistent play on the offensive line, Florida State allowed 36 sacks last year, tied for No. 108 in the nation in protecting the quarterback.
Don't miss: In-state athlete high on Alabama after return visit
Although, getting to Francois and bringing him down are two different things. The shifty quarterback has shown an ability to slip past tackles, making opponents pay after they overcommit on the pass rush.
"Being able to kind of wrap up and make sure you actually take the opponent down is probably the No. 1 thing," Alabama linebacker Rashaan Evans said. "It's one thing to get to the guy and rattle him and all that stuff, but if you can't get him down."
Alabama has done pretty well at bringing opponents down in recent years, leading the nation in sacks the past two seasons. While the Tide's top four sacks leaders are missing from last season, it still returns plenty of firepower in Evans along with fellow linebackers Christian Miller, Anfernee Jennings and Terrell Hall. Meanwhile, the Seminoles figure to start an offensive line with a combined 41 career starts between its five members.
Still, Alabama isn't taking anything for granted.
"I feel like you should never underestimate your opponent," Evans said last week. "A lot of times they will probably say that to get you off your game. I treat any opponent the same, regardless of what their division is. We could be playing a high school team, and I would still prepare for them like I did for Clemson. To be honest with you, I'm excited for this game."
Alabama knows the dangers of giving a mobile quarterback like Francois time to work. The Tide was gashed by a similar dual-threat quarterback its last time on the field, as Clemson's Deshaun Watson passed for 420 yards and three touchdowns while adding 43 yards and another score on the ground during the national championship game.
Fortunately for Alabama, it too has a multi-threat quarterback at its disposal in Jalen Hurts. While there's no hitting the reigning SEC Offensive Player of the Year during practice, Hurts has still provided the Tide's defense a preview of what to expect over the preseason.
"We see a guy similar to him in Jalen every day at practice," Alabama defensive tackle Da'Ron Payne said. "Jalen likes to run, so I think we can take that into the game and use that."
No. 1 Alabama will play Florida State on Saturday at 7 p.m. CT. The game will be televised on ABC.