Three things we've learned about Alabama Football going into Media Days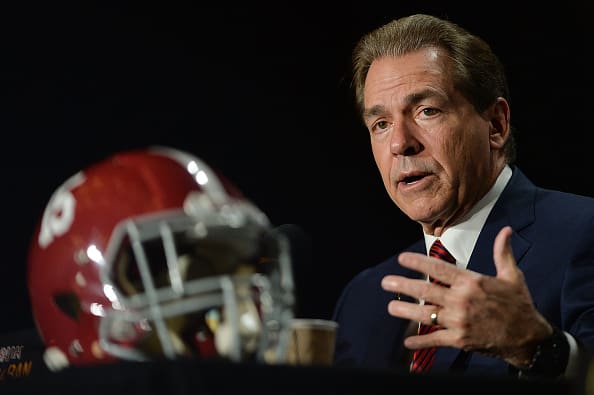 Three things we've learned 
1. The #ATLShowdown is already sold out
The Chick-fil-A Kick Off Game aka the #ATLShowdown, the biggest opener in college football, whatever you want to call it is sold out already. Alabama vs. Florida State will take place on September 2 in Atlanta, Georgia at the brand new Mercedes Benz Dome. Peach Bowl President Garry Stokan and his team are calling this game the GOAT, greatest opener of all-time.
Alabama will likely be ranked No. 1 or No. 2 in the early season preseason rankings finishing last season 14-1, Florida State is coming off a 10-3 season beating Michigan 33-32 in the Orange Bowl and return arguably the top defense in college football into the 2017 season. Alabama Head Coach Nick Saban is 10-0 is season openers, Florida State Head Coach Jimbo Fisher is 7-0 in season openers, but the difference could be that Saban has never lost to a former assistant coach turned head coach, in-fact Saban is 10-0 against former assistant coaches.
Fisher was Saban's offensive coordinator when Saban was the head man at LSU. VegasInsider.com has Alabama as a -6 point favorite and while the game is sold out, the TV ratings should be prime with the game airing at 7 PM CT on ABC.
* Don't Miss: Alabama vs. Florida State early game preview
* Henderson predicts Alabama big in opener
2. Alabama is already favored big against conference opponents
Looking ahead at Alabama's schedule, the Crimson Tide who is an incredible 36-4 over the last five years has already opened as big favorites against conference opponents. Alabama takes on Texas A&M at Kyle Field on October 7, the Crimson Tide is a 12 1/2 point favorite, A&M has not beaten Alabama since the 2012 season. Alabama then takes on Arkansas in Tuscaloosa on October 14 in a game where Alabama is favored by 28 points, the Razorbacks have not beaten Alabama since 2006.
Then on October 21 Alabama hosts rival Tennessee and the oddsmakers have favored Alabama by 24 1/2 points which might seem high, but then again, Alabama rolled the Volunteers last year 49-10 in Knoxville and have beaten Tennessee every year since Saban has arrived. Alabama is favored over LSU by 12 points and the last three matchups between these two have been somewhat tight, in 2016 Alabama won 10-0, in 2015, Alabama won 30-16, and in 2014 the two teams went into overtime with Alabama winning 20-13.
The closest point spread released within conference play comes against Auburn to no surprise. Two reasons this game could likely go either way: the game in Auburn on November 25 is a rivalry game, so who knows what could happen, and second, Auburn should be vastly improved under Gus Malzahn and Baylor transfer quarterback Jarrett Stidham.
3. Nick Saban isn't leaving Tuscaloosa anytime soon
Saban, who has been incredibly successful at Alabama since taking over in 2007, just signed a new contract through the year 2025, including a $4 million dollar signing bonus. In total, Saban will be paid $65 Million, none of that includes additional incentives. Now 65-years of age, Saban has a career record at Alabama of 119-19 and has won four national titles entering his 11-season in Tuscaloosa.
Over the last two seasons, Alabama has only seemed to get tougher to beat going 28-2 over that stretch reaching the National Title in both years and over the last five-years Alabama is 64-7, and over the last 10-years, the Crimson Tide is 119-19.
Alabama was built by Paul Bear-Bryant during the 60's and 70's and resurrected again by Nick Saban, who has established one of the greatest college football dynasties maybe ever. As long a Saban is at the helm, don't expect Alabama to fall off anytime soon.
Not yet a subscriber? Subscribe now! | Recruiting Board | Talk of Champions
Two questions  
1. Will Alabama's offense take a step forward this year?

You would be quick to answer of course Alabama's offense will be more potent in 2017, but the Crimson Tide is under a new offensive coordinator this season. Brian Daboll who replaces Lane Kiffin joined the Crimson Tide early this year after coaching the tight ends for the New England Patriots. Now, while it's unlikely that the offense is completely revamped in Daboll's short time at Alabama, it will be intriguing to see how the offense is built around returning SEC offensive player of the year Jalen Hurts who threw for 2,780-yards and 23-touchdowns as a true freshman.
Daboll will also have one of the biggest offensive lines in the Country and six high-caliber running backs to choose from, including Damien Harris who ran for 1065-yards and Bo Scarbrough who ran for 844-yards during the 2016 season. With the firepower Alabama has returning, it really seems all Alabama has to do is unleash it.
2. Will Alabama's defense take a step back this year?
The Crimson Tide sent six defensive starters from the 2016 season to the NFL. Gone is Rueben Foster who led the team with 115-tackles, Marlon Humphrey went in the first round to the Baltimore Ravens, Jonathan Allen who had 10.5 sacks was scooped in the first round by the Redskins, Dalvin Tomlinson who had 62-tackles was drafted by the New York Giants, Ryan Anderson who had 61 tackles was also drafted by the Redskins, Tim Williams went to the Baltimore Ravens, and Eddie Jackson to the Chicago Bears.
With six key starters gone, how could Alabama's defense possibly take a step forward going into the 2017 season? Returning are five starters along with players who will play bigger roles in 2017 that are very capable of holding down Alabama's annual defensive excellence. 6-foot-2, 309-pound Da'Ron Payne will likely be one of the best defensive tackles in the Nation, Da'Shawn Hand is a defensive end with a very high ceiling, 6-foot-5, 292-pound Isaiah Buggs from Mississippi Gulf Coast has had a huge spring, and at the linebacker position Alabama returners Shaun Dion Hamilton and Rashaan Evans who combined for 117-tackles in 2016.
The secondary will be anchored by likely All-American Minkah Fitzpatrick who had 6 interceptions last year along with Ronnie Harrison (86 tackles last year), Anthony Averett (48 tackles last year), and receiver turned defensive back Trevon Diggs. The defense will be tested in week one by Florida State, but don't expect too much of a drop-off.
One Prediction 
1. Alabama is picked as the No. 1 team in the Preseason SEC Media Poll
The annual preseason SEC Media Poll will be released this week and don't be surprised to see Alabama at the top of the rankings. With 11 starters back for the 2017 season and going 28-2 over the last two seasons, not many are thinking someone new is going to dethrone Alabama as the new king of the SEC.
Follow our coverage of 2017 SEC Media Days all week long right here on BamaInsider.com
Contact Kyle Henderson at Kyle@BamaInsider.com
Message Boards 
Latest BamaInsider.com Podcast 
Video Preview: Alabama vs. Florida State