How the new early signing period affects Alabama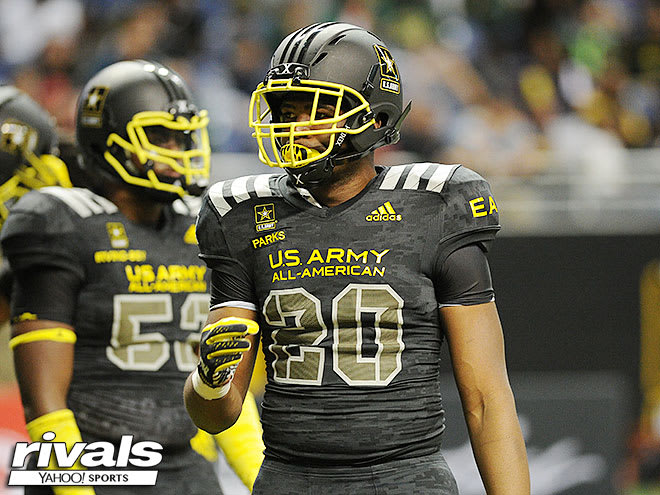 TUSCALOOSA, Ala.— Long been one of the most anticipated dates on the college football calendar, National Signing Day has served as an unofficial holiday for some of the sport's most astute followers. Many devoted fans even take the day off in order to watch as National Letters of Intent roll in for their favorite school.
Those fans will now have another day to celebrate.
Monday, the Collegiate Commissioners Association approved a NCAA proposal to create an early signing period in addition to the one previously held in early February. Starting this season, 2018 recruits will have the opportunity to sign their NLIs during a 72-hour window from Dec. 20-22.
* BamaInsider Recruiting Ticker
What that means for the recruiting process as a whole is yet to be seen, but early indications point to the decision being somewhat of a thorn in Alabama's side.
Remember Jarez Parks, the four-star defensive end who spurned immediate offers from Power 5 schools to accept a gray-shirt offer from Alabama this February? He is one of the several recruits that could have benefited from the new rule change this year.
Parks was set to sign with Alabama on National Signing Day before being informed that the Crimson Tide's 2018 class was already full and that he could only be offered as a gray shirt. He then choked back tears during his announcement, declining to announce which school he would be committing to. Ultimately, Parks decided to wait and accept the gray-shirt invitation in order to one day play for Alabama.
While it's hard to say whether or not the new early signing period would have seen Parks' situation play out differently, it's safe to assume he'd have been less blindsided by the lack of space in the group. If the new rules were in place last season, Parks would have been given clues to his priority in Alabama's recruiting class. Not getting a singable offer from the Tide in December would have been a good first clue.
"Then a light bulb might go off and he might say, 'Oh, I better look at some other options," said Mike Farrell, a national recruiting analyst for Rivals. "Or let's say a letter did come through and Florida or Florida State did decide to have him sign early, but Alabama did not. A light bulb should go off then to say, 'Hey I'm not a high priority for the school I want to go to. I better sign now with one of these other two schools rather than waiting it out."
* Southeast spotlight: Commitment predictions
The early signing period would appear to help players in Parks' situation. However, it seems less beneficial to a powerhouse like Alabama vying to assemble the most elite class possible.
When asked about the possibility of an early signing period last season, Alabama head coach Nick Saban said he was "absolutely, positively against any kind of early signing date, especially a June signing date, before a guy plays his senior year." The head coach then lessened his stance a bit, conceding he would be less against an early signing period that occurred after the season.
Saban's argument was that an early signing period would accelerate the recruiting process too much which wouldn't allow schools enough time to evaluate a player's skills and character. The head coach also brought up the possibility of a recruit's academic status not being as clear earlier in the recruiting process.
"You know I've always talked about football being a developmental game," Saban said last season. "That doesn't give a guy who's a little bit of a late bloomer, that maybe does a good job during camp over the summer, and has a really good senior season – there's going to be more and more guys signing early and more guys visiting. We'll have guys visiting in the summer … I just don't really get that."
The obvious example is running back Josh Jacobs, who was recruited by Alabama right before National Signing Day before breaking out during his freshman season last year. Under the new rules, there's a good chance Jacobs might have signed with a smaller program in December.
Don't Miss: Alabama football recruiting board: Running Backs
While Jacobs' unheralded rise to stardom last season is still a rarity in recruiting, he is a player who filled a vital role for Alabama last season. Chances are, discovering those types of players will be more difficult for the Tide moving forward.
"A superpower like Alabama has the luxury of waiting until the end and kind of picking off guys," Farrell said. "This will help those programs that get guys poached, the middling Power 5 programs.
"I don't think it affects Alabama either way because nothing affects Alabama recruiting under Nick Saban. They will always be No. 1 and they'll always get the guys they want. But it doesn't help them."
Farrell believes the early signing period is a good thing for recruits but said December is still too late in the process to make much of a difference. Sure, some recruits can end the whirlwind of the recruiting process a month in advance, but he believes in order to really make a difference the process should be moved up to August.
The risks of signing players earlier brought up by Saban would only be amplified in August. What if a recruit gets injured or has a bad season? Conversely, what if a coach gets fired or an assistant moves to another school? These questions can also be asked about the current early signing period but would be a much bigger factor in August.
While acknowledging those concerns, Farrell still claims an August signing period would be best, stating it would force schools to be more accountable for their offers and recruits to choose a school that truly fits their needs. With the ever-changing landscape surrounding college football, Farrell said recruits to often focus on variables that are destined to change by the time they finish school.
"Everybody has gotten away from picking a school for a school," Farrell said. "They are all picking a school for winning a national championship or going to the NFL, they like the coach or the assistant coach. It's a huge mistake."
Whether or not the signing period will move up even earlier is yet to be seen and will most likely depend on the success the new ruling. As for now, Alabama will have to adjust to a new recruiting process despite much disparagement from Saban.
Talk with thousands of Alabama fans inside the Talk of Champions Forum
So Why Subscribe? 
BamaInsider.com offers the most exclusive and in-depth recruiting coverage you'll find on the net when it comes to Alabama Football. Part of the Rivals.com Network, our staff is credentialed through the University of Alabama, and we are based right in Tuscaloosa, Alabama. We offer types of memberships to BamaInsider.com, the first is a monthly paid subscription, the second offer is the annual subscription, and you'll save money when choose to become an annual paid subscriber. Subscribe Now