Alabama running back Josh Jacobs determined to carry the load as a father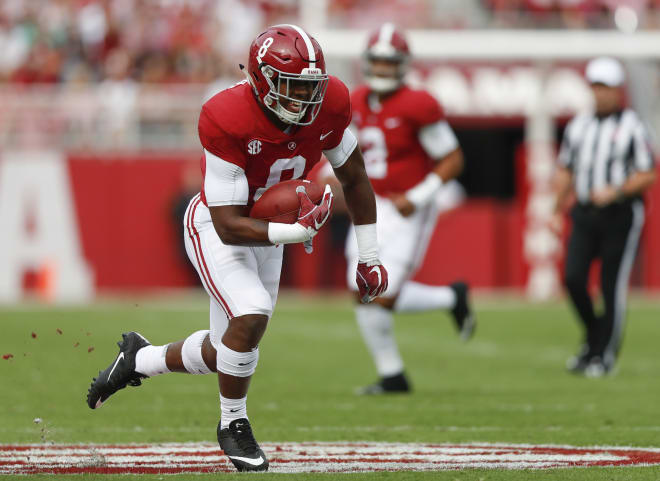 TUSCALOOSA, Ala. — Less than two years old, Braxton Jacobs sat on his grandfather's lap in Tulsa, Okla., and pointed to a football player on the TV screen.
"Daddy," the toddler said excitedly.
Don't Miss: Bobby Brown announcement | Alabama flipping recruits
Marty Jacobs laughed and to no avail explained to his grandson that Daddy's team wears a different shade of red and plays in Alabama. Though he's too young to comprehend most things, Braxton has figured out that his dad plays football.
Alabama running back Josh Jacobs is determined that won't be the only thing his son knows about him.
Deciding day 
Signing with Alabama was the easiest part of the day.

Led by a drumroll, Josh sat in front of a packed auditorium at McLain High School in Tulsa, Okla., as his classmates and family anxiously waited for his college decision on Feb. 3, 2016. The former three-star prospect was relatively unknown until late in the recruiting process and didn't receive an FBS offer until two months before. However, a rollercoaster month of January saw Josh choosing between Alabama, Oklahoma and Missouri on National Signing Day.
With a big smile, the running back reached for an Alabama cap, sending the crowd into a frenzy. It was the second most eventful thing that would happen to him that day.
Minutes earlier, Braxton was born.
"That day was a whirlwind, it was crazy," Josh told BamaInsider.com. "It was a lot on my mind because I already didn't know what I was going to do, and then there was that, too. Everything was on top of everything, it was just a surreal day."
A lot of things passed through Josh's mind. Growing up, he spent three months temporarily homeless as he, his father and his four siblings bounced from hotel to hotel. While those times have shaped him into who he is today, he made a vow that no child of his would have to suffer in the same way.
A little bit of doubt began to creep into his mind, though. Josh began to wonder if leaving for Alabama was the right choice after all. Was the 630 miles from Tulsa to Tuscaloosa too far away? Would he be able to be the father Braxton needed? Then again, Alabama gave him the best opportunity to succeed in the future. Would passing that up end up being too costly in the long term?
Those uncertainties vanished just as fast as they arose the first time he held his son in his arms.
"It's a crazy feeling," Josh said with a smile. "Like some people are scared when it happens, but me, I was more anxious. When I finally held him and looked at him it was a crazy feeling. I tell people, that was the first time I ever felt like I really loved something in my life. It's a feeling like none I've ever felt before. You look into his eyes, and that's you. You got to look at things like it's not about you anymore, it's really about him. That was the biggest thing."
It was at that moment that Josh knew he made the right decision.
"At the end of the day I knew it was going to be a crazy three to four years being away," he said. "But I knew I was going to make it worth it."
Missing time
For Josh, every phone call home ends the same way.

"I always make sure to ask him how big boy's doing," Marty said. "I just want to remind him that those things are important. I don't want him to be one of those guys where sending money is enough."
Marty's not afraid of his son being neglectful but rather harbors regret from what he calls a "missed opportunity" from his younger days. Before having Josh and his four other siblings with Josh's mother, Marty had two separate children.
While Marty played his part in providing child support for both children, he wasn't involved in their lives and now does not have the relationship he wishes he could have had with them. Because of that, he's made sure to warn Josh not to make the same mistake.
"He always talked about how he wished it could have been different with them," Josh said. "He wasn't happy about how things went, so he always told me I wouldn't want to regret this like he regrets it."
Josh has taken those words to heart. While practice and school work occupy most of his day, the sophomore makes as much time as he can to FaceTime Braxton. In addition, the toddler has just about every bit of Alabama gear available from onesies to miniature footballs.
Marty jokes that Braxton shares his father's agility, too. The grandfather's bad knee is a testament to that.
"It's crazy because you see him grow up so fast," Josh said. "It's like man, you were just like this and now you're like this. I see him like running, and now he's talking a little. He likes jumping a lot. He'll jump off the bed, it's just crazy."
Still, distance presents a challenge. Marty says he usually waits for Josh to come to him with problems, especially concerning Braxton. While Josh's reserved nature shields a lot, it's obvious he struggles at times.
"I know it takes a toll on him," Marty said. "He can only do so much from his standpoint right now. If it were up to him, he would have [Braxton] with him, but that's not possible. He knows he's doing it for his future, but he just wants more time."
A sense of guilt appears to sweep over Josh when pressed on the topic. The normally friendly smile washes away from his face as he sinks lower in his chair. It's not the future that worries him, it's what he might have already missed out on.
"I battle with that every day, not being able to see him as much as I want to," Josh said. "I'm missing things. I'm missing a lot. It's hard, but at the same time, I'm doing all this for him. At the end of the day, it's going to pay off."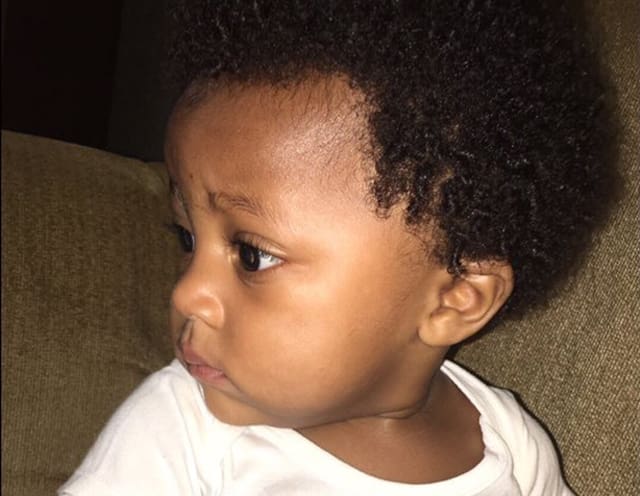 Looking up
Tears flowed as swiftly as the words coming out of the Jacobs family's mouth as they gathered in a circle together inside their hotel room.

Then in the sixth grade, Josh and his four siblings had only as much as Marty could afford to provide. If the family was lucky, that was a hotel that offered breakfast, which guaranteed another meal. What they had were each other. And for four minutes a night, the room was theirs.
Marty admits he was a bit surprised when he was granted custody of all five kids after going through a divorce with Josh's mother. He was a bit underprepared too and often had to scrape together funds to make things work.
The one thing the hard-working dad didn't lack was creativity. He wanted to make sure his children could say the same, so for four minutes a night each one would take turns rapping their feelings to the beat of their choosing.
"It takes your mind off of certain things. Like he'd just put on a beat and everybody would rap about what they felt," Josh said. "It was whatever you wanted to do. It's just a fun, peaceful environment. Nobody judges anybody or anything like that. It's just a playful thing that keeps your mind off of things.
"My dad did do a lot for us going back thinking about it. That wasn't the only thing. We used to play a lot of different games and different things to keep things interesting."
Jacobs has carried over the tradition to Alabama and now has rap circles with his roommates tight end Irv Smith Jr. and defensive back Jared Mayden. Other players chime in too from time to time. According to Josh, the team's best rapper is either defensive lineman Da'Shawn Hand or defensive back Deionte Thompson.
The ability to keep things light is just one of many things Josh learned from his dad, especially when it comes to being a father. Even before Marty was granted custody, Josh remembers his father stopping by and bringing either money or clothes to the house. That respect only heightened when he saw firsthand how much Marty sacrificed in order to get him and his siblings to where they are today.
"I definitely try to live up to his hype," Josh said. "It's kind of a big step, but I look at the things he did and make sure I do that."
Like his son, Marty didn't grow up in an ideal situation. The son of a preacher, Marty made some rebellious decisions growing up, ones that put him in some dangerous situations. Those mistakes now serve as important lessons as he reminds his kids, "There must be something special about you guys because God did a lot of work with me to get me to where I am so you can get where you are."
All jokes aside, Marty believes there is indeed something special about Josh.
"I'm really proud of him doing the stuff he decided to do," Marty said. "At 19 he's making decisions that at that age I wasn't making. He has a mindset, and he has goals. He knows what he wants to do and what he wants his son to have. Right now it's a sacrifice, but he's going to get through it."
Forging a future
A hamstring injury kept Josh out for most of Alabama's preseason camp as well as the first two games of the season. After slowly working his way back into the rotation, the sophomore has developed into an important role in the Crimson Tide's offense, coming in as the change-of-pace back for either starter Damien Harris or Bo Scarbrough.

Through six games, the 5-foot-10, 212-pound back has recorded 171 yards on 24 carries, an average of 7.13 yards per touch which ranks second among Alabama running backs. He has also proved to be a dangerous weapon in the receiving game, catching six passes for 96 yards and a touchdown.
"Josh is just a very industrious team guy that will do anything to help the team," Alabama head coach Nick Saban said. "Whatever his role is, he embraces it. Plays hard all the time. Very instinctive, very quick and is a really good change-of-pace guy for us relative to the other players and how he complements them.
"I've been very, very pleased with how he's progressed and what he's been able to do for us this year. He's had some obstacles to overcome, but he's done a really good job of doing that."
Like many players on Alabama's roster, Josh's goal is to make it to the NFL. However, football is only one part of his life. Josh knows his story isn't unique to him. There are plenty of kids who grew up in the rougher parts of Tulsa who weren't able to make it out, and there will be even more who face similar hardships down the road.
"Everybody looks up to Josh," said Jarvis Payne, Josh's former head coach at McLain High School. "He's just like a shining light when he comes home, and whenever he has time he gives it back. The kids constantly stay in contact with him, and they know he's always there for them."
That, along with his family, is what drives Josh and is the reason he isn't about to stop now.
"It's everything," Josh said. "Of course my family. Of course, [Braxton]. Not only that but my community. I have a lot of things that I want to do in my life like build programs and buildings and stuff for people in our community because we don't have that. Especially for our side of town. So there is a lot I want to do to give back, and I think a lot about how I can do that."