Sentimore exploring transfer options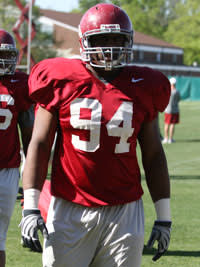 TUSCALOOSA | University of Alabama defensive lineman Darrington Sentimore is exploring transfer options that include The University of Miami, multiple sources have told Tidesports.com.
A source close to the situation said that Sentimore's reason for transferring is related to a disciplinary issue, and that the former four-star recruit has had disciplinary problems in the past. Sentimore has not been formally dismissed from the Crimson Tide program, nor has he ever been publicly suspended. Suspended defensive back Robby Green is also not expected to return to the team this fall, according to a source.
Efforts to reach Sentimore were unsuccessful.
Miami was among the other schools that recruited Sentimore out of Destrehan High in Louisiana. He also made official visits to Arkansas and LSU before signing with the Crimson Tide in February of 2009.
The 6-foot-3, 273-pound defensive end drew praise from UA coach Nick Saban during spring practice for his improvements on the field.
"He helps us in pass rush. He's still got to be able to play the run better," Saban said in April. "He's not a real big guy, but he does have really good quickness. He's got pass rush ability, and he has made a significant improvement in being responsible to do his job, is probably the biggest thing."
Saban is spending this week at his Georgia vacation home on Lake Burton.
Sentimore would be a third-year sophomore this fall after redshirting as a freshman in 2009. He earned his first varsity letter at UA in 2010, recording nine tackles in 11 games with a forced fumble and four quarterback hurries. The NCAA requires players transferring from one FBS (Football Bowl Subdivision) school to another to sit out one season of eligibility. If Sentimore were to transfer to Miami or any other FBS school, he would not play this season but would have two years of eligibility left beginning in 2012. A transfer to a non-FBS program would allow Sentimore to play this fall.
If he transfers, Sentimore would be the sixth Alabama player to do so since the end of the 2010 football season. Others include Brandon Moore, Demetrius Goode, Corey Grant, B.J. Scott and Petey Smith.
Green has not played for the Crimson Tide since 2009 while serving suspensions by both the NCAA and the team. The senior from Louisiana missed the 2010 season on an NCAA suspension, and missed spring drills for a violation of team rules.
With only one year of eligibility remaining, Green's transfer options could be limited to non-FBS programs only.
Reach Chase Goodbread at chase.goodbread@tuscaloosanews.com or at 205-722-0196.