NCAA approves extended preseason practice schedule for college football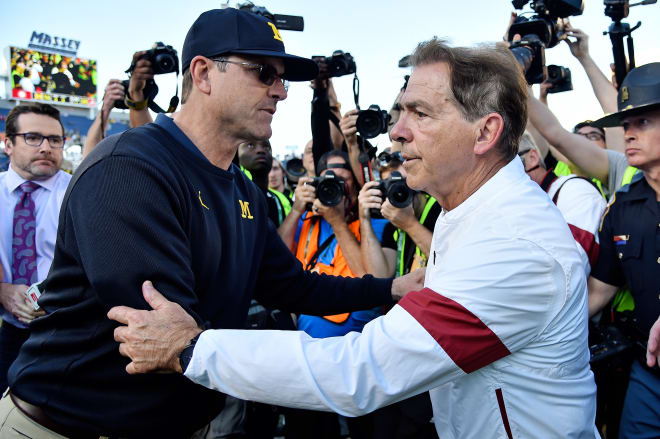 On Wednesday, the NCAA Division I Council voted to adopt an alternate preseason practice schedule created by the NCAA Football Oversight Committee.
Under this structure, the Alabama Crimson Tide and most other programs can begin working with players on July 13, but they only have eight hours per week. Staffs are also limited to team workouts and film review.
The extension of the preseason should make Alabama coach Nick Saban happy. He proposed something similar during the first week of April.
"If there was some kind of way where we could have 14 days of teaching with players sometime before fall camp happens, I think that would probably be beneficial," Saban said in April. "Historically we're not allowed to work with our players at that time. ... I'm not talking about having pads on or anything but just being able to teach.
"Teach system, teach scheme. We'll have to evaluate the players based on fall camp. I think the players who benefit the most from spring practice are really the young players on the team."
This is an important step if college football is going to begin on time. The Crimson Tide is one of many programs that missed out on an entire spring camp. This won't make up for that, but it should alleviate some concerns created due to the lost time.
Things really get ramped up on July 24 when programs are allowed to begin incorporating six hours of walk throughs and six hours of meetings per week.. Programs will also still be allowed to designate eight hours per week for team workouts.
Fall camps will then begin normally on Aug. 7.
WestGate Luxury Condos - To be any closer, you'd need a ticket  
Andrew Bone, of BamaInsider.com, is a real estate broker in the state of Alabama. 
Contact Andrew Bone for all of your real estate needs; buyers, sellers, investors, developers. Property management; BoneHomeTours.com Call 205-531-5577 or click here