BONE: December recruiting nuggets


Early Signing Period Final Predictions
Andrew Bone delivers his final predictions prior to the Early Signing Period. Alabama currently has the No.2 recruiting class in the country.

Four-star LB Jihaad Campbell back from Alabama
Former Clemson commit Jihaad Campbell is getting ready to announce his commitment on Signing Day. The Rivals100 IMG Academy linebacker from New Jersey took visits to Alabama and Texas A&M over the weekend and now has less than two days to figure out which school he wants to go to.
Campbell arrived at Alabama on Friday.
"It was pretty amazing," Campbell said. "It was a wonderful experience seeing all the success around the program and looking at a championship team, a championship school.
"It was was chill (hanging out with everybody)," he said. "I liked the visit and everything about it.
"Coach Saban and I talked," said Campbell. "He's a great man with a lot of great knowledge."
After his visit to Tuscaloosa, Campbell spent the rest of the weekend at Texas A&M.

Early Signing Period recruiting nuggets!
The Early Signing Period is on the horizon! Find out where things currently stand with the Crimson Tide's remaining targets after several visits this weekend.

Alabama sees similarities between Preston and Metchie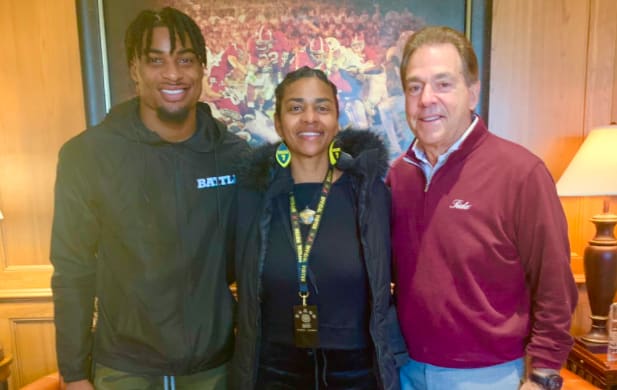 Shazz Preston, Rivals100 wide receiver from St. James High School in Louisiana, took his final official visit to the University of Alabama this weekend. He will announce his college decision this week. Alabama made a strong last impression on his family.
"Everything went well," Shazz Preston's father told BamaInsider on Sunday evening. "The weather was a little crazy. We got a little bit of everything this weekend, but we had a good time. We are from south Louisiana. We are real personal people. We really enjoy meeting new people when we go on these recruiting trips.
"You get a chance to spend time with parents and other recruits. You realize a lot of these people, whether they are from north Alabama or from Florida, are a lot like you. It's refreshing to sit there with new people who are similar to you and share those conversations."
Alabama quarterback Bryce Young was awarded the Heisman Trophy on Saturday night. The official visitors, along with their families, coaches and players were at the Tide's football facility as Alabama added its fourth Heisman winner.
Preston's father was also impressed seeing Coach Saban throughout the weekend despite a trip to New York for the Heisman ceremony.
"What really stood out was just being up at the facility during the Heisman presentation," Preston said. "We were having dinner with everyone. It was a surreal moment to watch the announcement at the facility. That was special.
"I don't know what kind of vitamins Coach Saban is on, but I need that in my life. We spent time with him on Friday and on Saturday. He was in New York later that night and then back at his house on Sunday morning.
"He made sure recruits on campus were a priority. He left when he needed to leave and was back early in the morning. We were able to interact with him throughout the weekend. He comes across sometimes on TV as all about business, but he's very personable. Kids understand there is a time for business, but there is also a softer side to him."
Alabama has become known as 'Wide Receiver U' recently with its pipeline to top talent to the NFL which also includes DeVonta Smith, the 2020 Heisman Trophy winner.
"They are seeking receivers," the father said. "They have some guys who are probably leaving or could leave. (John) Metchie has a decision to make after suffering his injury. They are definitely going to continue to throw the ball around. They want to keep the tradition of great receivers like they've had the last few years.
"They used to always be known as producing these great running backs. Now they are having a run of receivers. Alabama assured us that he's wanted and feel like they can really help develop him. Coach Wiggins (Alabama wide receivers coach) is sharp. He's a spin-off of Coach Saban.
"He had some other engagements this weekend. His oldest daughter graduated yesterday. He was able to find time with his family, but also make it back to be with our group. He talked about how he sees Shazz and compared him to some of their guys.
"He compared Shazz to Metchie. Similar build. Shazz is a little bigger, but said he is s student of the game. He spoke highly of him. He said he cried after Metchie's injury. That's the kind of relationship they have. Metchie does a lot of good things. He's not a big rah-rah guy, but shows more flash and emotion."
It's now time to make a decision, and it will happen on Wednesday at 2:00 p.m (on ESPNU). The finalists: Alabama, Georgia, LSU and Texas. Preston took official visits to Alabama and Texas. He has visited LSU several times and took an unofficial visit to Georgia in June.
The family will sit down together during the next 24 hours to discuss the final decision. They will weigh he pros/cons of each school before Shazz decides what is best for his future. His father told BamaInsider earlier this week one of the pro items standing out about Alabama.
"It's always the same with Alabama," he said. "Consistency. They have a high standard of winning. They are consistently competing at the nation's top level. They had a big win against Georgia this past weekend.
"If you play that game four times the record might be 2-2. You just never know what can happen. Alabama was in a dog fight last month against LSU. The schools he (Shazz) has been dealing with are top-tier, and Alabama is always leading the way."

Ty Simpson and family enjoy in-home visit with Coach Saban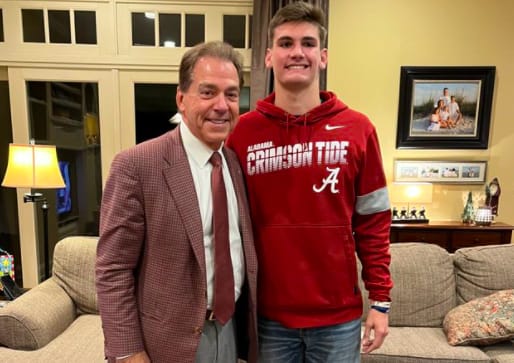 Ty Simpson, the No. 30 overall player in the Rivals100 from Westview High School in Martin, Tennessee, welcomed Alabama head coach Nick Saban and offensive coordinator Bill O'Brien in his home on Wednesday evening. Coach Saban has traveled from coast-to-coast this week visiting several of the nation's top recruits. He made sure to stop by to see the future quarterback and his family.
"It was great," UT-Martin head football coach and Ty's father said. "Ty has been down to Tuscaloosa a lot. He's been going down there for several years. It meant a lot to him for Coach Saban to come in to our home. It was great having Coach Saban in our home especially after knowing all the places he has been this week.
"You see his competitiveness in recruiting. It's very important to him to get good players and to go out and recruit. You see how driven he is. I know the grind from being a coach of what it takes to go out on the road or being on a plane to go recruit kids. It's cool to see his drive. I have heard about it for years, but to see it in person is special."
The Simpsons enjoyed the fellowship with Coach Saban and Coach O'Brien. Alabama doesn't need to recruit Simpson like Coach Saban is doing in other homes this week. Ty has been a solid commitment since his decision.
"We really just hung out at the house," Coach Simpson said. "There wasn't any recruiting pitch. They asked if there were any questions. They asked Ty about the state championship game and congratulating him on that.
"We talked about the the day he will report (January 10). It was cool to talk about their game against Georgia and what's going on with the program right now. They talked about their practice schedule for the playoffs and how proud they were in last week's win (against Georgia).
"Ty asked (Coach Saban) if he enjoyed it and reversing the rat poison. Alabama has only been underdogs three times in the last 92 games. You had the proverbial coach talk like why does it take you to be the underdog to play at your best?
So what did the Simpson family think of the Tide's SEC Championship win against the Bulldogs?
"I saw the updated score when my game was over," Coach Simpson said. "It was really exciting. Alabama was up big, and I knew it was important to Ty even though he is not in the program yet. It was another validating game. Alabama won 12 games and the SEC Championship after losing all those players from last year's team."
Alabama offensive coordinator helped engineer the Tide's offense this fall after Steve Sarkisan departed Tuscaloosa to become the head coach in Austin. It is hopeful, from the Tide's standpoint, another Heisman Trophy winner is named on Saturday night in quarterback, Bryce Young.
Many thought Coach Sark's departure would hurt Alabama's chances in landing the elite quarterback. Coach O'Brien quickly developed a strong connection with Simpson, and Alabama earned his commitment in late February. Coach O'Brien has been linked with a few head coaching vacancies this week, but it's not an issue for Simpson.
"They have a really good relationship, and Ty is very comfortable with him," his father said. "As a coach's son you understand the business. He understands the timing. They have been upfront from the get-go about everything.
"Coach O'Brien has been a pleasure to be around. He got here yesterday about an hour before Coach Saban arrived. He came by my office and watched ball. We watched the Alabama/Georgia game. He went over what they did in certain situations. I appreciated that. He's just a regular guy and someone you want to be around."
Alabama has recruited Simpson for the last couple of years, and Coach Simpson can remember Coach Saban telling his son after a disappointing 2-8 season to go out there and win some games next year. Simpson, who won Mr. Football in Class 2A on Wednesday, helped lead his team to a first-ever state title this past weekend.
He was named MVP of the state championship game after accounting for five total touchdowns. Simpson ended his senior season with 2,921 yards passing with 44 touchdowns and six interceptions. He also rushed for 1,206 yards and 15 touchdowns.
Coach Simpson helped lead UT-Martin to a 10-3 record (most in school history) and the Ohio Valley Conference title. The Skyhawks fell in the second round of the FCS playoffs with a 26-7 loss to Montana State. The playoff game was the same time as Ty's state championship. Coach Simpson received updates and was aware of his son's victory at halftime.
It was tough for the father not to see his son win a state championship, but something that was completely understandable. It's something Coach Simpson will adjust to with his son playing on Saturdays for the Crimson Tide while he continues to lead his football program.
The Simpsons will spend quality time together during this final month before Ty enrolls at Alabama. He will complete his school work next week. The Simpsons may travel to Tuscaloosa to watch practice before Alabama heads to the College Football Playoff.
Coach Simpson learned plenty about the recruiting process from a parent's perspective throughout Ty's journey and also learned more about his son. He can't wait to watch how he performs even if it's a score update on his phone or a FaceTime call from Ty after a big win.
"There are still things you learn that were new to me even though I am in this profession," he said. "You learn about the timing of when to commit from the quarterback spot. Does it work for yourself and the other school?
"You learn a lot about your son and what's important to him. This is their decision, and they are choosing their dream that is going to impact them for the next 40 years. It's weird to say that I really enjoyed it because it's not about me. I really valued the entire process and the relationships that were built throughout the process."

Rivals100 athlete adds more elite speed to Tide's class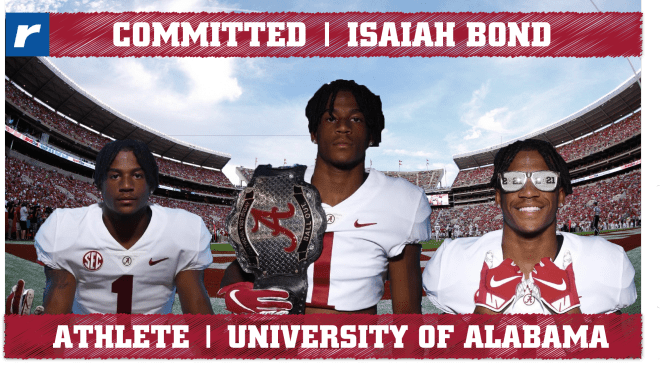 Isaiah Bond, Rivals100 athlete from Buford High School in Georgia, announced his commitment to the University of Alabama on Tuesday evening. He decommitted from Florida on November 22 after Dan Mullen was fired by the Gators.
Bond committed to Florida in the spring, but took official visits in June including a trip to Alabama. He also attended Alabama's season opener (as a guest of the Crimson Tide) against Miami in Atlanta. He returned to Tuscaloosa on November 20 for an unofficial visit when Alabama defeated Arkansas.
Alabama originally recruited Bond as a defensive back prior to his commitment to Florida. The explosive athlete can play on either side, but prefers offense. The Crimson Tide spent time with Bond during his official visit and gave him the option as to which position he prefers to play.
"He told me they're looking for guys with speed," Bond said after meeting with Alabama wide receivers coach, Holmon Wiggins. "He said I could play in a Jaylen Waddle position. I'm a little bigger than him, but he said just because of my speed I could play in a role like that."
A highlight of his official visit to Tuscaloosa was spending time with Alabama head coach, Nick Saban. Bond named Alabama, Florida and Georgia as his finalists after his decommitment from the Gators.
"It was definitely an eye-opening experience," he told BamaInsider in June. "Not many people can say they were in a car with Nick Saban. The conversation was great. He's a really down-to-earth guy.
"He basically told me I can play anything I want if I went there. That was definitely something I took into consideration."
Bond was named the 'fastest man' at the Rivals Five-Star Challenge camp in January. He has been clocked at 10.48 in the 100m and 21.05 in the 200m. He was received the 'jet pack' honor by Rivals after his performance in Atlanta.
"This award goes to the player who showed off the best straight-line speed and looked like he had rockets on his back and the award goes to Isaiah Bond. The Buford, Ga., four-star athlete started the day by winning the Fast Man Challenge by a nose, and none of the cornerbacks could stay with him during one-on-ones."
Bond joins teammate Jake Pope as commitments for Alabama in the 2022 class. He will enroll at Alabama in June. Buford will play in the AAAAAA state championship game on Saturday against Langston Hughes.
Bond was recruited by Alabama safeties coach Charles Kelly.
National perspective 
"Bond has shown for years including at the Rivals Five-Star Challenge that he is one of the fastest athletes in the country. He is sudden, quick, an athletic playmaker that can be used all over the field and is simply just a weapon in any offense. He can also be used on special teams because his speed guarantees extra yards and he can break a big return at any time. Wherever Bond is placed on the field, he's going to make an impact. It's not because he's big physically but he's simply faster than almost anybody else on the field."- Rivals national recruiting analyst Adam Gorney

Five-star pass rusher Marvin Jones Jr., talks finalists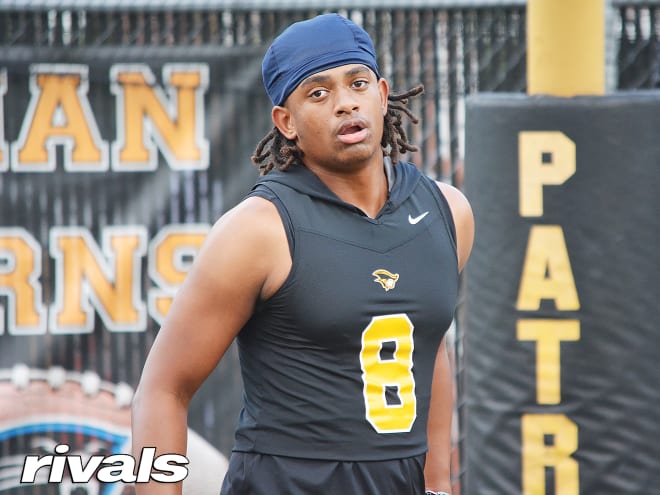 Shemar James earns fifth star, talks favorites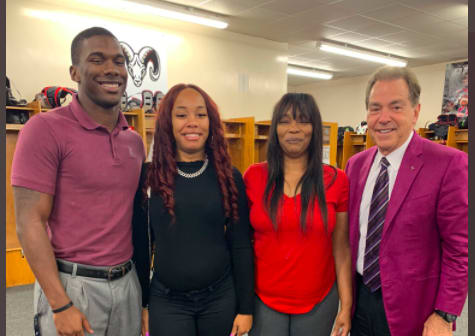 Shawn Murphy wins Butkus award!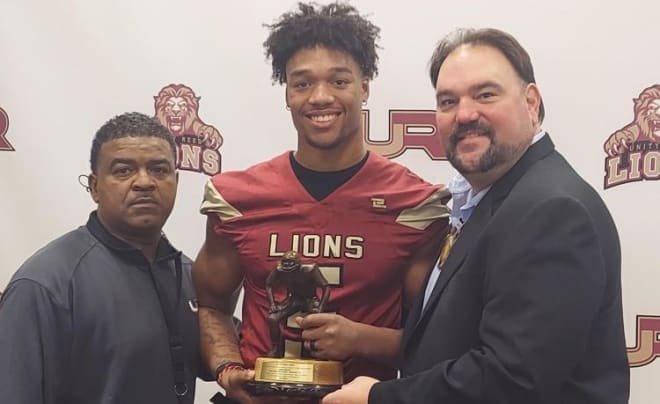 Shawn Murphy, five-star linebacker from Unity Reed High School in Manassas, Virginia, was awarded the high school Butkus award on Monday. The award is given annually to the nation's top high school linebacker.
The Butkus selection committee consists of 51 football coaches, recruiters, talent scouts and sports journalists.
Murphy is the second Alabama commitment to earn the honor. Dylan Moses earned the high school Butkus award in 2016.
Murphy will enroll at Alabama in January.

Earnest Greene names top four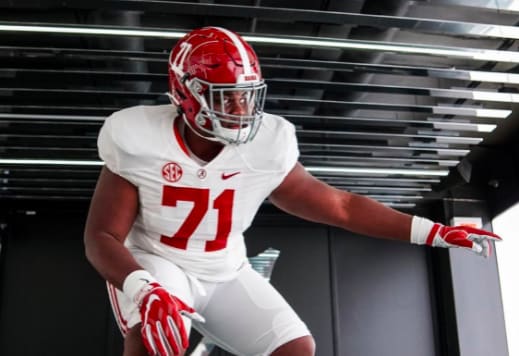 Earnest Greene, Rivals100 offensive guard from St. John Bosco High School in Bellflower, California, announced his final four on Friday. His finalists include Alabama, Georgia, Ohio State and Texas.
Greene took an official visit to Alabama two weekends ago. He returned to Tuscaloosa on Thursday for an official visit and will attend the SEC Championship game in Atlanta this weekend.
More from Adam Gorney
Earnest Greene has announced a top four of Alabama, Georgia, Ohio State and Texas but two teams could have an edge right now - and they will be meeting Saturday in the SEC Championship Game.
The four-star offensive lineman from Bellflower (Calif.) St. John Bosco took another visit to Alabama on Thursday and got to meet with coach Nick Saban again. According to a source, playing for Saban has become a tremendous draw to Greene and could be tough to turn down.
Even though the Crimson Tide were late to this party, a source said they could come in "during the ninth inning" and win out for the massive four-star who plays tackle in high school and could play tackle or guard at the next level.
That Saban factor - along with playing for titles and the NFL development of offensive linemen in Tuscaloosa - might be too much to turn down.
Greene traveled from Tuscaloosa to Atlanta for the SEC title game but apparently did not get a chance to go to Athens again.
I was told that is not a sign at all that the Bulldogs trail in Greene's recruitment, though. The Georgia coaches had already left Athens, Greene has been there numerous times and is completely comfortable with coach Kirby Smart, position coach Matt Luke and others on that staff.
Georgia could also have another advantage: The Bulldogs were involved earlier.
All things being equal, there could be a sense of loyalty from Greene to the programs that have been recruiting him the hardest for the longest amount of time. Georgia is in that boat and so is Ohio State and according to a source, coach Ryan Day pitched that during an in-home visit earlier this week.
So Greene is weighing that consideration against playing for Saban and the Crimson Tide and everything that has to offer.
Texas is also a contender here because of Greene's respect for positon coach Kyle Flood. Ohio State remains in the picture after a recent visit to Columbus and Greene's relationship with the players there and position coach Greg Studrawa.
But it would not be a surprise to see this end up an Alabama/Georgia battle as the Bellflower St. John Bosco recruit weighs playing for the Crimson Tide and the success rate of offensive linemen there or Georgia, which has clearly caught his attention and been in his recruitment longer.

Rivals.com updated its 2023 rankings after fall evaluations were complete. Several Crimson Tide targets highlight the Rivals250. Rivals will release its updated 2022 rankings next week.

Alabama commitment highlights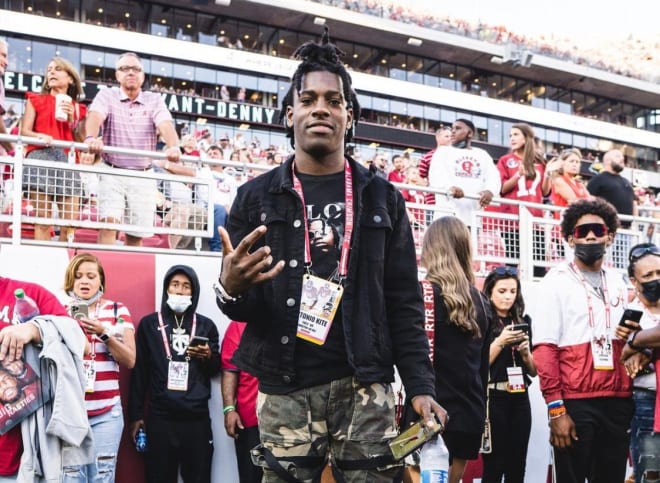 Ty Simpson, Rivals100 quarterback from Westview High School in Martin, Tennesse
Emmanuel Henderson, Rivals100 athlete from Geneva County High School in Hartford, Alabama
Jamarion Miller, four-star running back from Legacy High School in Tyler, Texas
Kobe Prentice, Rivals100 wide receiver from Calera High School in Alabama
Isaiah Bond, Rivals100 wide receiver from Buford High School in Georgia
Aaron Anderson, Rivals100 wide receiver from Edna Karr High School in New Orleans
Amari Niblack, four-star athlete from Lakewood High School in St. Petersburg, Florida
Jaleel Skinner, four-star tight end from IMG Academy in Bradenton, Florida
Elijah Brown, four-star tight end from Wayne High School in Huber Heights, Ohio
Elijah Pritchett, Rivals100 offensive tackle from Carver High School in Columbus, Georgia
Tyler Booker, four-star offensive tackle from IMG Academy in Bradenton, Florida
Shawn Murphy, five-star linebacker from Unity Reed High School iN Manassas, Virginia
Jeremiah Alexander, five-star weakside defensive end from Thompson High School in Alabaster, Alabama
Robert Woodyard, four-star linebacker from Williamson High School in Mobile
Antoni Kite, four-star safety from Anniston High School in Alabama
Tre'Quon Fegans, four-star defensive back from Thompson High School in Alabaster, Alabama
Jake Pope, three-star safety from Buford High School in Georgia