Alabama softball 'cherishing' opportunity to host super regionals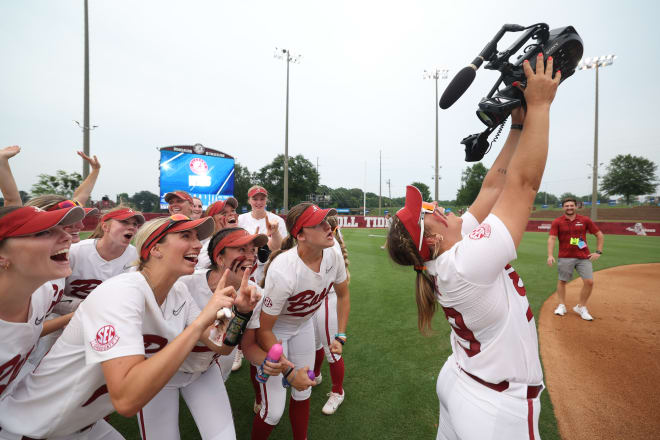 TUSCALOOSA, Ala. — A few seasons ago, Alabama advancing to the super-regional round was a foregone conclusion. Having the Crimson Tide playing during Memorial Day weekend became a mainstay as it has appeared in 17 of the last 18 super regionals and hosted 12 of those rounds at Rhoads Stadium.
But that one season it didn't make it to the second round of the NCAA Softball Tournament gave the program a brand-new perspective on what it means to be playing softball in May. In 2022, Alabama got the home-field advantage every team is looking for but squandered its perfect record, falling to Stanford by losing back-to-back in the regional championship.
A year later, Alabama was in a similar situation once again needing a win on elimination Sunday to advance. Despite battling through a pitching duel, Alabama finally punched its ticket thanks to an Ally Shipman solo home run in the sixth inning, to stave off another regional disappointment.
Now with the team's first appearance in the super regional since 2021, Alabama is looking to take full advantage of the opportunity that's in front of it.
"At the end of both games, (Alabama head coach Patrick Murphy) asked 'Those who have been to the World Series, raise your hand,' and there was only a few," Bailey Dowling said on Thursday afternoon. "Our goal was just to get the seniors there and get the whole team back there. It's really exciting to be back here this season."
Only Montana Fouts, Jenna Johnson, Jaala Torrence, Alex Salter, Kat Grill and Dowling were on the team in 2021 when the Crimson Tide made its last trip to Oklahoma City marking a rare hiatus as it has made 13 World Series appearances in program history.
Of the players that haven't played into June is Ashley Prange who despite being a career .303 hitter with Ohio State, couldn't lead the Buckeyes to Oklahoma. With a chance to go there for the first time in her sights, it has made this postseason run more meaningful for the Indiana native.
"Super regionals and even regionals are never promised," Prange said. "As a fifth year, it's been awesome to know that I can wear the jersey one more time meant the world. These girls are awesome and I cherish every moment I have with them, knowing I get one more week of practice and another weekend of games is awesome."
What stands in the way of Alabama making its 14th trip to Oklahoma City is a Northwestern squad led by fifth-year pitcher Danielle Williams. The 2019 Schutt Sports/NFCA National Freshman of the Year is having another career for the Wildcats going 22-1 with a 2.23 ERA. Her dominating campaign led Northwestern to its second-consecutive Big Ten Tournament championship.
"(She's) a great young lady, we had recruited her," Murphy said. "The thing that really poses the problem is she's left-handed, but she probably has the best changeup in the country as a left-hander. You just don't see that every day. We face some lefties, but not with the changeup and you know if you watch the regional at their place, she'll throw it at any count anytime. Bases Loaded, full count, three pitches in a row to one young lady. It is a deadly pitch and that's the biggest thing I'm worried about is just she's a really good pitcher."
The Tuscaloosa Super Regional is scheduled to begin on Friday at 7 p.m. and will be televised on ESPN 2.

"These never, ever, ever, ever get old," Murphy said. "It's just a great tradition here for Alabama softball to be at the super regional, especially here at Rhoads (Stadium)."