Alabama players who could go early in next year's NFL Draft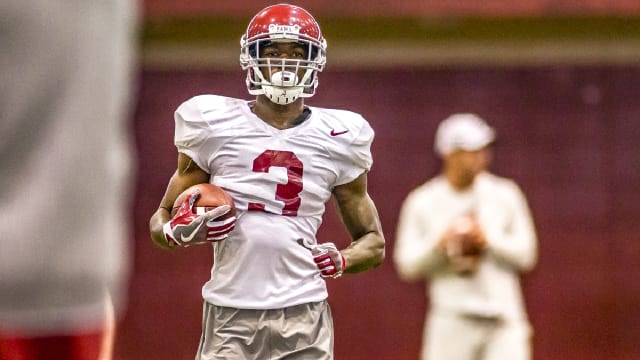 TUSCALOOSA, Ala. — Now that the 2017 NFL Draft is done and dusted, it's never too early to start looking ahead. Here are a few Alabama players who could see their names called early during next year's draft:
Calvin Ridley, wide receiver 
Following a freshman campaign that saw him break Alabama's single-season freshman receiving record with 89 receptions for 1,045 yards and seven touchdowns, Calvin Ridley took a step back last season. The 6-foot-1, 190-pound receiver still led the Tide with a team-high 72 catches and racked up 769 yards and seven touchdowns through the air, but his numbers were a far cry from his stellar freshman year.

Much of that dip in production can be attributed to Alabama breaking in Jalen Hurts at quarterback, which limited how many times the Tide took chances downfield. This spring, Hurts has worked on his comfortability in the pocket and appears to have improved on his downfield passing. That was evident during the A-Day game when Hurts connected with Ridley on a 60-yard pass in the first quarter before hitting the receiver again for a 37-yard touchdown in the fourth quarter.
Ridley was clocked at 4.43 in the 40-yard dash during Alabama's spring workouts, according to Al.com. If Alabama is able to utilize that speed in the vertical passing game, Ridley could be in for another big season.
Minkah Fitzpatrick, defensive back. 
Already proving that he can contribute at numerous spots in the secondary, Minkah Fitzpatrick should have NFL scouts drooling this time next year. Fitzpatrick led the Tide with six interceptions last season, two of which he returned for touchdowns. Over his two-year college career, Fitzpatrick has already set the Alabama record for interceptions returned for touchdowns with four.

Earlier this spring, Fitzpatrick said he feels more natural at cornerback, which is where he might end up at the next level. According to Al.com, the 6-foot-1, 201-pound defensive back posted a 4.44 in the 40-yard dash during Alabama's spring testing. That combination of size and speed should allow him to move to cornerback in the NFL. However, Fitzpatrick's physical nature and ability to read defenses might translate more to the safety position.
"He pretty much can do everything in my eyes," Alabama defensive back Anthony Averett said. "Put him at corner, safety, Star, wherever you want to put Minkah he can play."
Da'Ron Payne, defensive lineman
Playing at the nose tackle position, Da'Ron Payne's numbers are never going to be as the two defensive linemen on either side of him. Starting every game for the Tide last season, he tallied 36 tackles, 3.5 for a loss, with 1.5 sacks and three quarterback hurries. His statistical moment of glory came at Ole Miss, when he scooped up a fumble at the Rebels 3-yard line and returned it for a touchdown.

However, those aren't the numbers that will be catching NFL Scouts' eyes. The 6-foot-2, 312-pound defensive tackle recorded a 635-pound squat and bench-pressed 545 pounds with a 365-pound power clean during Alabama's spring workouts, according to Al.com.
Widely viewed as one of the strongest players on the team, Payne talked about dropping down to 308 pounds this spring in order to add some speed to his game.
"Just the way teams are playing now, it's more fast-paced and just on the ball, on the ball," he said. "I just got to get ready for that."
While he projects to remain an interior defensive lineman next season, Payne has the athleticism to play anywhere across the defensive line. That combination of strength and versatility will surely be coveted at the next level.
Da'Shawn Hand, defensive lineman 
Da'Shawn Hand has yet to fulfill the lofty expectations placed on him after he joined Alabama as the No. 1 overall recruit in the 2014 class. Although, that has more to do with the players playing in front of him than his abilities on the field.

Slotted behind Jarran Reed, A'Shawn Robinson, Johnathan Allen and Dalvin Tomlinson the past two seasons, Hand has yet to make his first collegiate start. That should change this season as the 6-foot-4, 282-pound defensive end projects to fill in for Allen as the Tide's biggest pass-rushing threat on the line.
It will be difficult to replace the 10.5 sacks, 16 tackles for a loss and 15 quarterback hurries that earned Allen the Bronko Nagurski Trophy, Chuck Bednarik Award, and Ted Hendricks Award, but Hand is eager to finally get his chance in the spotlight.
"How hungry am I? Wooh. Woooooh. To be honest, man, I don't even know how to answer that question," Hand said. "That's how hungry I am. It's immeasurable, for real."
Rashaan Evans, linebacker 
Rashaan Evans is another person who has had to wait his turn at Alabama. The rising senior didn't make his first collegiate start until the Peach Bowl last year when he filled in for injured starter Shaun Dion Hamilton. This season, Evans, a former five-star recruit, is expected to start alongside Hamilton taking the role of departing Butkus Award winner Reuben Foster.
While that's a tall task, Evans isn't lacking in confidence. The 6-foot-3, 234-pound linebacker predicted he would follow in Foster's footsteps and win the Butkus Award this season, making the proclamation from his Twitter account in February.
Evans showed glimpses of that potential last year, recording 53 tackles, 4.5 tackles for a loss, four sacks and a forced fumble. In his two starts last season, he tallied 18 combined tackles and 1.5 sacks, including a career-high 11 stops in the national championship game.
If he can keep that up, don't be surprised if Evans shoots up draft boards this fall.
Bo Scarbrough, running back 
If healthy, there's no question Bo Scarbrough has the talent to become a first-round pick next year. The 6-foot-2, 232-pound running back was unstoppable toward the end of the season, rushing for 90 or more yards in each of the last four games.
Scarbrough earned offensive MVP honors in the Peach Bowl, rushing for 180 yards and two touchdowns on 19 carries against Washington. He racked up 93 yards and two touchdowns during the national championship game against Clemson before breaking his leg in the third quarter.
Unfortunately, injuries have been a common occurrence for Scarbrough. In high school, he suffered two season-ending injuries, tearing his ACL and breaking his ankle. He missed also sat out his first season at Alabama while recovering from knee surgery.
If Scarbrough is able to make it through a full season without injury, he might generate some buzz from NFL teams. Right now that's a big if, but when healthy his potential is through the roof.
NFL Related