Alabama 3-2-1: A look at the upcoming week for the Tide (March 27-April 2)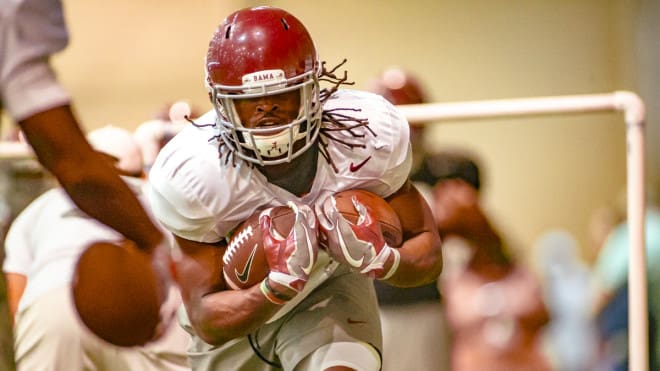 TUSCALOOSA, Ala. — Football is back in the air on the University of Alabama campus as the Crimson Tide opened its spring camp this past week. Three practices in, we have already experienced one rant from head coach Nick Saban and plenty of noteworthy items on the playing field. Let's break down what happened during the first week of spring camp while taking a look at what to expect in the next seven days in our latest 3-2-1 segment.
THREE OBSERVATIONS 
Early enrollees make good first impression
At first sight it doesn't even seem fair. While it's too early to tell what any of Alabama's 16 early enrollees will do this season, the start of spring camp offered up some positive signs headed forward.
It's hard to believe some of the true freshman already on Alabama's roster are recently removed from high school. Two that jump out right away are a pair of five-stars in linebacker Dylan Moses and offensive lineman Alex Leatherwood.
Moses, who enters as the No. 2 outside linebacker and No. 37 player overall in the 2017 class, is practicing with the inside linebackers. Listed as 6-foot-3, 234 pounds on Alabama's official roster, he's two inches taller and six pound heavier than Butkus Award winner Reuben Foster was last season. Moses, the winner of the high school Butkus Award, is still raw and should primarily feature on special teams this season. However, given the freshman's size and athleticism, it's would not be surprising for him to shoot up the ranks early in his college career.
Although Leatherwood is listed at 6-foot-6, 327 pounds on Alabama's roster, many feared he would be out of shape as rumors emerged that he had increased his weight to 350 pounds since joining the team in January. While there is no official word on Leatherwood's weight, those fears should be put to rest as the freshman appears to be one of the most physically imposing players on the Tide's offensive line. Leatherwood joined Alabama as the No. 1 offensive tackle and No. 4 player overall in the 2017 class. While he has yet to crack the Tide's first unit so far, many feel he could fight his way into the rotation before the start of the season.
Other standouts include running back Najee Harris, who enters as the nation's No. 1 overall player, as well as five-star receiver Jerry Jeudy. Harris is listed at 6-foot-2, 227 pounds and looks every bit as big as fellow running back Bo Scarbrough. Jeudy, 6-foot-1, 184 pounds, has earned rave reviews from fellow receiver Clavin Ridley, who said the freshman could pose a serious threat to his freshman receiving record of 1,045 yards set in 2015.
Other players making waves 
True freshmen might garner the most intrigue during the start of spring camp, there have been plenty of other players who have made big impressions through the Tide's first three practices. With several starting spots up for grabs, former backups have stepped in nicely so far.

Perhaps the player who has impressed the most is offensive tackle Matt Womack. The 6-foot-7, 326-pound tackle has been working at right tackle with the first offensive line group and physically looks the part. Womack, a former three-star recruit, flew under the radar this offseason, as not many projected him to fill the opening at tackle. However, after appearing in nine games last season, his experience seems to be paying off early this spring.
Another player to watch is receiver Cam Sims, who has been practicing behind Ridley in practice. Listed at 6-foot-5, 205 pounds, Sims moves well for his size during drills. Given his size, he could bring an added dimension to the Tide's offense this season, not only as a big target on the perimeter but also as a downfield blocker in the running game.
On the defensive side of the ball, defensive lineman Raekwon Davis appears primed to take the next step heading into his sophomore season. Davis, 6-foot-7, 300 pounds, generated plenty of attention last year due to his towering size. This year, he has appeared to slim down and looks to be a viable option coming off the edge on Alabama's front three. Davis has been working with the first unit and should compete with redshirt freshman Quinnen Williams and JUCO transfer Isaiah Buggs for one of the two openings on the Tide's defensive line.
Alabama hires former player as defensive analyst
According to multiple reports, former Alabama defensive back Geno Matias-Smith has been hired as a member of the Crimson Tide's coaching staff where he will serve in an "intern-like capacity."
Matias-Smith played at Alabama from 2012-15 after coming to the Tide as a four-star cornerback in the 2012 class. During his senior season in 2015, he served as a starter at safety and tallied a career-high 11 tackles in Alabama's 45-41 win over Clemson in the national championship game. He joined the Washington Redskins as an undrafted free agent last season but did not appear in any games.
The former Tide defensive back was seen during practice on Saturday and will most likely serve in an off-the-field role as a defensive analyst moving forward. The hiring of former players is nothing new for Alabama. The Tide added former safety Nick Perry as a graduate assistant early this month and promoted former linebacker Denzel Deval to director of player development in February.
The Tuscaloosa News was first to report on Matias-Smith's hiring.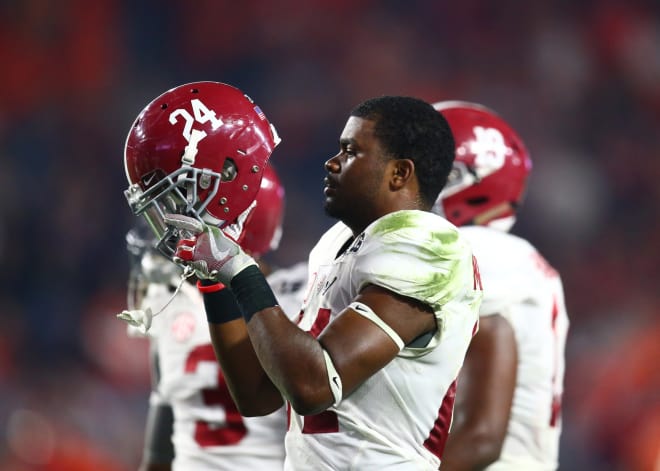 TWO QUESTIONS
Who takes Fitzpatrick's role at strong safety?
Alabama defensive back Minkah Fitzpatrick is back home at cornerback, the position he "came here to play." Fitzpatrick started last season as a cornerback in the Tide's base formation before moving exclusively to Star later in the year. He was then switched over to strong safety for the final seven games, following Eddie Jackson's season-ending injury against Texas A&M.
Playing across from Anthony Averett, who led the team with eight pass deflections last year, Fitzpatrick should give Alabama two lock-down defenders on either side of the field. The question this year will be who fills the role he left behind at safety?
The leading candidate heading into the spring would appear to be senior Hootie Jones, who came in at safety last year when the Tide lined up in the dime formation. Serving as a key reserve in Alabama's secondary, Jones tallied 20 tackles, five pass deflections and a forced fumble last season. Another possible option could be Deionte Thompson, who played in 14 games last season. Serving as a primary special teams player, Thompson recorded nine tackles, including eight on kickoff coverage, which tied him for a team high.
"Deionte Thompson has made improvements every year and hopefully he'll continue to be able to make progress and be able to make a contribution," Alabama head coach Nick Saban said last week.
Early enrollees Daniel Wright, Xavier McKinney and Kyriq McDonald are also players to watch at the position.
How long does Trevon Diggs stay at corner?
Speaking of secondary, it will be interesting to see what sophomore Trevon Diggs' role will be this season. Due to the Tide's lack of depth at secondary last year, Diggs started at cornerback last fall before switching to wide receiver during the season. Despite being listed as a receiver on Alabama's roster, he has participated with the cornerback in all three practices this spring.

"That's an experiment we wanted to go through and see," Saban said last week. "Look, it's two-fold. We can see what he can do, and he can learn a position if we had issues later on from a depth standpoint, the would know enough to go over and be an emergency player and play both ways if he was playing offense later on. This is the time to sort of try to do that."
When asked about what he saw from Diggs at cornerback, Fitzpatrick said the sophomore is "a bit uncomfortable" at the position but called him a great athlete and stated that he thought he would eventually thrive over time.
Diggs was projected to take a bigger role on offense this season and was even thought to be a potential starter at receiver. However, given the amount of talent Alabama has already at the receiver position, combined with what it has coming in, it might make more sense to move Diggs to defense.
ONE PREDICTION 
Expect Saban to go off again this spring
It took less than seven minutes for Saban to unleash one of his patented rants during his first news conference of spring camp, as he was asked last week about whether or not Alabama would switch to a more "ball-control" offense following its 35-31 loss to Clemson in the national championship game. More than two months removed from a last-second defeat to the Tigers, the head coach is still understandably upset.
"I don't know where you came up with we're going to go to 'ball control.' That's not what we do," Saban said, coming to a crescendo. "...Where does that assumption come from? Or do you do what everybody else in the media does and just create some (expletive) and throw it on the wall and see what sticks."
* Sunday Pulpit: Nick Saban is mad, and that's a good thing for Alabama
Don't expect Saban's mood to change anytime soon, as he already looks to be in mid-season form in terms of patience. That should make for an interesting spring, as the head coach will undoubtedly be asked about the national championship at some point later on.