Sunday Pulpit: Nick Saban is mad, and that's a good thing for Alabama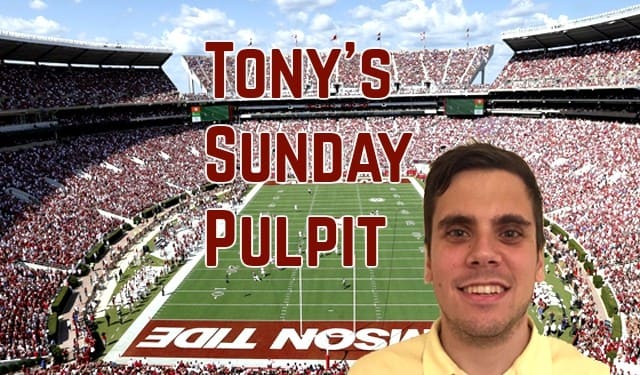 As soon as the fingers start tapping, it's about to get interesting.
The next time Alabama head coach Nick Saban gets behind the microphone pay close attention. If you want an indicator of his temperament, the place to watch is his right hand. Positioned on the outside of the podium near an unopened bottle of Coke, Saban's fingers often reveal his mood.
When they start to tap, it usually means a storm is coming.
That was the case Tuesday afternoon when Saban was asked about returning to a "ball-control" offense following the Crimson Tide's loss to Clemson in the national championship game. Taking a drink from his water bottle as the question was presented, his lips pursed together to form a flattened frown.
Saban started by firing off a list of what Alabama could have done better in the game. Then, like a coiled rattlesnake, he gave his signature tell. Bouncing his pointer and middle finger across the podium, Saban stated it was the coaches fault for not having the team more prepared. The ring finger joined in as the head coach addressed the Tide's execution.
Then this happened.
"But philosophically, I don't know where you came up with we're going to go to 'ball control.' That's not what we do," Saban said, coming to a crescendo. "...Where does that assumption come from? Or do you do what everybody else in the media does and just create some (expletive) and throw it on the wall and see what sticks, which is what I see happening everywhere."
From there, Saban's rant spread to a possible NCAA ruling, politics and eventually back to the topic at hand. But none of that really matters anyway.
* Spring Practice No. 3 (Report/Video/Breakdown Added)
Alabama's offense will work its way out one way or another. Sure, newly hired offensive coordinator Brian Daboll might provide a few wrinkles. The Tide could possibly even resemble more of a pro-style approach, as seen by Daboll's offenses in the NFL. But, as Saban has said plenty of times, don't hold your breath on any dramatic changes.
All of that will play out as the Tide progresses over the spring. What Tuesday's tirade really displayed was Saban's attitude coming into the season.
It's clear there has been plenty of finger tapping this offseason as Saban looks back over film of the national championship defeat. It's no surprise that a man with four national championships in the past nine years doesn't take well to losing. He's made that clear to everyone in the program.
"I think the challenge was to everybody in this building that works in football that this is not a time to talk about 'we,' this is a time to talk about 'I' – what I can do better to helps us be a better team," Saban said. "I don't care whether it's me, I don't care what your role is here, I don't care if you're in recruiting, I don't care if you're in operations, I don't care if you're a coach on the field or a GA or an intern. What can I do better to make our team better? That's the message to everybody here. That's what we tried to do in the offseason and that's what we're going to try to continue to do in the spring."
Saban's pissed, and that isn't going to change anytime soon. For Alabama, that's more encouraging of a sign than anything the Tide has done on the field one week into spring camp. Three practices and one news conference in, it's evident this is going to be a long spring for the head coach. However, it's going to be even longer for anyone who stands in his way to redemption.
Any questions?
Saban's fingers are already tapping anxiously.