Yeldon makes splash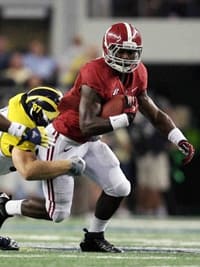 TUSCALOOSA | Three days ago, T.J. Yeldon didn't know what carrying a football in a college game even felt like. Today, he holds a University of Alabama rushing record.
Three days ago, he was a relative unknown from Daphne, Ala. Today, he's the subject of water-cooler chatter all over the nation as the Southeastern Conferenece's co-Freshman of the Week.
It's happening fast for the Crimson Tide's freshman running back, but according to teammates, not too fast for him to handle.
"Honestly, we weren't surprised. We had been seeing that out of him for a long time," said offensive lineman Barrett Jones. "I don't think it's a secret that he might be the next one kind of in line to take over that title of our great running back. We feel good about the future with him."
In rushing for 111 yards on 11 carries in a nationally-televised win over Michigan Saturday, Yeldon became the only true freshman in school history to rush for over 100 yards in his college debut. Yeldon, a five-star recruit who first committed to Auburn before changing his mind in favor of the Crimson Tide last year, was unavailable for comment under team policy.
UA coach Nick Saban said Yeldon and Lacy, who isn't yet completely recovered from injury, could develop into an effective tandem as Lacy's health improves.
"T.J. did a good job, but we had total faith, trust and confidence in T.J. I mean, if Eddie couldn't have gone, T.J. was going to start," Saban said. "Eddie felt good in pregame and practiced two or three days so we played Eddie."
Yeldon first introduced himself to Alabama fans on A-Day, winning the annual spring scrimmage MVP with 185 total yards. On Saturday, he introduced himself to a much larger audience.
Yeldon makes his home debut Saturday afternoon when the Crimson Tide plays host to Western Kentucky.
"It looks like they have the same players back," WKU coach Willie Taggert said of the Crimson Tide's replacements for the players who went onto the NFL last year. "It looks like they just put different numbers on them."
Reach Chase Goodbread at chase@tidesports.com or at 205-722-0196.