Winding West Va. path leads Nick Saban to success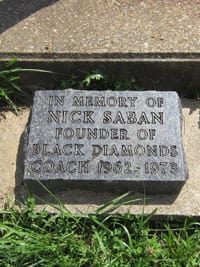 Click
Here
to view this Link.
IDAMAY, W.Va. | There are no straight roads in this part of northern West Virginia, nor any flat ones.
They wind over hills and curve around mountainsides; sometimes they are carved out of the hard earth. A 100-yard horizontal straightaway is uncommon, and there are more signs warning of falling rocks than stop signs.
First Street in this unincorporated town along Route 218 is typical: It rolls over one hill and then curves up another, past a church that used to be a schoolhouse to a field that used to be a pasture owned by a lady with one cow.
Spend any time around here and you'll learn that "used to be" is a common reference point when giving directions. Idamay used to be a bustling mining town, where coal was dug and families prospered. Those dozen brick buildings behind the barbed-wire fence in the center of town used to be the mine's headquarters. The houses along either side of the deteriorating, fenced-off structures used to be owned by Bethlehem Mines Corp., and before the mine closed, everyone who resided here made their living by working in the mines or from selling things to people who did.
That field at the end of First Street has a name: Nick Saban Memorial Field. It is where the University of Alabama's head football coach learned to play the game, and it is named after his late father.
A couple of miles away, at the other end of Route 218 - where it dead ends at U.S. Highway 19 at the bottom of what the locals call Swisher Hill - is the house where Saban grew up. It is behind the gas station his father owned, which is across the highway from the building where his mother ran an ice cream shop and restaurant.
This is where Saban began his own winding, rocky path toward becoming the most successful coach in college football. This is where he learned the values and nurtured the drive that have taken him to four national championships - three at Alabama - and where he first forged a reputation as a leader, a winner and a fierce competitor.
When Alabama plays West Virginia Saturday in the Georgia Dome in Atlanta to open the 2014 season, Saban's present and past brush together. Perhaps it is fitting that the game is being played at a neutral site rather than at WVU, a 40-minute drive from Saban's childhood home, because the 62-year-old coach has learned that you really can't ever go home, because home is no longer the place it used to be.
"It's a different place now with the mines all closed," Saban said. "It was kind of a thriving community. There's not much up there now."
Black Diamonds
There is a kind of coal, anthracite, that contains more fixed carbon and less volatile matter than any other type. It burns with a pale blue flame and emits little smoke. Once lit, it stays combustible with less effort than other coal products. It is rare, making up less than 2 percent of all coal reserves in the country, according to Encyclopedia Britannica.
Anthracite is known as black diamond, and it inspired the name of the youth football team that Nick Saban Sr. founded in the early 1960s.
Saban and longtime friend Bill Criado, who was postmaster of Idamay and nearby Farmington, started a Pop Warner program that drew players from the surrounding mining towns. Saban was going to be commissioner, with Criado acting as secretary. They enlisted a couple of college kids to coach.
"We decided to go take a look at how things were going," recalled Criado, now 87. "When we got there it was a bunch of kids with their parents, but no coach had showed up."
That's how Nick Saban Sr. became a coach. Not long after, he visited Criado at the post office and declared that the team would need a name. Criado suggested the Sabans, an idea the coach immediately shot down.
"We kicked around a few names," Criado said. "I came up with the Black Diamonds, because it's associated with coal."
In their first season, the Idamay Black Diamonds got left in the coal dust.
"We didn't win a game," said Tom Hulderman, now 63, a charter member who scored the team's first touchdown. "Matter of fact, we didn't come close to winning a game."
Something was missing. Perhaps it was a scrappy little kid, the coach's son, who wasn't yet old enough to play.
Nick Saban, the Alabama coach, is still known in these parts as Brother: "His parents had a daughter, and they would say, 'When your brother comes,'" Criado said. "It started like that."
Brother Saban wasn't the kind of kid whom others easily forgot.
"First time I ever saw Brother, he'd just got a bicycle," Hulderman said. "It was burgundy and he had the handlebars on backwards. He had his tongue sticking out, pumping that thing as hard as he could.
"I was jealous as hell."
When Brother Saban joined the Black Diamonds in the program's second year, the flame was lit, and it kept burning.
"We might have went 5-5 or 6-4 that year," Hulderman said. "After that, nobody could score on us."
Nick's kids
The team had more than a playbook. It had a mentor and father figure.
Nick Saban Sr. bought an old school bus and ran a daily route from one little mining community to another to pick kids up and take them to practice.
"He didn't want the kids to walk the roads," Criado said.
He often took the players to his wife's shop for ice cream after practice, but Saban's philanthropy went far beyond treats and bus rides. He bought football shoes for kids from families that couldn't afford them. When new players wanted to join the Black Diamonds, Nick Sr. would have them write an essay explaining why they wanted to play. When one boy who had flunked out of school turned in a well-written essay, it was Saban who intervened with the principal and tutored the student to get him back in school.
"He did things that nobody knows," Criado said.
The son witnessed his father's kindness.
"I remember poor, poor kids coming in and having a worn-out basketball and wanting to put air in the ball at the gas station, and saw my dad take them to the sports store and buy them a new basketball, stuff like that," Saban said. "That's what he was all about."
The bus was about more than transportation.
"That bus had sayings in magic marker all around it that were all things not to win a game, but to be a better person and the choices and decisions that you made," Saban said. "It goes far beyond just being the coach of the team."
When Nick Saban, the son, got in position to help others, he and wife Terry started a charity called the Nick's Kids Fund. Since 2007, it has distributed more than $4.6 million to local and state organizations.
"Nick's Kids is really all about my dad Nick, not me Nick," Saban said. "It was because of all the things that he did to try to create a situation where these kids had an opportunity to play, which they never would have had."
Living memory
Nick Saban Memorial Field is not unlike the surrounding terrain. It's 100 yards are straight, but two opposite end zone corners rise upward to a point where a receiver might be standing more than a foot higher than a defender trying to cover him.
Beyond the field is a steep incline, with trees on top. Players ran conditioning drills on that hill.
"We would practice so long when my dad was the coach that when conditioning came it was usually dark," Saban recalled, "so we had to actually bring back a leaf from the trees at the top to prove that we made it up.
"We didn't do it once, we did it many times. I'm talking about up and back, up-back, up-back."
On a recent weekday afternoon, dozens of kids in helmets and shoulder pads were gathered in different spots on that field, practicing for the upcoming season. The Idamay Black Diamonds have 126 players this year in three age divisions.
The field is unique to the league.
"Everywhere else we play is on a high school field or middle school field," said Jeremy White, 35, who manages a carpet outlet in Fairmont and acts as the organization's president. "We're the only ones who have our own field.
"It's Nick Saban's field, and we take a lot of pride in that. The fact that his father started it, I think that keeps the community involved. Everywhere we go, people come up and ask us about Nick Saban."
Every year, Saban sends $5,000 to support the Black Diamonds. This year's check came with a signed football, hat and photo for auction to raise more money.
The Black Diamonds charge players and cheerleaders just $10 for the season.
"We provide about everything but the cheerleaders' socks and the cleats," White said. "This is a poor part of the county."
Down the road a little way, the station that Saban's father once owned sells tires but no longer has gas pumps. The building that was once his mother's ice cream shop is now a bar that caters to less wholesome clients than it did in the 1960s: "Welcome Bikers Friday Night Bike Night," declares a prominent sign greeting customers.
On a wall inside the bar is an autographed Saban photo. A signed Alabama jersey can be found in Prunty's Pub on the main drag a couple of miles away in Monongah, where Saban played in high school.
Monongah High School no longer exists. After the mines closed and the population began to shrink - Marion County had more than 71,000 residents in 1950, the year before Saban was born, and today is home to 56,678, according to the latest U.S. Census figures - the traditional town high schools consolidated. The schoolhouse is now the town's middle school. It has a display case that contains a shrine to Alabama's coach, with a crimson and white shaker and other Saban memorabilia.
"There are a lot of Alabama fans around here," said Steve Malnick, the principal. "I wanted to do this to kind of recognize the history behind Nick Saban and Monongah athletics."
Championship season
Saban, playing quarterback and safety, won a Class A state championship as a high school senior in 1968. Monongah went undefeated, outscoring opponents 46.4 to 5.3 in the regular season, and didn't score fewer than 39 points until the state championship game, which the Lions won 21-12.
Marbury and Hulderman, his old Black Diamond teammates, provided athleticism and speed. Saban called the plays and brought the intangibles.
"Even though he didn't have the raw speed," Hulderman said, "he knew you can get there with your brain, too. Even if he wasn't in the right place, he could get there by studying and knowing."
What was Saban like in the huddle?
"I'll put it this way, he expected your attention and then there were times he demanded it immediately, 'We've got to do it now, on this play.' But also, he would crack jokes in the huddle sometimes to break the tension," Hulderman said. "Relating to the guys, if he needed to get a point across he'd get it across.
"He knew the ones he could just jump on their butts, but just by the look in his eyes or a pat on the shoulder he would give credit when it was due."
Saban made All-State in baseball as an infielder and in basketball as a guard. He could have been West Virginia's first three-sport All-State athlete had he played football more selfishly.
Criado remembers overhearing a conversation between Saban, when he was in high school, and his father.
"He was scoring a lot," Criado said, "and his dad told him, 'Don't be calling quarterback draws or things like that because these other guys aren't going to like it too much.'"
The message: Let the other guys score.
Discussing his legacy of winning from youth league to high school to coaching, Saban still deflects the glory.
"We had a very, very good team and I was fortunate," he said. "It was the same thing when we played Pop Warner for my dad, we had a very good team.
"I just happened to be the quarterback on a very good team."
Cradle of champions
Monongah is best known for a 1907 disaster that claimed the lives of 361 coal miners, many of them children. A plaque in front of town hall recognizes the victims, who "perished under these hills in worst mining disaster of our nation."
The area is also known for producing an uncommon number of top coaches and athletes: Sam Huff, the Hall of Fame linebacker for the New York Giants and Washington Redskins in the 1950s and '60s, is from Edna Gas, which is now part of Farmington, just 7 miles away; Fielding Yost, who coached Nebraska, Stanford, Kansas and Michigan in the late 1800s and early 1900s, was from Fairview, 13 miles away; Arizona coach Rich Rodriguez, also known for his stints at West Virginia and Michigan, is from Grant Town, 20 miles away; late Southern Cal coach John McKay was from 30 miles away in Everettesville.
Is there something in the coal-enriched soil that has produced so many football standouts from such a small and isolated area located 90 miles south of Pittsburgh? Or can the answer be found in the social fabric?
"Sports was the only thing we had that connected us all together," Criado said. "Each little town had their own high school football team. Everybody was proud of their high school."
Living was hard in the mining towns, even when they were booming. Saban is one generation removed from the mines: his grandfather's home was in nearby Carolina, right across the street from the mine's headquarters.
"It was hard for us to get places," Saban said. "We didn't have transportation. The way I got around when I was that age is we hitchhiked everywhere. You know, if you were in Carolina or Idamay and the shift didn't change, there wasn't much traffic."
Kids congregated at the ballfields.
"To be quite honest, there wasn't a whole heck of a lot else to do," Saban said. "I think when you're a competitor and you like to compete, football, basketball and baseball were the sports we were exposed to growing up, and we played something year-round.
"Where I grew up and spent a lot of time with my grandmother in Carolina, we either went to the church and we played basketball or we went to the ball diamond and played baseball, and in football season we played football."
Competitive drive
In Saban, something more was at work. He was driven to win, a quality passed down from his father. Criado remembers playing the card game pinochle at the Saban house many nights.
"We had some tough games, I tell you," he said.
As charitable as Nick Sr. was, he could also be a hard man.
"It was either his way or hit the road," Criado said. "That's how it was. Brother is a little bit like his dad that way."
Hulderman learned it back in high school. He used to stay after practice for up to an hour with his quarterback, working on timing. One day he lit a cigarette as he walked off the field.
"You shouldn't be doing that," Saban told him. "You're captain of the team."
Hulderman told him what he could do with his opinion. He turned to walk away and was bonked in the head by a football thrown by Saban.
"Next time," the future college coach said, "I'll knock your head off."
Saban's demand that others play up to his standards is a hallmark of his coaching.
"How competitive is he?" Hulderman asks. "How deep is the ocean? I don't think there's a scale.
"He kind of reminds me of Michael Jordan. He may be quiet, he doesn't say much, but when he lets you think you're going to win he's going to cut your heart out."
Saban credits his upbringing.
"I was always fortunate to be around people - I mean my high school coach, my dad who was my coach - who were really tough, but in a good way," he said. "The only time that I struggled was when I first went to Kent State (to play in college), we weren't really successful until Don James become the head coach, and then we were successful.
"To have those kind of mentors and those kind of people to teach you the values it took to be successful, they had a huge impact on me."
Losing a father
Saban played in the defensive backfield at Kent State, three hours away in Ohio, finishing his career in 1972. He stayed on as a graduate assistant to start his coaching career.
The next year, his father suffered a heart attack while jogging home on Route 218, a few dozen yards short of making it to the house. He was rushed to Fairmont General Hospital and pronounced dead.
"I was there at the hospital when his mother got a call," Criado said. "It was Brother. He had heard."
Saban wanted to quit and return home to run the gas station and restaurant. His mother said no.
"She just said your dad wouldn't want you to do that, he wanted you to do what you are doing," Saban said. "That's why we worked so hard to send you to college and all that.
"It was very, very difficult because my dad was really the patriarch of our family. He was the whole deal. It was difficult for my mom, my sister, our entire family. I was away. It was tough, the toughest thing I ever had to go through."
A special place
West Virginia will always be special to Saban. He came up in the shadow of WVU's athletic department in a time of black-and-white television and three networks, with only a couple of games aired each week.
"I grew up a Mountaineer fan like most of the kids we grew up with," he said. "When I grew up you weren't exposed to all the teams all over the country like you are now.
"It was the highlight of my life when my dad took me to a game. My memories of being a little kid sitting in Mountaineer Field House watching Jerry West play, I mean that doesn't ever go away."
When Saban's father died, West Virginia reached out to him. Bobby Bowden, WVU's head coach at the time, had coached with James, Saban's coach at Kent State, when the two were assistants at Florida State in the 1960s. They arranged to offer the young coach a chance to move closer to home.
"I didn't know Coach Bowden that well," Saban said. "He actually called me when I was a graduate assistant at Kent State and said, 'If you need to come home you can be a graduate assistant here.' I never, ever forgot that."
Saban chose to stay at Kent State, becoming a full-time assistant, and later spent two seasons on the staff at West Virginia under Frank Cignetti Sr. after Bowden had moved on to become head coach at FSU.
To this day, Saban still peruses results from West Virginia and Kent State athletic contests.
"It doesn't really make any difference if it's a football game or a basketball game or whatever it is," he said. "Way back, someplace you're still a bit of a fan because that sort of never leaves you."
Back in Idamay and Monongah and those other old mining communities, they feel the same way about the guy they still call Brother.
"I don't think he had any idea that he would ever become what he has," Criado said, "but I can tell you people around here are mighty proud of him."
-Reach Tommy Deas at tommy@tidesports.com or at 205-722-0224.