Williams gets regal-type upgrade to starter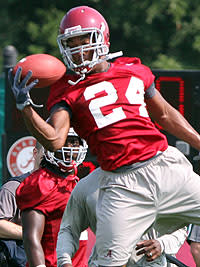 TUSCALOOSA _ Even though the University of Alabama football team is replacing nine defensive starters, when Coach Nick Saban released the initial depth chart for the 2010 season on Monday it had numerous changes from where players lined up during the spring and A-Day in particular.
In short, some of those who many thought would do the replacing have been, well, replaced -- at least temporarily.
The most notable change occurred at strong-side linebacker, where after 20 career games
Chavis Williams
is slated to make his first start Saturday at Bryant-Denny Stadium assuming San Jose State doesn't come out in an obvious passing formation.
"I'm glad they're finally giving Chavis a chance to show what he's capable of," sophomore middle linebacker Dont'a Hightower said.
Williams played in seven games last season and finished with two tackles, giving him five for his career. However, his addition gives the Tide a second senior defensive starter, joining end Luther Davis.
Listed as 6-foot-4, 230 pounds, the converted defensive end from Dora High School is being backed up by junior Alex Watkins, although the Crimson Tide usually pulls the "Sam" linebacker when it uses nickel and dime formations.
"Chavis has always been a guy with high energy, high effort, has always been able to run and is a little bit of a play-maker and always has been on special teams," Saban said. "He's gotten bigger and stronger, holds the point better, he has a better understanding of the defense so he makes less mental errors and he's been in the same role now for several years, which I think is really helpful to him.
"His progress allowed us to move Jerrell Harris to inside linebacker. That was an area we weren't comfortable with."
The versatile Harris, whom Saban called one of his top three linebackers last week, started working in earnest at the interior last week at the weakside (or "Will") spot that used to be occupied by Hightower. He has 16 games of experience with six career tackles.
"Jerrell has played this before, he actually plays it in nickel all the time," Saban said. "It's a little bit like Corey Reamer, when Dont'a got hurt he was an outside backer but he really was an inside backer. There's a lot more continuity in terms of the plays and repetitions in practice if you're an inside backer in practice."
Backing up the two interior spots, which are considered close to being interchangeable are junior Chris Jordan and sophomore Nico Johnson, although true freshman C.J. Mosley is already making a push to be in the mix.
At right cornerback junior-college transfer
DeQuan Menzie
is slated to make his first career start despite sustaining an offseason Achilles tear. That along with a pulled hamstring and sprained ankle slowed him, but he still made it through the rigors of camp.
"He's played and practiced well enough that he can play if he doesn't have any setbacks (this week)," Saban said. "Now, will he be able to sustain the whole game based on the number of reps and the conditioning he's gotten to this point? He's been able to, probably the last seven to ten practices."
Menzie will also fill the star position as the nickel back. During Monday's practice redshirt freshman DeMarcus Milliner took his cornerback spot when Menzie slid over, ahead of sophomore B.J. Scott, who has been wearing a protective boot around campus. For the dime package junior safety Mark Barron moved to money with walk-on Will Lowery coming in at safety.
At nose tackle junior
Josh Chapman
is listed first on the depth chart, but he'll split time with former Hoover High School teammate
Kerry Murphy
. Chapman has more experience while the sophomore Murphy is a better pass-rusher.
"We're still going to get the same amount of reps," said Chapman, who hopes to start the season at 305 pounds. "When you're playing football you need someone to push you, and Kerry pushes me and I push him. Also off the field, we push each other."
Offensively the only change on the first unit appeared to be at the wide receiver position opposite Julio Jones, listed as either Marquis Maze or Darius Hanks.
Michael Bowman was not listed on the depth chart -- he worked on the scout team Monday at tight end, where he recently switched from wide receiver - along with junior-college transfer Brandon Lewis, a defensive lineman, and interior linebacker Tana Patrick.
To give an indication of how tentative the depth chart is, 19 spots were listed as "or," meaning one player or another as competition will continue through the season.
Roughly three hours after it was released players were already in different spots during practice. For example, the second-unit offensive line was listed as, from left to right, Alfred McCullough (or Tyler Love), John Michael Boswell, David Ross (or Brian Motley), Anthony Steen and Arie Kouandjio (or Boswell).
During practice Motley was at left guard with Bowell at right tackle. Kouandijo worked with the third unit at right tackle.