Visit Mt. Cody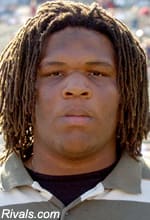 PERKINSTON, Miss. – The easy place to start the
Terrence Cody
story is right up on the line of scrimmage - about two feet above the pigskin – where a drop of sweat hangs from the bottom edge of his facemask. The center's snapping hand doesn't quiver, but it wants to.
It can't really be said that Cody was born to play noseguard when he's only played four seasons of football in his life. But it's where the Alabama signee's athletic career might be made or broken. It's where he's spent the last two years in the sweltering heat of South Mississippi.
And one day, it may be where the money is.
Assuming academic standards don't stand in the way – and by preliminary accounts, they won't – Cody may find himself hunched over
Antoine Caldwell
's All-SEC snapping hand when UA's fall practices commence in less than three months. He is 6-foot-5 and an extra biscuit short of 400 pounds.
No typo.
His massive size, questions about his stamina, and a passionate, curious UA fan base have already conspired to make Cody something of a mythical figure, before the ink is even dry on his JuCo final exams. But Cody's view from the heart of the line of scrimmage isn't where his real story resides.
He doesn't talk much, particularly about himself. The people who know him, however, will talk about him all day if given a chance. And on the tiny campus of Mississippi Gulf Coast Community College, everybody knows him. None, more than likely, will ever forget him. At any rate, the tales of interior offensive linemen who have risen from Cody's wake to dust themselves off are countless, and all have the same ending.
Scott Jones saw Cody write a different ending.
Jones' story is told from a steep, uneven hilltop in Moorefield, W.V., on a stifling July day in 2005. The Ft. Myers (Fla.) Riverdale High football coach had chaperoned his entire varsity squad there for a week of workouts and team-bonding activities. Jones had instructed his team to run a 2.5-mile uphill stretch that was unforgiving for even the sleekest athletes on the roster. The first players to finish, Jones said, crested the hill at around 24 minutes. By 30 minutes, much of the squad was at the top with Jones, panting for air. There was never any doubt about who would finish last. The doubt was whether or not Terrence Cody would finish at all. Jones remembers checking his watch.
35:00 ... Still no sign of a 400-pound guy who hadn't played a down of football in almost three years, who had to be wondering what he was doing nearly 1,100 miles from home, climbing a West Virginia hill in the heat of summer. … 40:00 ... The phrase "search party" comes to mind ... 45:00…
"All the sudden, we spot him, and he's making his way one step at a time," Jones said. "I believe that's the day he decided he could achieve anything he wanted. All the kids start cheering for him, and he even jogged the last 200 yards."
Cody, as it turns out, is easy to cheer for. But not many have taken the time to realize it.
Keating Helms took the time.
Helms is the unfortunate MGCCC center who was forced to knock heads with Cody every day in practice for two years. But the war stories can wait – they are, of course, too predictable. Helms would rather talk about his first off-field encounter with Cody.
"The night he first got on campus, I'm watching TV in the dorm with a teammate, and it's dark except for the door is open with a hall light on," Helms said. "And the light just disappears – I thought somebody turned the switch off. But it was Terrence standing in the doorway. He was the biggest human being I had ever seen. And he walks in and says, 'Does anybody want to watch cartoons'?"
Decent reception on Cartoon Network, Helms says, is all Cody needs to link days to nights. The biggest, toughest noseguard Helms ever had the displeasure of blocking slept on Spiderman sheets. And when Cody's Spiderman sheets were in the wash, Batman sheets took their place.
Helms claims to have seen Cody do some cartoonish things, too: Dunk basketballs, break through the bottom of futon chairs, consume more food in a single day than he ever thought possible. Then there was the time Helms asked Cody to pass him his laptop computer.
"He reached over and just palmed it like a basketball," Helms said. "He spread his hand right over the top of it, and his fingertips went around both sides. I couldn't believe it."
The stuff of animation, indeed.
The guy standing outside MGCCC's Owen Hall is unmistakably Cody. Who else could it be? The Fort Myers, Fla., native would turn heads standing in the middle of New York City's Times Square. But on a community college campus, in one of the tiniest towns of one of the smallest states, it is as if everything around him is a miniature model of itself. A blink of the eye is about all it takes to miss Perkinston, Mississippi on Highway 49. There is the community college, and there is Perkinston Baptist Church. Taylor's Food Store neatly ties MGCCC and Perkinston Baptist together with a clever parable on its marquee: "As long as there are final exams, there will be prayer in school."
Walk the stretch of railroad that lies in front of the school, the church, and Taylor's, and you've pretty much been from one end of town to the other. For those that define civilization as a Wal-Mart and a few restaurant options, Wiggins, Miss., is a short drive north. A little nightlife is actually within Perkinston's reach, too, as the coastlines of Gulfport and the casinos of Biloxi beckon less than half an hour to the South.
In his two years here, Cody usually passed on both.
"When he first got here, I was real worried about him," said MGCCC head coach Steve Campbell. "We couldn't get him out of his dorm room. He was 14 hours from home, didn't know a soul, and we couldn't get him to say a word to anybody. For awhile there, we were sending guys into his room to invite him out, even if it was just to a different guy's room."
The natural curiosity fans have about a 400-pound football player is cousin to the factors that make Cody the most quiet, shy player Campbell has ever seen come through the Bulldogs program. Cody concedes he has a few hermit-like tendencies, and the way he has been treated in life – by strangers and acquaintances alike – has played a role in his reclusive nature. As a child, he wore size-10 shoes by the age of eight. He weighed 280 pounds by the age of 14. Most classmates felt knee-jerk fear just to be near him, even though he was as kind as anyone in the room. The rest, with much the opposite reaction, picked on him with all the common juvenile nicknames for oversized kids. The two extremes, Cody admits, created a circus-freak element to his socialization.
Some days, he wished to be normal-sized.
"People definitely treat you different," Cody said. "People have told me they assumed I was mean, but I'm a cool dude. I try not to act scary. When I was little, they called me Big Foot, or whatever. I just walked away."
It's little wonder that the opportunity to back out on his commitment to Alabama and sign with Miami, which is just a short drive from his hometown, was tempting for someone who has had every reason not to meet new people.
The switch nearly happened, but the Hurricanes made a tough choice easy by dropping their pursuit of Cody. Most recruits won't admit to being dropped by any college - the egos are just too stout. Cody is more about honesty than ego.
"Miami backed off," Cody said. "But I was fine with it. I was interested in Miami, being so close to where I stay, but at the same time I didn't want to ruin my relationship with Alabama."
For all the tasks that come easy to someone Cody's size, even more things come very hard. In MGCCC's tiny dormitories – two players to a room – living quarters are tight enough. He can't stretch out at night without his feet hanging over the end of the bed. Shower heads are mounted too low. Once when he flew home to Ft. Myers, he had to squeeze into a middle seat between two elderly people. And the planes that take off from Gulfport-Biloxi Regional Airport aren't exactly Boeings. All three were politely asked if they would like to move. And the bathrooms on an airplane? Forget it.
"I've never even seen the inside of one," Cody said with a laugh. "I go before I get on the plane. I can just look at how small the door is and tell there's no way."
Then there is the clothes issue. Size 18 cleats have to be special-ordered, and Cody goes through a pair every couple of months during the season. Back at Riverdale High, Jones said he once acquired XXXXXL football pants from the Miami Dolphins for Cody. Sporting goods shops in Ft. Myers weren't of much use.
"The smile on his face when we got him a pair of cleats that fit, you'd think we'd given him a Rolls Royce," Campbell said. "You realize you're dealing with a kid who may have gone through periods in his life when he didn't have shoes that fit. It meant the world to him."
For all the frustrations – be they functional, practical or social – Cody eventually emerged from his shell at MGCCC.
"He's a big Teddy bear," Campbell said. "I mean a sweet, sweet kid. After two years here, he's everybody's best friend."
Cody was never eligible for the Pop Warner youth leagues in Ft. Myers because he was always over the weight limit. So when he first arrived at Riverdale as a freshman in the fall of 2002, he was 6-4, 285 pounds, but didn't even know what it felt like to strap a helmet on. By the end of that season, he had been promoted to Riverdale's varsity squad and was already dominating. Classroom struggles, however, nearly sank his football career before it ever launched. He was academically ineligible as a sophomore and again as a junior, a by-product of, in his words, "running with the wrong crowd." It was little wonder, then, that college recruiters had never heard of Terrence Cody when he was a senior, and Jones had to sell MGCCC on him just to open one last door for his career.
Not much, apparently, has ever come easy.
"His dad died when he was 11, and he had some weird things going on at home, and ended up being taken in by another family," Jones said.
Jones personally tutored Cody back to eligibility for his senior season at Riverdale, and two years of rust came off quickly.
"We had a little running back that weighed about 150, and one day Terrence landed on top of him," Jones said. "All you could see of this kid out from under Terrence was a foot sticking out, but it was moving, so we at least knew he was alive. Then we put in the Terrence rule, that he can only wrap up and release. He didn't like that."
Cody's weight got as high as 410 at Riverdale, but he dropped 40 pounds in two months on Jones' insistence.
"I didn't want him to die," Jones said.
While Cody may not have had much concern for his weight at the time, he had even less for opponents. In football, he had found a place where his size was revered instead of ridiculed. Feared instead of follied.
Without a single letter from a college in his mailbox, he destroyed double teams every Friday night as a senior. Jones found ways to make him more effective, including putting the ball in his hands as a short-yardage running back and even a tight end. At times, he stood up in a two-point stance at noseguard so he could just step over futile efforts to cutblock him at the knees. One night, he tackled and fell on
Noel Devine
- the Rivals.com five-star phenom from North Ft. Myers High who signed with West Virginia. According to Jones, Devine ended up vomiting on the sideline.
Campbell initially called Riverdale to inquire about the academic status of running back
Chevon Walker
, who signed with the Florida Gators. Jones told Campbell that Walker would qualify and had no need for a two-year college, but mentioned a defensive lineman who needed a chance somewhere. Campbell took one look at Cody's senior film – essentially the only varsity film available on him - and offered Cody on the spot. He told Jones to stay by his fax machine, have Cody sign papers and return the fax immediately. The mail, Campbell said, wasn't fast enough.
But while MGCCC coaches saw plenty of potential in Cody, their initial expectations were very reserved.
"First day of practice, we didn't expect him to make it through the first five minutes," said Campbell. "We're sure he's going to be cramped up under the tent with all the rest of them that are too heavy. You figure anyone that big has their problems - high blood pressure, dehydration, hurt all the time, can't move - whatever. Well, in two years here, he never missed one period of practice. Never cramped or dehydrated once."
When MGCCC's players maxed out in the weight room in the spring of 2007, Cody put up 400 on the bench press, but couldn't max out on the squat rack. He handled 660 pounds with little trouble, but the Bulldogs coaching staff wasn't comfortable with the degree to which the bar would bend if Cody had tried a 700-pound squat.
"What if he goes down and can't get it?," Campbell asked rhetorically. "I don't know if we have two kids that can spot 350 on each side, anyway. But he looked ready for more."
Chalk talk
Like to talk Xs and Os? Click
here
for an audio clip of MGCCC coach
Steve Campbell
commenting on why Terrence Cody is ideal at noseguard in a three-man front.
In the 3-4 defensive scheme employed by Alabama coach Nick Saban, as well as the 3-3 front Campbell uses at MGCCC, the noseguard isn't asked to make many tackles. As long as he requires a double-team, his job is done and the tackles come from elsewhere. But Campbell doesn't describe Cody as merely a space-taker. He called him the best football player on the entire Bulldogs team - a team that just went undefeated for a JuCo national championship. And with Cody anchoring just a six-man front, the Bulldogs led the Mississippi Association of Community and Junior Colleges in rush defense.
"He was the best player in our whole league," Campbell added.
Campbell has coached some major talents, including Kennard Ellis, Alton Moore, Howard Green and Eric Powell. All four have cashed NFL paychecks. And he chuckles when he hears chatter that Cody can't possibly handle Southeastern Conference offensive linemen without dropping some weight. He's allowed to chuckle, because he's coached in the SEC. He was a line coach under Jackie Sherrill at Mississippi State, and is well-acquainted with what it takes to succeed up front in college football's most hallowed Southern venues.
"Jackie would have loved Terrence," Campbell said. "Jackie liked 'em big. … There isn't anybody in the SEC that's going to single block him. No way. Let him get the pads on, and they'll see."
All that's left for Cody now is to complete course requirements. A potential pitfall was averted earlier this year when the MGCCC guidance office discovered Cody was on his way to being short by two credits. He added classes in World Literature and Music Appreciation to cover the shortfall, and believes he can enroll at UA as early as the first summer term in June. The NCAA Clearinghouse must rubber stamp his transcript before he can make travel plans, however.
"I've just got to take care of a couple of things, and I'm planning on getting there early," Cody said.
It might be premature to strip a mattress at Bryant Hall, but
Terrence Cody
appears to be on his way. Spiderman sheets included.