UGASports.com Wednesday notebook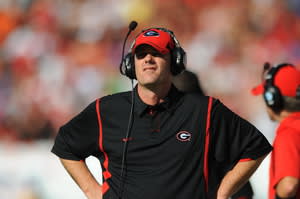 ATHENS, Ga. | Georgia offensive coordinator Mike Bobo admits it. He's a bit envious of good friend Kirby Smart, who just happens to be the defensive coordinator for defending national champion Alabama.
At Alabama, assistant coaches are not allowed to speak to the media, something Bobo joked after practice Tuesday evening sounds like a pretty good deal.
"I'm jealous. I told Claude (UGASports information director Claude Felton) that several times," said Bobo laughing.
Yes Bobo and Smart go back, way back.
Not only where their fathers long-time high school football coaches in the state of Georgia, but the pair later went to college and played together for the Bulldogs, Bobo at quarterback and Smart at safety.
They weren't the only future coaches who played together with Georgia back in the mid- to late-90s.
Current Florida head coach Will Muschamp was also a member of the team, while former Tennessee coach Derek Dooley was a graduate assistant during the same era.
Bobo and Smart served on the same staff at Georgia under Mark Richt until Smart followed current Alabama coach Nick Saban to the NFL for his brief stint with the Miami Dolphins.
"They were just like two peas in a pod," Richt recalled. "I don't know if they were trying to re-live any of their glory days back in college, but they're just good ball coaches and good people."
Competitive? You might say that.
"We've tended to compete at everything we've ever done, whether it was cards, golf, who could get to the store the fastest," Bobo said. "He talks a lot, but that's usually in golf. He always has the better partner, by the way, but this game isn't about either one of us. We've both got to go out and put our players in the best position to win and execute. Hopefully, that's what we're going to do Saturday."
Although Bobo and Smart rarely speak during football season, they do make a point of getting together during one of their rare breaks in the spring and summer.
"We were at Kirby's house this summer with some of the other guys who played and we just played with the kids," Bobo said. "We didn't talk much football."
While he'll be glad to see Smart Saturday in the Georgia Dome, Bobo laughed that he wishes the circumstances were somewhat different.
"I'm not really excited about anything after watching them on tape," Bobo said. "They're a formidable opponent. You really can't find a lot of answers watching tape. They do an outstanding job because it seems they're stopping everything other teams are trying to do. It's going to be a tremendous challenge, but it's one we're excited about. We're not going to have to play perfect, but we're going to have to play pretty good."
Two key players banged up
Georgia's post-practice injury report featured two new names that are to give Bulldog fans some cause for concern - wide receiver Malcolm Mitchell and cornerback Damian Swann.
Mitchell was listed as having a left shoulder contusion while Swann was reported to have a cervical (neck) sprain.
Both players were limited in practice and did not take part in any contact.
Backup defensive lineman Mike Thornton also did not practice due to a right ankle sprain.
This and that
Georgia practiced in full pads for just over two hours Tuesday in preparation for Saturday's SEC Championship game. Conditions were damp and misty, but according to Richt, they got plenty of work done. "We got the work done we needed to get done," Richt said. "I really liked the effort and I really liked the attitude, but I didn't like the conditions because I know they're going to be different when we play on Saturday. It is what it is, though. We made the best of it." Georgia will resume practice Wednesday and again on Thursday before having a walk-through at the Georgia Dome Friday afternoon.