UA hoops commit helps with tornado relief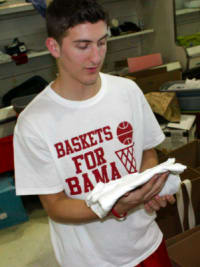 On April 27, Bryan Gant sat in his Brookwood home, watching the weather man and tracking a deadly tornado headed in his direction.
When Gant walked out his front door and saw the funnel cloud in the distance, he knew it was time to retreat into his storm shelter. He hunkered down below ground with his father and step family as the storm went right over the top of them.
When Gant climbed out of the shelter, he saw what was left of his house across the street on its side. Everything he had was gone.
Nearly 1,000 miles north of Gant, University of Alabama basketball commitment
Jaren Sina
sat in his New Jersey home and watched the news in disbelief. His eyes were glued to the TV as the tornado ripped through the city he would soon call home.
"I remember that day," Sina said. "I just remember sitting back and seeing it all over the news. I couldn't believe some of the video footage, seeing houses fly through the air. It was crazy, especially it being Tuscaloosa. I'm going to college there. I was shocked."
Two months after the storm, the prized recruit and the former homeowner had their paths cross in a random twist of fate.
Sina, his teammates and a group of close to 30 people from his high school in New Jersey made the trip to Tuscaloosa for a week to help out with the tornado relief efforts.
On Thursday, the star 2013 point guard found himself working side-by-side with Gant as the group from Gill St. Bernard's School helped clear the land where Gant's house once stood. With their help, the tornado survivor could build a new house on the land and start over.
While they were working together, the two talked about Crimson Tide basketball, Sina's commitment and also about where Gant would go from here.
"I'm so happy to help him out," Sina said. "It's cool how positive everyone is. I mean he lost everything, and he's still a positive guy. We were just talking about it, and he told me he wants to dump everything. He doesn't want any memory of the tornado."
While Gant is trying to put the tornado behind him, the devastating storm is now a part of Sina's life and every other person's life who made the trip from New Jersey to Tuscaloosa to help out.
"You watch on TV, and you see video footage of homes being destroyed, but once you're in the middle of it, it's crazy, just to see everything torn to pieces," Sina said.
The idea behind the trip came largely from Sina's father and coach, Mergen Sina, as well as Peter Schmidt and his wife Randi, two faculty members from Gill St. Bernard's.
"Obviously, Jaren has a connection to the University of Alabama right now," Mergen Sina said. "With the tornado striking down here and looking at the area, we thought it would be a great thing for the kids and some of the athletes to come down and help out."
Originally, Jaren Sina and his teammates were invited to come to UA and participate in the Crimson Tide's high school team camp. Mergen Sina, the team's coach, thought it would be great for his players to compete against teams they had never seen.
At the same time, Mergen also thought it would be a once-in-a-lifetime opportunity to help out, so he teamed up with the Schmidts to bring the high school students from New Jersey down to Alabama.
When the group arrived on Tuesday, it was eye-opening to see the damage from the storm in person.
"It looked like a war zone or like a bomb hit," Larry Pietra, one of Sina's teammates, said. "Everything was completely destroyed. It's very sad to see."
"The first thing I thought was how sad," said Jon Schreer, another Gill St. Bernard's player. "We were driving by on the street, and I saw a Winnie the Pooh doll, and we were all thinking, how sad is that. That's a little kid's toy. It's tragic."
Even Sina, who had followed the storm and its aftermath closer than anybody, couldn't believe what he saw when he got to Tuscaloosa.
"It's crazy," Sina said. "At one point, I was walking and everything was fine, but I looked to the left, and everything was just destroyed. You're in a shock. You don't even know what to think."
As soon as they arrived in Alabama, the team got to work. On Wednesday, everybody met at the Tuscaloosa Emergency Services building where they helped sort clothes and box them up, clearing space for other stuff.
"We're just packing clothes, helping the victims of the tornado," Schreer said. "We're packing clothes by size, by long sleeves, short sleeves, underwear, socks. We're putting shoes on the shelves according to size."
On Thursday, all 30 members of the group traveled out to Gant's property in Brookwood where they saw the destruction first-hand. Not only did they get their hands dirty, but they met one of the survivors who essentially lost everything and heard his story.
"It was really sad," Sina said. "It was actually hard to listen to, but it inspires you even more to come and try to do as much as possible in the time we're here."
For Gant, the group from Gill St. Bernard's helped him get ready to rebuild and maybe one day move on.
For Sina and everybody else, it was a chance to help those in need and an experience that will stay with them for the rest of their lives.
Gill St. Bernard's won the University of Alabama high school team camp over the weekend in Tuscaloosa.
Reach Greg Ostendorf at greg@tidesports.com.