UA files complaint against former coach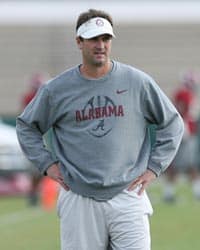 The University of Alabama filed suit this morning against former assistant football coach Mike Groh for breach of contract.
According to the complaint filed Thursday morning with the Circuit Court of Tuscaloosa County, Alabama is seeking $57,000 or 20 percent (the buyout) of the $285,000 contract both parties entered into on June 21, 2012.
Groh, who served as the Crimson Tide's wide receivers coach from 2011-12, left Alabama in February 2013 to be the wide receivers coach with the Chicago Bears.
The complaint states that Alabama "made written demands on Defendant for the payment of the liquidated damages" but the "Defendant has refused, and continues to refuse, to pay the liquidated damages."
Alabama is seeking 20 percent, or the buyout as it commonly referred to in coaching contracts, of the $285,000 contract, which comes to $57,000.
Stay with TideSports.com for more updates.
***************
205.722.0229.