UA defense on its heels most of the game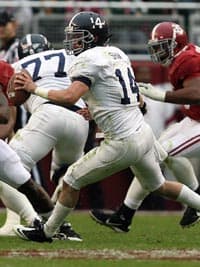 TUSCALOOSA | Every poison has its antidote.
Georgia Southern's option offense turned out Saturday to be the perfect antivenom for a University of Alabama defense heralded as one of the best in college football history. The Eagles ran for 302 yards, almost six times what the nation's top run defense has given up on average. Georgia Southern also scored two offensive touchdowns against a unit that came in leading the nation in scoring defense, allowing about a touchdown per game, and totaled 341 yards, nearly twice what opposing offenses have averaged against UA.
The spread-option offense kept UA defenders on their heels. They tried to decipher what was coming by reading Georgia Southern's complex series of shifts and motions. After the snap, blockers nipped at Alabama's heels with low-aimed blocks.
"It's a tough offense to get prepared for," Alabama coach Nick Saban said. "It's totally different than what we do all the time, and we obviously didn't execute the way we want to on defense all the time."
Alabama was handicapped by the absence of several interior defensive linemen: Josh Chapman out with a knee injury, Nick Gentry sitting out a one-game disciplinary suspension and Jesse Williams missing the game due to illness. Georgia Southern exploited the soft underbelly with Dominique Swope, who rambled for 153 yards on 18 carries, most of them into the heart of UA's defense. He also broke an 82-yard touchdown run for Georgia Southern's first score.
"This week has been hectic," linebacker Dont'a Hightower said. "Those guys are very good at what they do.
"I'm worried about all the shifts and motions and guys running in the backfield and spinning out and stuff. It's difficult trying to read that and trying to protect yourself from cut blocks and things like that."
Even knowing what was coming, defensive lineman Damion Square - who made five tackles - couldn't believe a defense so sound, so ferocious, could yield 300 rushing yards in a single game.
"Not at Alabama, no, but things happen," he said. "It's assignment football. They kind of bait you in. ... It's kind of a stubborn offense. It makes you want to jump out of your scheme and do different things, but you can't.
"The key on the option, it's split-second. Somebody doesn't do the right thing, somebody gets cut (blocked), you let the lineman get up to the linebacker and little things like that will gash you for 50 yards."
After staying on the ground for 19 of its first 20 plays, Georgia Southern fooled the Alabama secondary for a touchdown on its only completed pass of the day, a 39-yard play-action toss.
A receiver who had been blocking cornerback Dre Kirkpatrick all day suddenly changed up and ran by him. Safety Mark Barron slipped on his way over to provide support, and no one could catch Johnathan Bryant as he sprinted to the end zone.
Georgia Southern gained 219 yards, including 180 on the ground, in the first half. The Eagles weren't as effective in the final two quarters, totaling just 122 yards.
Still, Alabama defenders came away impressed.
"We knew these guys were going to run the ball and keep running it," linebacker Courtney Upshaw said. "They've got a lot of weapons, a lot of fast guys. It kind of showed out there."
Reach Tommy Deas at tommy.deas@tuscaloosanews.com or at 205-722-0224.