UA confirms disassociation of shop owner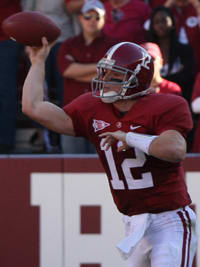 TUSCALOOSA | The University of Alabama disassociated T-Town Menswear shop owner Tom Al Betar from the program in a letter dated March 31, the school announced in a release Tuesday, but has found no violations in a review of the store's relationship with UA student-athletes.
"Due to the concerns expressed in our letter to Mr. Albetar dated March 31, 2011, we disassociated him from our program. As we always do in matters of this nature, we discussed this matter with the SEC office," UA Compliance Director Mike Ward said. "Because we found no evidence of any NCAA violation, we did not self-report a violation. UA will continue to be proactive in all areas of compliance monitoring."
T-Town Menswear in University Mall has come under scrutiny in recent days when photographs from the shop's Facebook web page surfaced, depicting UA star running back Trent Richardson signing items in the store. Other UA players, both current and former, were also pictured with Al Betar on the Facebook page. The photos have since been removed. If Richardson or any other current players were provided money, store merchandise, or any other benefit deemed improper under NCAA rules in exchange for autographs, their eligibility could be jeopardized.
"Our compliance people have been on top of this for a long time. I think this is an example of...it's not a violation if you sign a shirt for somebody, you just can't receive compensation for it. We've done a cease and desist with this establishment a long time ago to make sure everybody understands what players can and can't do," UA coach Nick Saban told Ian Fitzsimmons of ESPN Radio 103.3 in Dallas. "You know, I guess I could ban our players from the place but until somebody can sorta convince me that somebody is doing something wrong - which I haven't been convinced of yet - I don't know if that's fair to our players."
Ward said UA compliance investigates such things as a matter of routine.
"Based on our review of this matter, we concluded that Mr. Albetar was in compliance with NCAA regulations," added Ward. "It is not a violation for student-athletes to sign autographs and it is not a violation for a business to display photos, jerseys or other items depicting current student-athletes. We found no evidence that any student-athlete received any extra benefits."
The March 31 letter sets Al Betar's period of disassociation at three years. It indicates that, while UA had not at the time found him to be a representative of the school's athletic interests, the appearance of impropriety compelled the school to act in protection of its student athletes. Terms of disassociation stipulate that UA will not accept assistance from Al Betar that would support current athletes or the recruitment of prospective athletes; that UA will not accept financial assistance for its athletic program from Al Betar; that no benefit or privilege be provided to Al Betar that is not available to the public at large; and that UA will take other actions it deems within its authority against Al Betar to eliminate his involvement with the athletic program. The letter, written by UA Director of Athletics Mal Moore, also indicates Al Betar would not be issued sideline, courtside or other limited access areas on campus.
Al Betar, reached Tuesday, declined comment.
It is not unprecedented for an NCAA institution to disassociate someone who it has not been determined to be a representative of the school's athletic interests.
UA issued a cease-and-desist letter to Al Betar in December asking him to discontinue selling or distributing merchandise with the signatures of UA athletes. The letter noted that the sale or distribution of such items could jeopardize their eligibility. NCAA rules require that athletes, or their institutions acting on their behalf, take steps to stop such a practice if they are to remain eligible. Al Betar has also organized autograph sessions for UA players after the expiration of their NCAA eligibility, which is not a rules violation and is a common practice for high-profile players.
A current sign in the storefront notes that autographed items are for display only and not for sale.
Three former UA players, including BCS National Championship quarterback Greg McElroy, told Tidesports.com they were not provided any improper benefits from Al Betar. Earlier this year, after his eligibility had expired, McElroy organized an autograph session through Al Betar.
"He never tried to approach me during football or tried to do anything like that while I was still eligible," McElroy said. "My only dealings with him were all legal. I organized a signing with him through my marketing people, once I was done and my eligibility was complete. He was fine - he paid the right amount, and we organized a signing to benefit my foundation."
One of the former players previously pictured on the shop's facebook page, Chris Rogers, said Al Betar did not provide free or discounted merchandise in his store to players and indicated an awareness that it would not be permissible to do so.
"He'd (say), 'Hey guys, I like you guys, but nothing is going to be free or discounted in there. You have to pay for everything, because they're watching me,'" Rogers said. "He would always say that, and he always would make sure you bought everything for what it was (worth)."
Rogers didn't indicate whether Al Betar was referring to UA compliance, rival fans or someone else by saying that he was being watched. However, the March 31 letter from UA to Al Betar indicated that he had been "provided education on a number of occasions pertaining to promotional activities and extra benefits for student-athletes." Rogers played as a reserve on Alabama's 2009 BCS National Championship team as a senior. Although he was not the sort of high-profile player whose autograph would be of significant value, he said he believes he would have known if his teammates were improperly benefiting from a relationship with Al Betar.
"If that came out, I would find that hard to believe," Rogers said. "I would be like, 'What?' It would be shocking to me to hear that."
Former UA defensive end Luther Davis, who signed a free-agent contract with the Buffalo Bills on Tuesday as an undrafted rookie, said he purchased the only suits he ever owned while at Alabama from Al Betar, and paid for them in full.
"I probably have two, maybe three suits in my whole closet. I bought those within my first two years of being at Bama," Davis said. "To my understanding, he's just a very proud fan, maybe he was overzealous with being a fan. I think I may have taken a picture or two with him."
Asked why some UA players may have frequented the store, McElroy said: "Tom can always see from his store into the mall, he can see people as they walk by because of where his counter is located, so I'm sure he calls out. ... They go in there because they're walking through the mall. You go into shops. You look around. There is nothing corrupt about it."
Reach Chase Goodbread at chase.goodbread@tuscaloosanews.com or at 205-722-0196.