Tyson: "It means a little bit more."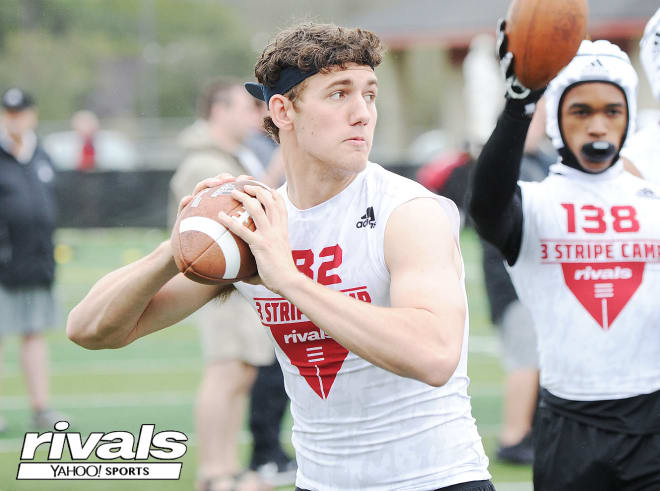 Paul Tyson, four-star quarterback from Hewitt-Trussville High School in Alabama, decided it was time to end the much-anticipated announcement. He committed to the University of Alabama on Thursday afternoon while in Tuscaloosa for spring practice.
"Coach Key, Coach Enos and Coach Saban wanted me to go ahead and commit," Tyson said. "They were ready for me to become the leader of the class and get other recruits in here. They are ready to be on top again and have the No. 1 class in the country.
"I had been trying to narrow my list down for a while. I was here a few weekends ago, and it just feels like home. They said I made their day. They were pumped.
"I am ready to embrace the leadership role. Pierce (Quick) is right beside me. We are going to take this on. We want to be on top again. We are going to go after every top recruit and every player they want us to get."
Tyson has spent a lot of time in Tuscaloosa throughout his entire life. He had his own reasons for committing to Alabama.
"It's really just a great environment," he said. "It's a great school with great people around you. It's the best fit for me. I can help Alabama win another national championship. I am excited to get things rolling."
The in-state QB does not expect to take any additional visits. He knows Alabama might take another quarterback in the class. There is a good chance it is another in-state recruit, Taulia Tagovailoa.
"They (Alabama) have said a few things," Tyson said about Alabama taking another quarterback. "If they do, they do. I am going to compete no matter what. I love competition. It won't matter to me. I am finished with everything."
Tyson jumped on the recruiting scene a year ago as one with a rich family history. He is the great-grandson of six-time national championship head coach, Paul W. 'Bear' Bryant. The late Coach Bryant is smiling on the news of the day.
"Honestly, it means a lot to me," his great-grandson said. "It's a huge honor. It probably means a little bit more since my great-grandfather coached and played here. It's just really awesome."