To hell and back: How one family beat grief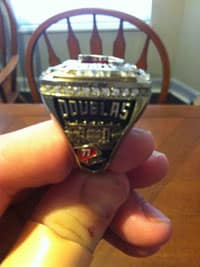 MARYVILLE, Tenn. | You feel his presence in the well-appointed brick home on Snowshill Way: the ceiling, stretching skyward, seemingly designed to hold all 6 feet, 7 inches of him.
He's there in his mother's strength. Karla Douglas is the backbone of the family, a competitor, who, when her world caved in, dug in and fought back.
You hear him in his father's laugh. David Douglas has battled demons for much of the last three years, but now that warmhearted chuckle is back. The dark days behind him, he now sees a future.
There he is in his baby sister's face. Ashley Douglas looks like him, and she's growing like a weed, long legs and all, just like he did at the same age 15 years earlier.
The photos still hang on the walls. Captured for posterity's sake, the gentle giant walks hand-in-hand with his little sister down a dirt road on one wall, adjacent to a studio shot of the two, her atop his back. When she smiles, there he is.
The Freshman All-Southeastern Conference plaque sits in the basement just outside his room under a pile of awards, recognitions and honors that he never made much of a fuss over.
Aaron Douglas is no longer here, yet he is everywhere. Even in Tuscaloosa.
The Douglas family has been to hell and back. Three years after the death of their only son to an accidental drug overdose, Karla and David finally see the hope that exists. They laugh more now. They are happy once again. They keep his name alive through the family's foundation named in his honor: The Aaron Douglas Foundation.
After years of wrestling with what-ifs, soul-crushing grief and questions of faith, the storm clouds are dissipating and the Douglases have emerged a resurrected family.
Battling addiction
Aaron Douglas grew up in Knoxville, Tenn., the first born of two proud University of Tennessee legacies. David, the father, played offensive guard for the Volunteers, winning an SEC championship in 1985, and mom Karla was a forward on Pat Summitt's first national championship team in 1987.
Aaron, a talented tight end and two-time Mr. Football honoree at Maryville High School, on the outskirts of Knoxville, committed to Tennessee before his junior year without ever taking a visit to another school.
The matriculation to Rocky Top was never in doubt.
When David and Karla were married in the mid-1980s David's former offensive line coach, Phillip Fulmer, wrote the newlyweds a handwritten note.
"Dear David, I'm sorry I wasn't able to make it to your wedding, but I certainly wish you and your new wife many years of happiness and love. May God bless you and yours. P.S. I've got the scholarship papers ready for the 1st boy."
That boy became the first commitment for Tennessee's 2008 class. After Douglas redshirted that year, new UT coach Lane Kiffin moved Aaron from tight end to right tackle. Accompanying the change was a new jersey number.
"He called and told me, 'Pops, I'm getting your old number. No 78.' I hung up and cried," David said.
Despite never having played the position, Aaron was named a Freshman All-American and Freshman All-SEC after starting 10 games in 2009.
His ability to excel on the field masked deep-seated problems, though.
During his two years at Tennessee, Aaron was introduced to prescription pills by teammates, Karla said. He developed the habit of taking Adderall before practices and games to amp himself up, and oxycodone, a powerful drug used to treat chronic pain, to bring himself down.
"He smoked pot and drank in high school, but the pills started in college," Karla said.
The problem got so bad that Aaron admitted to his parents that he needed help, and Tennessee sent him to rehabilitation for three days.
The ongoing temptations in Knoxville were too strong, though, and when Kiffin departed for Southern Cal, Aaron's resolve to leave the Volunteers' program strengthened. New coach Derek Dooley made things a bit more difficult on the family when he stipulated that he would release Aaron to schools no closer than eight hours from home.
To a family whose son was struggling with addiction, that seemed unduly harsh. But they made it work.
Aaron enrolled in Arizona Western College in Yuma, Ariz., and thrived. The distance from home and from temptation actually helped.
He threw himself into writing and music.
A love of hip hop music fueled his desire to record his own songs. Back at the family home he transformed his closet into a recording booth, complete with soundproofing foam.
"It was a way to deal with whatever he was going through inside," Karla said. "He just liked taking his words and making music and putting them into what he felt."
Falling into place
Things were coming together for Aaron Douglas.
A couple of years had gotten sideways on him, but the gifted athlete seemed to be on the other side of his troubles when he got to Tuscaloosa in the spring of 2011.
He was brought in to compete for the vacant left tackle position at Alabama, but the team ultimately moved Barrett Jones there, leaving Aaron to start at right tackle.
He was doing well, too. All with a broken foot.
Aaron had broken his left foot during bowl preparations in December, 2009, prior to Tennessee's Chick-fil-A Bowl game against Virginia Tech, but never told anyone about it. He kept playing on it.
It wasn't until after spring practice concluded at Alabama in 2011 that it was finally addressed.
David got a call from then-Alabama offensive line coach Jeff Stoutland telling him something was wrong with Aaron.
"I said, 'What's he told you?'" David said. "He said, 'Nothing.' I said, 'His right foot's broke and he won't tell anybody.' I called Aaron and I'm reasoning with him that spring's over and that he needs to get this taken care of. He said, 'Pops, I can't do that. I've got to start.'
"When they performed the surgery they took out two huge chunks of broken bone."
The foot surgery brought with it its own set of worries. How would Aaron handle the pain pills? Would he head down the addiction path again?
Those fears were eased with help from the hands-on staff and trainers at Alabama. It was a group effort to keep an eye on him.
Despite the family's deep Tennessee roots, Aaron felt at home at UA. He thrived under Scott Cochran's intense workouts. All of the talent around him, the structure, the family atmosphere, all of it fit Aaron's competitiveness and temperament.
"He was so happy there," Karla said. "I can remember him calling, it was during one of the workouts I guess in February and him saying, 'I have never been around this many incredible athletes.' He said in February, 'We'll win the national championship.' He knew."
His family grew to love Tuscaloosa, too. It began on the official visit in October of 2010.
"Just the atmosphere and the first-class people and the tradition, everything about it was just so comfortable and just so awesome that I think that whole rivalry thing went out the window," Karla said.
Ashley already had an Alabama cheerleader uniform ready for game days. David and Karla had their sights set on a condo within walking distance of Bryant-Denny Stadium.
Aaron had gone 60-0 with four state championships in high school, and now the family was ready to experience two national championships.
He didn't mean to die
It began so innocently with a trip to visit family friends in Jacksonville, Fla., after the UA spring semester concluded in May, 2011.
Wanting to avoid the old temptations of Knoxville for a few days, he opted for an impromptu mini-vacation.
After dinner that Wednesday night with a friend, Aaron connected with two nursing students he'd met earlier that day on the beach. He'd told them he was an Alabama football player, but they didn't believe him. After looking him up on Google, they invited him to a party in Fernandina Beach, the county seat of Nassau County, about 25 miles northeast of Jacksonville.
On the cab ride to the party Aaron purchased 40 milligram methodone tablets from the cabdriver, Rodney Young Odum.
Aaron Douglas would never make it home.
He was last seen alive at 2 a.m., and was discovered face down on the second-story balcony at 2570 First Avenue in Fernandina Beach at 8:13 a.m. on Thursday morning.
The medical examiner's report listed the cause of death as "multiple drug toxicity" with methadone (pain pill), diazepam (valium) and carisoprodol (muscle relaxant) in his system. The coroner ruled it was the methadone tablets that killed him.
First reports of his death surfaced on Twitter.
David received a phone call from Stoutland asking if he'd spoken with Aaron. Not wanting to upset the family until it was confirmed, Stoutland held off in relaying the news. A flurry of phone calls and texts to Aaron went unanswered before Karla called the police, which confirmed for her the tragic news.
"It's an ongoing nightmare," Karla said. "What hurts so bad with Aaron is that I had seen him struggle with use and abuse. I had seen him at his lowest point, and when he was in Tuscaloosa it just seemed like everything was falling into place and he had turned the corner. That's what hurt the most was just knowing how good he was doing and just making a fatal choice."
Odum was arrested on charges on manslaughter and sale/delivery of a controlled substance in August 2011. He pled guilty and was sentenced to two years in prison along with two years of house arrest and 10 years of probation following his time served. The 53-year-old Odom, a father of three, entered a Florida state prison Oct. 30, 2013, and is scheduled for release on July 9, 2015.
David harbors no ill will towards Odom, acknowledging there was no intent to kill his son. One day, he said, he'd like to meet him.
"I played in the NFL, and I thought I'd heard of everything there was, but pain pills? I didn't even have a clue," David said. "Why did we let him go down there?"
Holding the family together
It was a whirlwind after that. Grief set in immediately for Karla, but David threw himself into work. He withdrew, swallowed the grief and went into a deep depression.
He drank too much beer, his weight ballooned, he quit taking care of himself. He stopped talking. A salesman by profession, David never had trouble communicating with people. That changed after Aaron died.
"For all the years I've run my mouth I couldn't talk to anybody. Not Karla, not my brother, not my dad, no one," David said.
He turned his back on his faith.
"I said, 'God, I want nothing to do with you," he said.
Karla forged ahead. It wasn't easy, but she knew there was a little girl at home that needed her.
Aaron and Karla were alike in that way. Both had toughness. Aaron went two years without revealing to his coaches that he had a broken foot. Karla wrapped her family up tight and dragged them through the grief, refusing to stop living.
She credits therapy, her faith, and teaching and coaching at Maryville High School for keeping her head above water.
Karla, who averaged 9.4 points and 7.8 rebounds during her Tennessee career, became an assistant basketball coach at the school. The game gave her something to pour herself into besides grief.
"The first year it was hard, walking back into this school," she said, noting that Aaron's picture hung prominently just outside of the gymnasium. "But people talk about him and remember him still. It's a good place to be."
Mother's Day is especially rough, the second Sunday in May often near the anniversary of Aaron's death. Birthdays aren't easy either. Aaron and Ashley share the same date of birth, Sept. 19. The family, though, turned it into a positive.
Rather than a morose affair, the family celebrates with fireworks. Aaron's friends come over too, both to remember their best friend and for Ashley.
"She remembers him picking her up by her ankles. It would be a carnival ride almost for her. Popping her toes. All the stuff big brothers do," Karla said. "We look at pictures. She remembers him.
"Aaron's friends have tried to be her big brother. It really means a lot. She's got three or four big brothers now."
Still, it is in the quiet moments that Karla misses him most, tripping over his size-17 shoes in the front doorway or his sprawling legs bumping against tables accidentally knocking over a glass of tea. She especially misses receiving text messages from him.
"What I miss the most are his hugs and his smile and his sense of humor," she said. "I don't know if people realize he was a funny, witty, off-the-wall kind of guy. He was just a goofy kid."
She also substitute teaches at the high school, which helps keep her close to young people, which reminds her of Aaron.
Treasured possessions
A black notebook filled with handwritten notes by Aaron's friends is one of Karla's treasured possessions. Her fingers slowly trace over the words, reading memories of the young man she misses so much it hurts. She thumbs through it when she wants to feel close to her son. She had no idea that he had touched so many people's lives, especially at Alabama, where he only spent a few months.
"The thing that all people saw was the athlete, the big, tall, strong guy," she said. "I don't think they realized how sensitive and kind and compassionate he was. That might have been his biggest struggle because here on the outside I'm this big, huge giant and on the inside I'm just mushy. The way he talked to his friends about his family, which makes me cry every time I think about it, some of these things you never know. I was so proud. I really didn't know. You hope and pray that your kid will have that kind of influence on somebody, but you really don't know."
The local preschool planted a tree for Aaron, a red maple, in honor of the "Gentle Giant."
There are boxes of Aaron's writings and his music that his mother flips through from time to time. His bedroom remains almost untouched. His Maryville jersey is spread out on the bed, waiting for him to come home.
"I have dreams about him," Karla said. "At the time when I need him the most he's there. He's standing in the background just grinning."
Things were much more difficult for David. He stopped watching football because it hurt too much. It took reaching a despair he didn't think possible for him to get up off of his knees.
David Douglas was diagnosed with Grade 4 brain cancer in July 2013, at the height of his depression.
It started with memory problems. Karla demanded that he go to the hospital. Tests revealed a pecan-sized tumor on his brain.
Then agent Jimmy Sexton - Alabama coach Nick Saban's agent -got him into see Dr. Henry Friedman at the Duke Cancer Center in Durham, N.C. David, drafted in the eighth round by the Cincinnati Bengals in 1986, was Sexton's first-ever football player signed to Athletic Resource Management.
The surgery and treatments are working. The last three MRIs have been clear.
That good news helped David decide it was time for his mental health to take an upswing as well.
"I started changing my thinking some. I started being happy again," David said. "That's something a lot of people were telling me. You're going to miss him everyday. You're going to be laughing and all of a sudden something's going to come up to make you think about your kid. And it don't matter how it happened. I think I decided that I've got to get happy again. I think people were basically saying if you don't you're going to die."
The 51-year-old can watch football again. He played for five years in the NFL, including in the 1989 Super Bowl, but his favorite football memories were watching Aaron dominate on the high school field.
He visits Maryville High School practices now. And his 1985 SEC championship ring is back on his right hand.
Aaron Douglas Foundation
Earlier this month, the family, through the Aaron Douglas Foundation, presented two scholarships to Maryville High School students, one each for Aaron's two passions in life: athletics and music/fine arts.
It has granted a total of eight scholarships, with a goal to help young people realize their dreams and warn of the dangers of prescription drugs by providing resources to children and families: all with the intent to keep Aaron's memory alive.
"We want to be able to share Aaron's story. At this age, they're all invincible in their mind," Karla said. "We want them to realize, 'No, you're not.'
"That's what I hope one of the things that the foundation can do is make these kids realize is that it just takes one bad choice."
The booster club at Maryville High School accepts donations on the foundation's behalf until it is fully up and running. Maryville meant a lot to Aaron and vice versa. His two Mr. Football trophies remain in the weight room. He wanted his school, coaches and teammates to share in the credit.
"Hopefully somebody learns from Aaron's mistakes," Maryville High School football coach George Quarles said. "That's the Douglas' goal. And I applaud them. They've not shied away from it. They've taken it head on with the mind set something good's going to come out of this."
A website, TheADFoundation.org, is expected to be up within the next month or two. Sexton has been instrumental in funding the foundation and helping it get off the ground.
Forever in Alabama
Aaron's celebration of life took place at Cokesbury United Methodist Church in Knoxville. The turnout overwhelmed the family.
Three national championship head coaches sat with the family: Johnny Majors, Fulmer and Saban. Also on hand were Duke coach David Cutcliffe, then-UA director of athletics Mal Moore and two planes full of Alabama players, staff, coaches and administrators.
The response from Alabama made an impression on David and Karla.
"I turn around and there's the whole team, the whole coaching staff," David said. "Here Alabama's just had the horrible tornado, and the players have all gone home, which meant they had to get their own way to Knoxville to that funeral. I'm going to say just about the whole team was there. It just floored me."
Alabama kept surprising, too.
After the Crimson Tide topped LSU in the BCS National Championship Game in January, 2012, the Douglas family received a phone call. Saban made the decision to present the family with a national championship ring for Aaron. The ring arrived on May 11, 2012, the day before the one-year anniversary of Aaron's passing. His No. 77 was a helmet decal for the entire 2011 season.
"That one's in the family safe deposit box," David said.
Former Alabama teammates still keep in touch, too.
Cody Mandell, Daniel Geddes and Austin Shepherd, who was Aaron's roommate, reach out via social media from time to time to check in on the family.
Ashley wants to come back to Alabama. The family has discussed a trip to Tuscaloosa for a game this fall.
"Our family was UT, is UT," David said. "When Aaron went to 'Bama and he fell in love with that staff and those people and the school ... people are what make schools great or not. I tell people now, don't come back and tell me Alabama sucks. It's OK for you to be a Tennessee fan, but if you had someone who was going there and saw how great a job Nick Saban did, how great a person he was to those kids, then you wouldn't be talking this way."
Despite never playing a game for Alabama, Aaron Douglas is always there. On Sept. 11, 2011, a portion of Aaron's remains were spread on the Alabama practice fields.
Reach Aaron Suttles at aaron@tidesports.com or at 205-722-0229.
**Editor's note: If you wish to contribute to the Aaron Douglas Foundation, donations can be made to: Maryville Athletic Booster Club, PO BOX 6435, Maryville, Tenn., 37802

Click
Here
to view this Link.