Tide looks to get offense back on track at Tennessee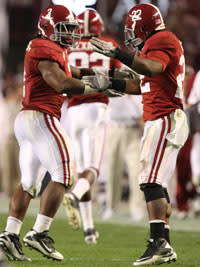 TUSCALOOSA _ More than anyone else on the University of Alabama football team, senior
Greg McElroy
heard the questions this week.
How's your confidence?
What's wrong with the offense?
It comes with the job of being the Crimson Tide's starting quarterback. No one seems to notice that Alabama is ahead of last year's record-setting pace for total yards, has accumulated more points and has done a much better job of scoring touchdowns in the red zone, only that things don't seem to be clicking as well as they could.
"It hasn't been explosive," McElroy said. "We're just capable of more. We demand a lot more of ourselves. I know we're capable of a lot more. Out of sync I don't think it's the right (term). We just need a better week of preparation leading up to the games on Saturday. We need better focus, better determination, better effort in practice and that should lead to a better outcome.
"Our timing is a little bit off in the passing game, we haven't been hitting lot in the running game or checks haven't been perfect. We just need to do better in all facets."
Although numerous theories are being heard and argued outside the Mal Moore Athletic Complex, that seems to be the prevailing thought inside. Granted, it may be vague to the average person, it's not for the perfectionist quarterback or his coach, who said earlier this week, "I think that somewhere along the line this year we sort of lost our edge."
It's like pulley system in which the belt still goes but isn't in the grove, or reflected in a simple statistic.
For example, against Ole Miss, McElroy completed 13 of his last 15 pass attempts (.867) for 194 yards and was 5-for-5 on third downs. However, Alabama struggled both converting third downs in the second half (2-for-6) and out of the gate despite scoring on the opening drive when it used a no-huddle look with the quarterback checking to the sideline and offensive coordinator Jim McElwain before every snap.
"Yeah, I thought it was a good change-up, it got them off-balance a little bit, to allow Coach Mac to see what they were going to do and get us in the perfect place if possible," McElroy sad. "We just didn't do a good job of (executing). On the second-and-1 I should have thrown a slant instead of taking shot at the fade.
"We just have to try and get off to a fast start."
Overall, though, McElroy's numbers are up. At this point last season the offense was averaging 202.7 passing yards per game. McElroy's passer efficiency rating was 137.6, and his completion percentage 59.5.
The Tide is currently throwing for 243.6 yard per game, McElroy's passer rating of 168.97 ranks sixth in the nation (third in the conference) and he's completing 71.6 percent of his passes.
Yet fans point to two things in particular:
1. The 11 sacks over the past two weeks, some of which were due to the quarterback trying to make things happen. Of course, the one that counted most was when he fumbled, which eventually led to a touchdown, and that was due to South Carolina blitzing two players into the hole from where a lineman was pulling.
2. The vertical passing game. Alabama tried to get it going against Ole Miss, but after getting the lead kept things tighter and eventually broke an 85-yard touchdown off a screen to sophomore running back Trent Richardson along with two other explosive plays despite just six pass attempts in the second half. More than half of Alabama's 1,705 receiving yards this season have been after the catch.
Unofficial yards after the catch
Name Total
Marquise Maze 88
Mark Ingram 64
Kevin Norwood 22
Preston Dial 19
Michael Williams 18
Earl Alexander 17
Brandon Gibson 14
Eddie Lacy 13
Chris Underwood 7
Brad Smelley 3
Kenny Bell 3
Totals 929
"I think it's just missed assignments, not due to him, and sometimes we're getting double-teamed down field," junior receiver
Marquis Maze
said. "Most teams have been pressing, but then they bail out before the play starts. We haven't really had any man-on-man coverage, most teams are playing zone.
"What's happening is we beat the cornerback, but they have a safety over the top which makes it hard for the quarterback to throw it deep."
The bigger problem appears to be in the running game, where Alabama has gone from 229.3 rushing yards per game a year ago to 183.6. The last three weeks Ingram and Richardson have averaged 93.0 rushing yards combined including just 64 at South Carolina.
"When they criticize the offense, I really don't listen to them," Richardson said "But other than that we need to get good to go. We didn't play football like we're supposed to, you know what I'm saying? Play hard, we let the game get away from us. We took it for granted."
Perhaps the most surprising statistic at this point of the season is that Ingram doesn't lead the Crimson Tide in rushing yards even though he missed two games following arthroscopic knee surgery. Richardson has 487 while Ingram is right behind him with 456.
The reigning Heisman Trophy winner's carries are also significantly down. Ingram took 19 handoffs per game last year, but just 14.2 so far this season and team has had 51 fewer carries (7.2 per game). Although Ingram's receptions are down (12 from 19), Richardson has picked up that slack (nine to 17).
"A lot of teams are putting them in the box and trying to stop the run," Ingram said. "They're having a little extra time to prepare for it, a little extra time to focus on what we're doing. But I'm not about excuses, I'm about us."
He has a point. Last week against Ole Miss, Alabama failed to have an explosive running play (13 yards or more) for the first time this season, and just four passing (17 yards or more). Coach Nick Saban's goal for the team each week is nine. The Tide had one explosive rushing play at South Carolina and three each against Arkansas and Florida - the last teams Alabama will face this season not coming off bye weeks.
"Defenses are giving us a lot of different looks," sophomore guard
Barrett Jones
said. "That's something we've prepared for because our defense gives us that during practice. Every team is not going to give us the same look as the previous game, every team comes out with something a little different in every game. You just have to keep working to execute.
"We're going to look at the film and we're going to realize that when we got stopped it was really because of us and what we didn't do. That's what Coach Saban always preaches."
Consequently, despite McElroy's improvement every opponent continues to view Alabama the same way, do whatever necessary to stop the running game and you have a chance. It worked for South Carolina, it nearly worked for Auburn last year and Tennessee will try again this Saturday.
"I guess you can over-think it and out-scheme them, but ultimately the teams that have given 'Bama problems are the teams that come out and compete and go toe-to-toe," Volunteers coach Derek Dooley said. "They hit them and they go four quarters and they keep putting the pressure on them."
Go back to Saban's statement about the team losing its edge, he's seen flashes of dominance and the unit's potential all season, but never for a whole game except for maybe Duke. He would like nothing better than to see it all come together heading into the off week.
"It's a total combination of things, and that's the thing about offense, about our offense in particular, is we preach balance," McElroy summarized. "Right now we haven't really had that balance, we've just been a little bit off-balance. We have to get back to what we do best, run the football and establish the line of scrimmage."