Tide building arsenal of running backs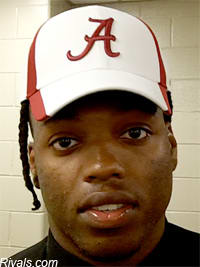 Loaded. Stacked. An embarrassment of riches. Label it however you'd like, but there really is no denying the University of Alabama football program currently is the epitome of the "one percent" when it comes to running backs.
It's no accident that Alabama is stockpiling talented runners. It's a recipe designed around recruiting, developing talent, style of offense and the overall program.
"Alabama is running as close to a professional football team as you can in college football," Rivals.com National Recruiting Analyst Mike Farrell said. "Obviously, the pro-style offense is attractive. They feed the running backs well, too. They've had prior success, which always leads to future success.
"I think the program is so high profile now ... kids are smart. They understand it's not a quarterback-featured offense. If you're the go-to running back, you're going to be on the Heisman ballot. We saw it with Ingram, with Richardson and now will Lacy. Running back is really the star of the show when it comes to Alabama football."
To Farrell's point, through six games in 2012 the Crimson Tide offense has run 384 plays, 246 (64 percent) of which were runs. Eighty-five of those carries came from true freshmen running backs Yeldon (68-436) and Drake (17-137).
That's attractive to a high school senior looking for early playing time.
"When they saw Mark Ingram was winning the Heisman and Trent Richardson was just as important for that national title, at least in that title game, the young guys really see there is an opportunity. T.J. Yeldon this year, a five-star guy, he's getting an opportunity to get on the field this year. It's not a running back by committee by any means, but there is a feature guy and then there is a secondary guy, and at Alabama, with the way they run the football, a bunch of those guys can shine. People are smart. They pick that stuff up."
When Ingram was on his way to the 2009 Heisman Trophy, true freshman Richardson rushed for 741 yards and eight touchdowns on 145 carries.
None of Alabama's current running backs lose eligibility following this season, leading many to question whether Alabama ultimately lands Henry, Jones and Tenpenny. That won't be decided until National Signing Day 2013, but all three remain publicly solid in their verbal pledges.
"My position to play running back with Mark (Ingram) and Trent (Richardson) with what they did there, T.J. Yeldon is off to a great start," Henry said during a nationally televised announcement. "Their program is business-like program. They use that mentally in the weight room and how they approach everything even in the classroom. I just like everything about Alabama."
"I saw all the backs who touched the ball," Tenpenny told The Tuscaloosa News. "Lacy, Yeldon, Drake and Hart all got carries. I like that. You always have a fresh pair of legs in the game. That's what you need."
Knee injuries to Hart and Fowler illustrated just how valuable a deep backfield is and why bringing in three more talented runners isn't as crazy as some think. Holding on to all three will prove difficult, however.
"Three is a little crowded," Farrell said. "So that will be interesting. We'll have to see how that plays out. I can see two. Usually there is one big-time back. This year they have three guys that are highly, highly touted. It's going to be real interesting to see how it plays out."
Farrell has evaluated all three backs and has positive things to say about each.
"I think Tyren and Altee are both built to be college running backs," he said. "Altee's got good speed. He's got really really thick legs, great lower body and a lot of leg drive. Tyren is built low to the ground. He's really hard to get a shot on. He's added probably about 15 pounds of good weight and muscle since his junior year.
"Both of those guys are your typical, prototypical, successful running backs in this day in age. Look at the guys in the NFL who are successful. None of them are overly tall, other than Adrian Peterson, who runs upright. They're low-to-the-ground runners. Both of those guys fit that mold.
"Derrick Henry is a little different, obviously. He's 6-foot-4. He's a big target, very upright. He's the one that I always question whether he can be a running back. The first time I saw him at a Nike camp, I think he was a freshman, I laid eyes on him and said, 'Wow, who is that kid? That's a great-looking defensive end.' But he's been very, very successful as a running back. It's a different style for sure. You don't know who'll be more successful. If I had to put them in order as of right now, and we haven't re-ranked but we will, the guy with the most potential for success is Tyren Jones. The only reason Tenpenny is No. 2 is because of the knee injury (he sustained as a junior). We'll see about Henry."

Reach Aaron Suttles at aaron.suttles@tuscaloosanews.com or at 205-722-0229.
[rl]