The Tides All-Decade Team 2000-9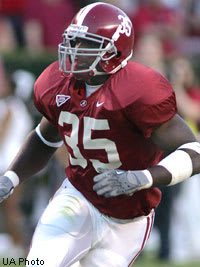 When the 2000 decade began, the University of Alabama football record book was vastly different.
For example, Gary Hollingsworth held the single-season record for completions, Jay Barker the career mark and Andrew Zow was in the process of establishing the standard for career passing yards with 5,983.
Bobby Humphrey's 1,471 rushing yards had been the single-season number to beat since 1986, the most 100-yard rushing performances in a single season was eight and no Crimson Tide running back had ever notched a 200-yard rushing performance at Bryant-Denny Stadium.
Ozzie Newsome held the career receiving record, David Palmer the single-season record and David Bailey the most catches in a single game.
You get the idea. You've probably also figured out by now that all of those records have been broken, in part because of this last season when the Crimson Tide became the first Southeastern Conference team to go 14-0 while winning the national championship. In the process, Alabama continued its streak of being the only program to win an SEC championship in every decade since the conference was founded in 1933.
Here's Alabama's team of the 2000-9 decade:
Offense
QB: Greg McElroy:
This was the toughest position to pick between the person who set most of the passing records (Brodie Croyle), the one who broke them (John Parker Wilson), and the quarterback who has yet to lose. McElroy gets the nod because despite his midseason struggles he's 14-0 as a starter, had only four interceptions and his 60.9 completion percentage would have set UA's single-season school record for minimum of 200 completions had two more of his passes been caught (198-of-325). His set the Alabama mark for consecutive completions against Florida International with 14, and against North Texas tied the school mark for highest completion percentage in a game with a minimum of 10 completions, going 13-for-15 (86.7 percent). Honorable mention: Croyle, Tyler Watts, Wilson, Andrew Zow.
RB: Mark Ingram:
He won the school's first Heisman Trophy and set Alabama's single-season rushing record with 1,658 yards. Honorable mention: Glen Coffee, Kenneth Darby, Ahmaad Galloway, Ray Hudson, Shaud Williams.
FB: Le'Ron McClain: He didn't post the biggest numbers, with 29 starts in 48 games and 575 all-purpose yards including 37 carries for 170 yards and two touchdowns and 48 receptions for 405 yards and eight touchdowns, but his hits and blocks were described by many as bone-crushing. Honorable mention: Tim Castille, Greg McLain.
WR: Julio Jones, D.J. Hall:
Through two seasons Jones has 101 catches for 1,520 yards, which is on pace to break nearly ever receiving record set by Hall, including the single-season mark of 1,056, and career 2,923 yards. In 2008, Jones was named SEC Freshman of the Year by the Associated Press and Sporting News and set Tide freshman records for receptions (58), receiving yards (924) and receiving touchdowns (four). For three-receiver sets, Tyrone Prothro is the pick. Honorable mention: Antonio Carter, Keith Brown, Freddie Milons, Prothro.
TE: Colin Peek:
Alabama didn't have a tight end earn first-team All-SEC honors this decade, so the nod goes to Peek for being only the second Academic All-American (Kenny King, 2002). In his only season Peek had 26 catches for 313 yards and three touchdowns, including a key over-the-shoulder touchdown catch against Florida in the SEC Championship Game. Honorable mention: Clint Johnston, Terry Jones Jr., Travis McCall, Nick Walker.
T: Andre Smith, Wesley Britt:
Smith won the Outland Trophy for best interior lineman, and he and Britt were Alabama's only winners of the Jacobs Trophy, which goes to the SEC's best blocker. Honorable mention:
James Carpenter
, Chris Capps, Drew Davis, Atlas Herrion, Kyle Tatum.
G: Mike Johnson, Justin Smiley:
Johnson was the leader of the line that helped Ingram win the Heisman Trophy and was named both first-team All-American and unanimous All-SEC. He had 41 consecutive starts and played a school-record 54 games. Smiley started 36 games over three seasons and did not allow a sack. He was a consensus first-team All-SEC selection in 2003. Honorable mention: Justin Britt, Marlon Davis,
Barrett Jones
, Evan Mathis, Marico Portis.
C: Antoine Caldwell: The versatile All-American and two-time team co-captain started 48 games including 34 at center, 12 at left guard, one at right guard and one at right tackle. During his last two seasons he participated in 1,569 offensive snaps, registering 167 knockdowns with 22 touchdown-resulting blocks and 17 more blocks down field. Allowed just one quarterback sack on 806 pass plays during his final 23 games. Honorable mention: J.B. Closner, Alonzo Ephram, Paul Hogan.
Defense
DL: Terrence Cody, Jarrett Johnson, Kindal Moorehead, Wallace Gilberry:
Cody was a two-time All-American, while the other three were all first-team All-SEC selections. Johnson and Moorehead combined for 107 sacks and tackles for a loss, while Gilberry made 38 career starts with 38.5 tackles for a loss and 21.5 sacks. Honorable mention: Mark Anderson, Todd Bates, Anthony Bryant, Jeremy Clark, Brandon Deaderick, Bobby Greenwood, Kenny King, Nautyn McKay-Loescher, Antwan Odom,
Lorenzo Washington
.
LB: Rolando McClain, DeMeco Ryans, Cornelius Wortham, Saleem Rasheed:
McClain won the Butkus Award for linebacker of the year and Ryans was honored with the Lott Trophy for defensive impact player. Wortham led the Tide in tackles with 99 in 2004 and was named first-team All-SEC. Honorable mention: Brooks Daniels, Darren Mustin, Derrick Pope, Freddie Roach, Juwan Simpson.
CB: Javier Arenas, Simeon Castille:
Last season, Arenas was second on the team with 12 tackles for a loss, and third in both tackles (71) and sacks (five). He also made five interceptions and defended 10 more to be named first-team All-American. In 48 games, 29 starts, Castille tallied 176 tackles (106 solo), 5.5 sacks, 17 stops for losses of 73 yards and five quarterback pressures. He finished his career with 12 interceptions, returned six punts for 60 yards and blocked a kick. Honorable mention: Gerald Dixon,
Kareem Jackson
, Milo Lewis, Anthony Madison, Ramzee Robinson.
S: Rashad Johnson, Roman Harper:
Johnson was named the SEC Defensive Player of the Year by the Little Rock Touchdown Club, and Tide's Defensive Player of the Year in 2008. In 2007, the former walk-on returned two of his six interceptions for touchdowns and also led the team in tackles with 94. Harper was a second-team All-SEC free safety as a junior after moving from strong safety and first-team as a senior. He left Alabama fifth on the career tackles list with 307. Honorable mention: Waine Bacon,
Mark Barron
, Jeffrey Dukes, Charlie Jones, Charlie Peprah, Marcus Spencer,
Justin Woodall
.
Special teams
K: Leigh Tiffin: The All-American's 30 field goals were an Alabama single-season record and he set the career mark as well with 83. His 385 career points were second in both SEC and NCAA history. Honorable mention: Brian Bostick, Jamie Christensen, Neal Thomas.
P: Bo Freelend: Bigger than most linebackers, the 6-foot-4, 255-pound Freela=end had 73 punts for 2,976 yards during the 2003 season, both third on the Alabama single-season lists. Despite the high number of punts that season he still averaged 40.8 yards. Against Ole Miss he averaged 52.4 yards on five punts. Honorable mention: Lane Bearden, P.J. Fitzgerald.
KR/PR: Arenas: Despite opponents kicking away from him, Arenas finished 10 yards short of breaking the NCAA career record of 1,761 punt-return yards set by Texas Tech's Wes Welker in 2003. With seven touchdowns, he was also one short of the NCAA career mark. Honorable mention: Brandon Brooks, Carter, Hudson, Williams.
LS: Brian Selman: The only snap he missed during his senior season was nullified by a penalty. Honorable mention: Luke Spaulding.
Coach: Nick Saban