{{ timeAgo('2023-01-25 22:11:40 -0600') }}
football
Edit
The 3-pointer: Three takeaways from Alabama's win against Miss State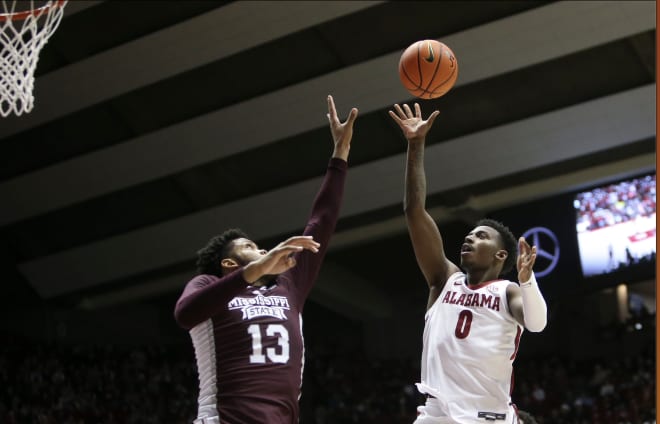 TUSCALOOSA, Ala. — It wasn't pretty but Alabama held on to pick up its eighth conference win of the season thanks to a 66-63 win on Wednesday.
Here are three takeaways from Alabama's ninth-consecutive victory.
Alabama's frigid first half
While temperatures hovered just above freezing outside of Coleman Coliseum on Wednesday, it was even colder inside the building.
Alabama shot a chilly 33% in the first half en route to scoring just 29 points during the first 20 minutes of play. It was the second time the Crimson Tide was held under 30 points this season and the first time since the team defeated then-No. 1 Houston on Dec. 10. along with its ice-cold shooting from the field, the Crimson Tide converted on just three of its 16 3-point attempts in the first half. Brandon Miller led the team in scoring with just six points as Alabama didn't have a scorer surpass double digits until Miller did so with 11:35 left in the second half.
The team's uncharacteristically cold night didn't just stay on the offensive end of the floor, Alabama struggled to stop Mississippi State as it shot 56.7% from the floor in the first half. The Bulldogs were led by Tolu Smith's 10 points shooting an efficient 5-of-7 from the floor.
"The SEC is a tough league," Alabama head coach Nate Oats said. "(Mississippi State) had only one game in the SEC and we saw how tough it was. I gotta give credit to Mississippi State. They came in ready to play and they had a great plan. They improved more than we improved from the first time we played them.
"We still figured out how to beat a pretty good team. I know their record doesn't say they're a good team, but I still think they're a good team. They are going to upset some people."
Mississippi State dominates in the paint
Part of what made Mississippi State so difficult to slow down on Wednesday was its proficiency to score in the paint. For only the third time this season, Alabama lost the points in the paint battle as the Bulldogs outscored the Crimson Tide 40-26. Against Gonzaga and UConn, Alabama was outscored in the paint which resulted in both of its losses this season.
The Bulldogs opted to use that same strategy to pound Alabama on the inside as they consistently fed Smith and D.J. Jefferies throughout the game. The duo combined for 24 points, all of which came from within 15 feet of the basket. However, in the second half, Alabama made adjustments that stymied the Bulldogs' offense. After scoring at a 56% clip from the floor, Mississippi State sported a 34.6% shooting percentage in the second half while holding Smith to just five points during that time.
"We had to pick our energy up," Oats said. "Now it's disappointing that we had to pick it up. It should just be there from the beginning, but we picked it up and figured out a way to win. If you're going to win an SEC Championship, you've got to win some games where you don't play your best. We figured out a way to get a win and our defense in the second half is really what did it."
Alabama's game-winning scoring run
Despite struggling through the game, Alabama showed signs of a championship team. During the final seven minutes of the game, the Crimson Tide went on a 17-11 scoring run which not gave Alabama its first lead of the game — it was the only lead it needed to secure its 18th win of the season.
Jahvon Quinerly pioneered the game-winning run, tallying a team-high seven points, five of which came from the free-throw line. Quinerly wound up being Alabama's most consistent offensive threat as he tallied a team-high 14 points and four assists in the win. Along with Quinerly, Alabama gained major contributions from Miller, Mark Sears, Noah Clowney and Rylan Griffen.
"(Quinerly) was huge," Oats said. "He can shoot so they really couldn't sag on him as much. They tried to switch and I think he's got some explosiveness to get to the paint and make things happen. He hit the one 3-pointer, he hit some drives going in and he made his free throws for the most part. ... We needed some scoring help. They did a great job on Miller and Sears. We needed someone to step up and score the ball and (Quinerly) has been able to score pretty well for us in the past. We needed him tonight."