Taylor talks about signing day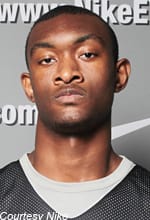 Job No. 1 for Anthony Grant and the University of Alabama men's basketball team in addressing the 2013 recruiting class quickly focused on stocking up the Crimson Tide's front court.
UA did just that with Wednesday's signings of
Jimmie Taylor
and Shannon Hale on the opening day of the early signing period. Both are ranked as top 100 players in the counry by Rivals.com.
"It was totally a relief signing those papers today," Taylor said. "Now I can actually concentrate on playing at the next level with Coach Grant."
Taylor credited his relationship with the entire Alabama coaching staff with putting the Tide over the edge in his recruitment.
"The whole staff was recruiting me. They would all call and check on me. I know I can put my trust in them. They are trustworthy people I'm very comfortable with them."
Taylor helped Greensboro High School to two consecutive Class 3A state championships and began his senior season with a team-high 17 points in the season opener Tuesday night.
Known for his defense, the 6-foot-9 Taylor is a master of the blocked shot. He swatted 97 his junior season, averaging 9.6 points, 5.2 rebounds and 1.3 assists. He is the nation's sixth-ranked center and a four-star recruit.
With two goals to meet before he enrolls at Alabama, Taylor said he is making progress towards each.
When he committed to Alabama in May, Taylor said he wanted to report to Alabama at 235-240 pounds. Since that time he's added 10 pounds and is up to 230.
"I'm eating well," Taylor joked.
He spent his summer working on his offensive game.
"I like facing-up (to the basket)," he said. "I've made lots of improvement in that area."
He signed with Alabama over offers from Auburn, Georgia, Georgetown, Mississippi State and Vanderbilt among others.
Rivals.com National Basketball Recruiting Analyst Eric Bossi said Alabama got a promising prospect in Taylor.
"He's got the ideal length and quickness that you would love to see from a big man," Bossi said. "He can run the floor, his offense isn't bad and he's got a frame to build on. I think with him it will just be about adding confidence and playing with a little bit more of a physical age. Once that happens, the other parts of his game could really take off."

Click
Here
to view this Link.
Reach Aaron Suttles at aaron.suttles@tuscaloosanews.com or at 205-722-0229.