Sources: Sexton will declare for NBA Draft on Friday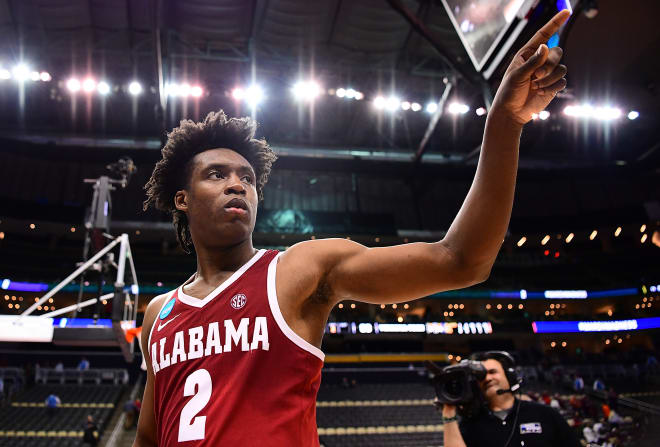 TUSCALOOSA Ala. — Collin Sexton's time at Alabama appears to be coming to an end. The freshman point guard will announce his decision to forgo the rest of his college career and enter the NBA Draft during a Friday news conference, sources have told BamaInsider.com.
Alabama announced it will hold a news conference at 10 a.m. CT on Friday inside of the Naylor Stone Media Room in the Mal Moore Athletic Facility but has not revealed any other details regarding the event.
If Sexton does indeed declare for the NBA Draft he will be the first Alabama player to leave after just one season since the league added the "one-and-done" rule in 2006. The former five-star point guard was named SEC co-Freshman of the Year and is a projected lottery pick in the draft. He led Alabama averaging 19.2 points and 3.6 assists per game while finishing in double digits in his final 16 contests.
Sexton set Alabama's freshman scoring record, finishing with 632 total points on the year. The previous mark was set by James "Hollywood" Robinson, who scored 554 points during the Tide's 1990-91 season. Sexton is just the fourth player in school history to score 630 or more points.
Sexton broke the record for made free throws in a season in school history with 196. He also has the Alabama freshman single-game scoring record with 40 points against Minnesota on Nov. 25, a game his finished as one of three Crimson Tide players remaining on the court. He became the first Alabama player to score 40 or more points in a game since Reggie King had 43 against Virginia in 1979.
Sexton was the first Alabama freshman in the modern era to record three straight games of more than 20 points in each of his first three contests. He scored 20 points or more 16 times, including five of his final six games.
The Mableton, Ga., native came to Alabama as the No. 8 player overall in the 2017 class.