Saban throws change-up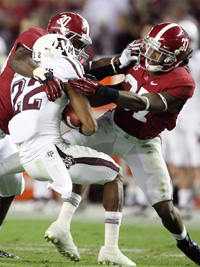 TUSCALOOSA | The levers that Kirby Smart can pull on a Saturday do all sorts of things, but of late, the University of Alabama defensive coordinator's chess pieces have had to show even more versatility than normal.
The Crimson Tide defense can transform from a true 3-4 scheme capable of stonewalling the best of rushing attacks, to five- and six-defensive back packages that expect and defend the pass.
Linemen and linebackers can be substituted based on down-and-distance situations. And every blitz call can be disguised to look like something it's not.
Against Texas A&M, the defense's flexibility went still a bit farther. In the secondary, cornerback John Fulton saw his most extensive action of the season in part because safety Nick Perry was nursing a minor shoulder injury.
"With the (TAMU offense's) no-huddle situation as it was in the game, we played Dee Milliner at Star, John at corner in his place, and then Vinnie (Sunseri) was always the sixth DB, and he was in there 70 percent of the time," UA coach Nick Saban said. "But we didn't feel like we could play nickel one way and dime another. So that's how John ended up playing. John has played well when he's had the opportunity to play, so we thought he deserved a chance to play."
Indeed, the junior broke up four passes and earned defensive player of the week honors from the UA coaching staff. He was often matched up on 6-foot-5 Aggies receiver Mike Evans at a significant size disadvantage.
"You can't ask more of him. He held his part down and did a great job," senior safety Robert Lester said of Fulton's performance. "... Whenever he's called upon, he's ready to go out there and ready to play."
Up front on the defensive line, things weren't quite as they normally are, either. UA coaches turned to their more athletic defensive linemen to help defend the scrambling skills of Aggies quarterback Johnny Manziel.
"We actually took Hubbard and Xzavier Dickson and Denzel and played Ed (Stinson) inside," Saban said. "We had four defensive ends and four inside guys that were the most athletic guys that could do their job, because of the quarterback, in terms of being able to have a chance to get him on the ground or be able to pass rush a little more athletically or have a more balanced pass rush."
Saban said he doesn't expect some of those alterations to be permanent, noting they were implemented specifically for the A&M game. This Saturday against Western Carolina, the picture in the secondary could be altered yet again. Fulton is recovering from a turf toe injury from the A&M game, and was not cleared to practice Tuesday. Saban described his status as "very questionable."
If Fulton does not play, the Crimson Tide would have several options in its six-defensive back package. One of those options would depend on Perry's availability. Another could include freshman Geno Smith, who saw limited action against the Aggies.

Click
Here
to view this Link.
Reach Chase Goodbread at chase@tidesports.com or at 205-722-0196.
Join Andrew Bone Wednesday night at 6:00 p.m. for the weekly recruiting chat. Join Chase Goodbread on Thursday at noon for UA team chat.