Saban talks Texas; Ohio State excuses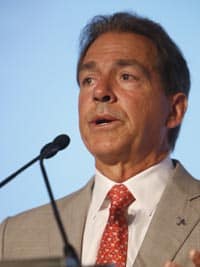 PENSACOLA, Fla. - Nick Saban coaches at Alabama. He traveled to Northwest Florida to speak to a booster club on Tuesday night.
Talk of Saban and Texas can cross state lines freely.
Saban offered slight detail about his agent Jimmy Sexton's conversations with Texas, saying Sexton called him "about 15 times" to gauge his interest in the job.
The New York Times released an excerpt Saturday from an upcoming unauthorized Saban biography by author Monte Burke that detailed his flirtation with the Texas job in 2012 and 2013.
Saban didn't reference the excerpt directly on Tuesday, but did address Texas - almost a semi-annual obligation since 2012 - when asked by moderator Jerry Pate, an Alabama alumnus and 1976 U.S. Open Champion.
"I have an agent (Jimmy Sexton), which most coaches have, and when somebody is interested in you, they call your agent, which they did," Saban said Tuesday night at the field house at the University of West Florida. "The agent calls you, and you tell the agent 'I'm interested' or 'I'm not interested.' So (Sexton) called me about 15 times about Texas, and every time he called I said I'm not interested in talking to them, and I never will be. That's the story. He did his job, I did my job."
The excerpt does not quote Saban or Sexton, and it does not specifically mention any direct conversations between Saban and anyone involved with Texas or its football program. It does detail several of Sexton's conversations with people around the UT program until Saban's contract extension with Alabama was signed in December of 2013, falling somewhat in line with Saban's explanation about Sexton's constant gauging.
That wasn't the only opportunity for Saban to clear the air.
During SEC Media Days Saban reiterated his stance that the NFL should push the date college underclassmen receive their draft evaluations back until after the college season ends to not cause a distraction as players prepare for upcoming bowl games.
"So we're trying to get ready for a game, and all of a sudden, a guy finds out he's a first round draft pick or a guy that thought he was a first round draft pick finds out he's not a first round draft pick, and we're trying to get ready to play a playoff game," Saban said at SEC Media Days in Hoover on July 15. "I think that it would be better not to submit that information to a player until he was finished competing in college."
Some media outlets criticized Saban for using the distraction as an explanation for his team's 42-35 loss to Ohio State in the College Football Playoff semifinal.
"All of a sudden, it's an excuse for losing to Ohio State. Where it came from, I don't know," Saban said Tuesday. "But it had nothing to do with it.
"(Moving the evaluation reports back) is still how I feel, and I think it would be better for the game and I think more coaches will see it that way when they have more players involved in the draft.
"It's a philosophical thing for me, it's not going to change. I'm probably going to keep saying what I think, and I'm probably going to keep getting criticized or something is going to be made of it."