Ryan Kelly admires his younger brother playing at Navy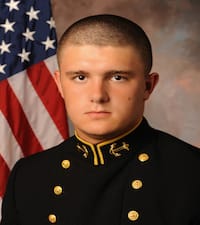 Last week was an interesting one for the Kellys.
On Friday of last week, they drove from Cincinnati to Mobile to watch their son, Mike Kelly, play against South Alabama in Navy's thrilling 42-40 win in Ladd-Pebbles Stadium.
The following they all drove to Tuscaloosa to watch their other son, Ryan Kelly, start at center for the University of Alabama against Auburn in the Iron Bowl, a 55-44 Crimson Tide victory.
Two trips. Two sons. Two brothers. Two wins.
Mike Kelly is a sophomore outside linebacker for the Midshipmen and the younger brother of Ryan Kelly, a junior offensive lineman and two-year starter at center for Alabama.
Mike grew up watching his older brother, and last Saturday watched as Ryan helped Alabama overcome a 12-point second half deficit to keep his national championship hopes alive.
Mike was in New Orleans to watch his older brother when Alabama defeated LSU for a national title. Mike was there in South Florida to watch his older brother when Alabama defeated Notre Dame for a national title.
And Mike hopes he's there in Dallas to again watch his older brother when the national championship game played on Jan. 12.
But first Mike has two games remaining in his season, the first of which is widely considered the best spectacle in college football. Army vs. Navy is certainly the most respected. The teams meet on Dec. 13.
"I've been to national championships with my brother. I've been to three or four Iron Bowls. I think (Army-Navy) is just different," Mike Kelly said. "The atmosphere, the camaraderie between players. They have a saying here: friends for 364 and enemies for 1. I don't think you can quite compare it to something my brother goes through with the Iron Bowl.
"It's very emotional. It's really just a dog fight."
Ryan Kelly, who has played in his fair share of big games in his two years as a starter, agrees.
"I think there's just something about the Army-Navy game that I don't think any other game can compare to that," Ryan Kelly said. "The spirit that those guys play with. Army-Navy, while they might be playing against each other, they're playing for the same cause. They're true heroes, in my book, for what they do and what they go out there and fight for. I wish I could go this year, but I hope I make it next year.
But I think it's just different with Army-Navy. I think until you serve in the Army or in the military, I don't think you can really grasp the entire magnitude of the entire game."
Being a student-athlete at an FBS program is challenging in its own right. Adding those same responsibilities to a student-athlete at a service academy is all the more impressive.
Mike Kelly has looked up to his big brother his entire life, and Ryan Kelly's never been more proud of his little brother.
The two were always close, but the relationship hit another level when they both went away from home.
"I think my brother might be my biggest role model," Mike Kelly said. "He's one of the best guys I've ever met or been around. He's very moral. He's overall just an awesome guy. Always helps me out if I'm struggling. It's pretty tough here. He will always send me words of encouragement.
"He's tough. He's a hard worker. Just a great person. Just the way that he lives his life is pretty amazing. I joke with my parents a little bit. I walked into my brother's room and I'm pretty sure it's cleaner than mine here and I have room inspections a lot. He just does the little things right. I couldn't speak more highly of my brother. He's awesome.
"He tells me that he's proud of me all the time. I say the same to him. He's doing his thing on a very large scale at Alabama. It's pretty cool to hear that."
Reach Aaron Suttles at aaron@tidesports.com or at 205-722-0229.