Ros place in UA history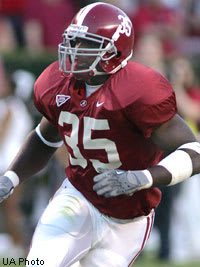 When University of Alabama linebacker
Rolando McClain
won the Butkus Award as linebacker of the year, he may have been the only one surprised.
Granted, nobody quite expected the Hall of Famer to suddenly show up one morning and present him the award, but there was little doubt that McClain was the top interior linebacker in college football this past season.
"It's kind of humbling" he said. "You think you're a pretty good linebacker and then Dick Butkus is in the room."
The 6-foot-4, 258-pound junior, who is projected to be a top 15 player in the 2010 NFL Draft, also won the Jack Lambert Award, was named the SEC Defensive Player of the Year by the coaches, Associated Press and Sporting News, and a unanimous All-American selection.
The year before, McClain was a Butkus finalist and named third-team All-American by the Associated Press after being named first-team Sporting News Freshman All-American in 2007.
"I think Rolando stepped up as a leader as soon as he stepped on the field as a freshman," defensive end Lorenzo Washington said. "He might not have been as vocal a leader by then, but his play, I don't think there's been a freshman defensive player that's played like he did in many years. You know, and he's continually stepped up his game, and he just came full circle this year. He put everything on his back, everything on his shoulders."
McClain's place in Crimson Tide lore is set, although he's not quite at the top when it comes to some of Alabama's legendary linebackers:
1. Derrick Thomas
While fans today like to use the term "beast" to describe a great defensive player, Thomas would be the "beast of beasts." Not only does he hold the Alabama records for sacks in a game (five vs. Texas A&M, 1988), season (27, 1988), and career (52, 1985-88), but he's also second in games (four, tied with Leroy Cook), season (18, 1987), and no one has managed to tally even half of this career sacks (Kindal Moorehead is second with 25).
When Thomas died in a car accident in 2000 at the age of 33, he was already a nine-time Pro Bowl linebacker. Consequently, he was enshrined in the Pro Football Hall of Fame last year.
"I just want to thank God for blessing me with some athletic talent and letting me play for the University of Alabama," Thomas said after winning the Butkus Award in 1988, when he finished 10th in Heisman Trophy voting.
Thomas went on to set numerous sack records in the NFL, including a single-game seven against the Seattle Seahawks, started the "Third and Long Foundation" to encourage inner-city reading, received the '93 NFL Man of the Year Award, the '95 Byron "Whizzer" White Award from the NFL Players Association, and was President George Bush's "832nd Point of Light."
"For me, my goals are a lot higher than just being a successful linebacker or being All-Pro," Thomas said after the 1994 season. "When my career is over, I want people to look back and view me as the best, or one of the two best to ever play the position."
2. Lee Roy Jordan
Jordan arrived at the Capstone a year after Coach Paul W. "Bear" Bryant and was a key player who helped lead Alabama back to the top. In 1960, Jordan's sophomore year, Alabama went 8-1-2 with a 3-3 tie against Texas in the Bluebonnet Bowl. Jordan was voted the Most Valuable Player in that game. In 1961 Alabama claimed the national championship with an 11-0 record that included a 10-3 victory over Arkansas in the Sugar Bowl. For his senior year, Jordan was a unanimous All-American selection. Alabama went 10-1 with a 17-0 victory over Oklahoma in the Orange Bowl, where he made a whopping 30 tackles.
Jordan finished his collegiate career with a 29-2-2 record over his last three seasons. The Dallas Cowboys selected him with the sixth-overall pick in 1963 NFL Draft, where during his 14-year pro career he became a key part of the Doomsday Defense.
"He was one of the finest football players the world has ever seen," Bryant said. "If runners stayed between the sidelines, he tackled them. He never had a bad day, he was 100 percent every day in practice and in the games."
3. Cornelius Bennett
Bennett is known for a lot more than "The Sack."
It came during the 1986 game against Notre Dame, a team the Crimson Tide had never defeated, when Steve Beuerlein dropped back to pass and was hit so hard by the linebacker that he was knocked cleanly off his feet during the 28-10 victory at Legion Field.
"He knocked me woozy," Beuerlein said. "I have never been hit like that before, and hopefully I'll never be hit like that again."
For his collegiate career, Bennett tallied 287 tackles, 21½ sacks, and three fumble recoveries and was twice named first-team All-American (1985-86). His senior year, when Bennett totaled 61 tackles, 10 sacks and six forced fumbles he finished seventh in Heisman voting and received the Lombardi Award given to the nation's top lineman (FYI., both years the Butkus went Oklahoma's Brian Bosworth).
"Signing my letter of intent to play at the University of Alabama, and then playing against the University of Washington in the Sun Bowl my last game senior year, those two things really stand out more than anything else," Bennett once said. "The first part was becoming part of a great tradition and the last was finishing off a career where I tried my best to continue that tradition."
After being the second-overall pick in the 1987 NFL Draft by the Indianapolis Colts, Bennett played 14 seasons and started in five Super Bowls, including four consecutive appearances with the Buffalo Bills (1990-93).
4. McClain
In addition to the 105 tackles, 14½ for a loss, four sacks and two interceptions, he called all of the defensive plays and regularly countered whatever the opposing quarterback called.
Coach Nick Saban liked to compare McClain to having another coach on the field: "Some guys understand their position, but I would venture to guess Ro knows what every player is supposed to do on every play on defense, and he knows like I know who didn't do right, and when he didn't do right, sometimes immediately."
Or a great baseball player: "You can teach a hitter where the strike zone is. You can even teach him how to swing a bat, but you really can't teach him (how to judge) a ball or a strike from the time it leaves the pitcher's hand until it gets to home plate. The guy's got to figure that out on his own and make an almost athletic intuition decision, that this is a good pitch to hit."
In addition to becoming the Tide's second Butkus winner, he won the Jack Lambert Award as the nation's top linebacker by the Touchdown Club of Columbus (Ohio).
"Obviously I'm real excited for the award," McClain said. "I'm sure my mom will be proud."
5. DeMeco Ryans
During his senior season in 2005, the linebacker led Alabama with 76 tackles including 9.5 for a loss, en route to being named first-team All-American, the SEC Defensive Player of the Year, and Lott Trophy winner as college football's best impact defensive player. Impact is actually an acronym for: Integrity, Maturity, Performance, Academics, Community, and Tenacity.
Ryans started 37 career games and finished fifth on the UA's all-time tackle list with 307. After being the first pick in the second round of the 2006 NFL Draft by the Houston Texas, he led the league with 126 solo tackles and all rookies with 156 total tackles, the most tackles by a rookie over the past 20 years, and was named the NFL Defensive Rookie of the Year, edging former Tide teammate Mark Anderson with the Chicago Bears.
"I think the world of DeMeco, because he's special in a lot of different ways," Texans defensive coordinator Richard Smith told the Houston Chronicle in 2008. "Let me start with his attitude. He's so unselfish. He's not egotistical. He's very humble. The team and the organization mean a lot to him. And winning is the most important thing to him."
But it takes more than that to be on the Pro Bowl roster during three of his first four seasons.
"Yeah, it does, but DeMeco came to us with a great foundation," Smith said. "He was very well-coached at Alabama. "I couldn't believe his knowledge of the position when he got here."
6. Woodrow Lowe
The second player in Alabama history to be a first-team All-American three straight years, (1973, 1974-consensus, 1975), Lowe led Tide to the 1973 national title as a sophomore. That was also his best year statistically when he had a school-record 134 tackles, including six for a loss, and named the Churchman's National Defensive Sophomore of the Year.
During his four years Alabama never failed to win the Southeastern Conference championship, and played in two Sugar Bowls, one Orange Bowl and a Cotton Bowl. He's third in Tide career tackles with 315, behind only Wayne Davis (327, 1983-86) and Thomas Boyd (324, 1979-82) and last year was enshrined in the College Football Hall of Fame.
"I am very thankful for having the opportunity to attend the University of Alabama," Lowe said of the announcement. "I am so humbled and grateful to be in the system that Coach Bryant produced. I am just kind of speechless because it has never been about me at the university, it has always been about the team. There are a lot of other people that I owe credit to and give credit to. It is truly an honor to be inducted, but there are a lot of people that had a lot to do with me being successful."
Following his senior season, Lowe was selected in the fifth round by San Diego in 1976 and over 11 seasons missed only one game. He had more defensive starts than anyone in team history (163 out if a possible 180), was a team captain and finished with 21 interceptions, four returned for touchdowns.