Rivals100 WR ready for official visit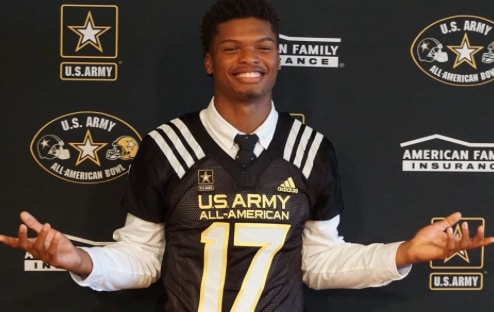 Tarik Black, Rivals100 wide receiver from Cheshire Academy in Connecticut, will return to Alabama this weekend for an official visit. He excited about the return trip to see the defending national champions.
"I am definitely ready," Black said of returning to Tuscaloosa this weekend. "I can't wait. I am very excited. I love it every time I am there.
"I am coming down there with my parents. I will get there on Saturday morning. I have a game on Friday night. We will leave very early on Saturday morning. We will definitely make it for the game (11:00 a.m.).
"I've been keeping in touch with the staff. I've been texting and talking to them on the phone. I am in a group text with Coach Cristobal, Coach Napier and my parents. We talk a lot. I also talk to them separately. I am in touch with Coach Cristobal the most. I have a good relationship with all of them."
Black is ready to spend quality time on campus and showing his parents why he's excited about the Crimson Tide.
"I am really looking forward to spending more time with the coaches- Coach Napier and Coach Saban," he said. "I want to see how I would fit in with the program and how I can benefit by going to Alabama.
"I'm also looking forward to getting my parents down there. I love Alabama. They haven't been able to go as much as I have. My mom has never seen it. My dad went down once with me. I want her to see why I always brag about Alabama when I come home."
The four-star has been impressed with the Crimson Tide's perfect start to the season. Alabama is on a 21-game win streak and remain the No.1 team in the country.
"Their season is going really well," Black said. "They are No.1 every week. They win every week. They play one of the toughest schedules in the country. Playing in the SEC is tough week in and week out. They continue to strive. I'm very proud of what they have been doing."
Black is scheduled to announce his decision on January 7 at the U.S. Army All-American game.
"I will probably evaluate everything once I get home from the visit," he said. "I may commit if it feels right, but I'm not exactly sure. Anything is possible."
Alabama is very high on Black's list of favorites. He has taken official visits to Auburn and Michigan. He says Alabama and Michigan have the current edge for his signature. Why is Alabama so high on his list?
"I know they develop guys," Black said. "They definitely help you become a better football player and have you prepared for the league. I think playing in the SEC prepares you better for playing in the league. The coaching staff is great. I like everything about them. They do things the right way."