Richardson takes on leadership role as No. 1 RB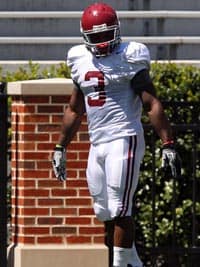 TUSCALOOSA | Trent Richardson saw a certain leadership from Mark Ingram throughout the Heisman Trophy campaign of 2009, the season in which nothing could go wrong for the University of Alabama.
He saw it from him again in 2010, when a knee injury started Ingram's season began off script, a fumble helped end it off script, and too much went wrong in between for another round of trophy-raising.
Good times, bad times, Ingram had his share.
And with the role as the Crimson Tide's lead running back now squarely in Richardson's grasp, it's Ingram-like leadership that he intends to carry as much as a football.
"Mark's not here, so I have to take a bigger role," Richardson said. "I have a lot of big footsteps to fill."
At a school rife with history at the running back position, Ingram posted the most prolific season ever by an Alabama rusher. But Richardson saw Ingram's value as much in the form of how he handled himself as how he handled the football. Nowhere was that more evident than on Dec. 6, at the team's annual awards banquet at The Cahaba Grand Conference Center in Birmingham, when Ingram was honored for not only UA's Offensive Player of the Year, but its Commitment to Academic Excellence honor as well.
Now, Richardson leads less proven depth than what Ingram led a year ago. Eddie Lacy was impressive in spots last season, but his playing time was sparse. It remains a mystery who among other candidates will play a role. Regardless, UA coach Nick Saban sees Richardson as a leader.
"I think his role is going to be more significant now that he's sort of the back for us," Saban said. "I think his leadership will have maybe a greater impact, not that we're going to ask him to do anything that he hasn't done, because he has been very good in all those regards. But now I think because of the role, he may have a more significant impact with that leadership and personality and energy that he has."
Richardson is one of the team's peer group leaders, a system of intra-squad discipline Saban has installed in which players hold each other accountable for their actions with help from assigned leaders in each graduating class.
Richardson said he and Ingram talk often of the role into which Richardson is stepping. Having split carries with Ingram for the past two seasons, however, Richardson's adjustment on the field may be the least challenging. Indeed, between the knee injury that forced Ingram to sit out the first two games and Richardson's own effectiveness demanding significant playing time, he carried only 46 times fewer than Ingram did in 2010 (158-112).
Not surprisingly, their conversations since the end of the season haven't focused on X's and O's.
"He's telling me, 'Stay on top of everything. You're the man now. Keep the boys up. Tell coach (Burton) Burns stay after me.' and stuff like that," Richardson said. "'Stay after coach Burns, make sure everybody's on point. Make sure you're giving your offensive line praise,' like we always do. 'When the next man's on the field, cheer him on.'"
Reach Chase Goodbread at chase.goodbread@tuscaloosanews.com or at 205-722-0196.