Recruiting spotlight: Jay Barker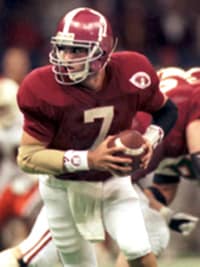 TUSCALOOSA | If not for Pat Sullivan, Jay Barker might not have ended up as the quarterback at the University of Alabama.
Barker, who played the majority of his career at free safety for Hewitt-Trussville High School, entered his senior season in 1989 as a first-year starter at quarterback. He already had a scholarship offer from Florida State to play safety, but he was drawn to quarterback.
Part 1: Assembly required
When Hewitt-Trussville played at Mountain Brook in late September, Sullivan was in the stands watching his son, Patrick Sullivan, when Barker caught his eye. Auburn's quarterback coach, who won the Heisman Trophy in 1971, requested film on Barker and the Tigers eventually offered a scholarship.
Alabama followed thereafter when Gene Stallings became coach. With a few great offers to choose from, Barker followed his heart.
"Coach Stallings gave me a call with (quarterbacks coach) Mal Moore and said, 'Hey, will you give us another shot?'" Barker said. "I was like, 'Most definitely,' because I grew up an Alabama fan. I think I was the first scholarship offer he had because I came in that first weekend he was there. I know I was his first quarterback offer.
"Me and my parents were sitting there and he said, 'We've looked at the film and we really like what we see. We think you have a lot of potential. You're a Birmingham kid. We know how much you love Alabama. We'd like to offer you a scholarship.' I was just ecstatic sitting there in his office knowing I had a chance to come down there and wear the crimson jersey."
Barker sat out 1990 as a redshirt, learning from Gary Hollingsworth and Danny Woodson. He never once questioned his decision to change positions.
"I came in early on and was able to establish myself as the next guy behind Danny," Barker said. "I was getting a lot of reps in practice from a scout-team position. I knew right away that I wanted to play quarterback and be a part of that. I really enjoyed it my senior year (of high school), playing quarterback and just the amount of touches. Just beginning to understand the game and what it takes to be a quarterback. Just being able to manage it and not make mistakes. Just trying to learn as much as I could."
It worked out well for both sides as Barker finished his UA career with the most wins as a quarterback in school history. He went 35-2-1 as a starter from 1991-94, replacing Woodson in the ninth game of the '91 season against LSU.
Barker compiled a total of 5,689 yards and was awarded the Johnny Unitas Golden Arm Award as well as being a first-team All-American in 1994.
It was a decision he said he would make again with no hesitations.
"When Alabama made the offer, I committed that day," he said. "This had been my dream since I started playing ball at 5 years old, to be able to play for Alabama."
Reach Aaron Suttles at aaron.suttles@tuscaloosanews.com or at 205-722-0229.