Recruiting spotlight: David Palmer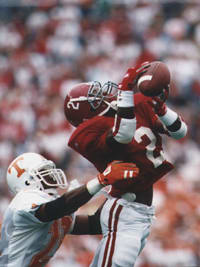 TUSCALOOSA | David Palmer might have gone to Florida State if Bobby Bowden hadn't been so honest with him.
Bowden, who went on to acclaim as college football's all-time winningest coach, told Palmer, a star of many talents at Birmingham's Jackson-Olin High School, that he wanted the player to sit out his first year as a redshirt. Palmer, who also considered Arkansas and Auburn, chose Alabama based largely on Bowden's plan.
Part 1: Assembly required
"I really wanted to attend Florida State, but I thought it was in my best interest to attend Alabama because I could play my freshman year," Palmer said, looking back at his recruitment. "I thought I could get on the field."
There was also a family consideration for Palmer, who now coaches football and baseball at Parker High in Birmingham.
"I had three kids," Palmer said. "It was about 45 minutes away, so I could get back home and see my kids."
On his official visit to UA, Palmer was shown around by Prince Wimbley and Donnie Finkley, both wideouts, as well as quarterback Danny Woodson and lineman Roosevelt Patterson. He had a good time.
"They did a good job," Palmer said. "They got me there."
Jimmy Fuller, who coached linemen, was Palmer's primary recruiter.
"Jimmy came to my house to visit," Palmer said. "He showed a lot of interest in my family, and I appreciated that. My family was very impressed."
Palmer, an elusive player who would often play quarterback, running back and wideout in the same series in high school, expected instant success at Alabama. He found out college football was a different game.
"It took me a couple of games to get the ball in my hands," he said. "When they did give me the opportunity, I was ready.
"In college, you have to make the most of it when you get the chance."
Palmer stood out first as a returner, then became a go-to target at wideout. Before his career was over, he also made plays as a ballcarrier and even at quarterback - where he took snaps under center but commanded an attack that was essentially the same as the latter-day Wildcat offense.
"I knew I could do it if they gave me the opportunity," he said of his multiple roles. "Coach (Gene) Stallings sent the staff to see me my last game in high school, so they knew what I could do."
Palmer's career stats speak to his diverse talents. He caught 102 passes in three seasons for 1,611 yards, a 15.8-yard average per catch, with 11 touchdowns. He rushed 86 times for 598 yards and a touchdown, averaging 7 yards per carry. He completed 15 of 20 passes for 260 yards, an average of 13 yards per catch, with two touchdowns and three interceptions. He returned 83 punts for 865 yards and four touchdowns and ran back 36 kickoffs for 841 yards.
Said Mal Moore, now UA's athletic director and Alabama's offensive coordinator during Palmer's career: "Not only was he a talented, gifted player, he had great vision and a great sense of timing. Football just made sense to him."
Stallings recalls scouting Palmer in high school.
"He didn't go to the sideline," Stallings said. "He was the quarterback, he punted, he played defense and I think he kicked the field goals."
Palmer didn't play everything he wanted, however.
"The only regret I had at Alabama was I didn't get to play defensive back and I didn't play baseball," he said.
On the whole, Palmer is satisfied he choose the right school.
"The University of Alabama was great to me," he said. "It was the best thing that could have happened to me."
Reach Tommy Deas at tommy@tidesports.com or at 205-722-0224.