Recruiting rewind: Alabama prepares for its second Junior Day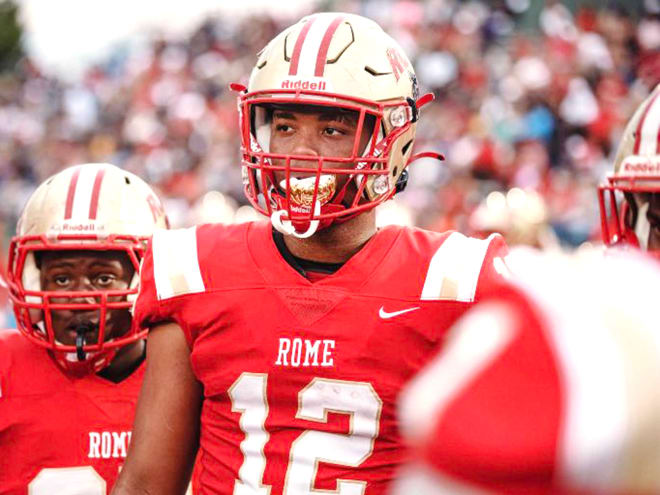 There are not expected to be any groundbreaking developments in the Alabama class of 2023 prior to National Signing Day. The Crimson Tide officially lost out on the Cormani McClain sweepstakes but is making headway in trying to secure the services of many talents in future years in more sports than just football. Here are some of the stories that have appeared in the past week.
Junior Day, part two
The second of two Junior Days in Tuscaloosa during the offseason is all set for Jan. 28, two weeks removed from the first. Prospects from each of the next three recruiting classes ('24-'26) are expected to be in Tuscaloosa. Just one, class of 2024 four-star Martavious Collins, is committed to the Crimson Tide.
Air Noland: The Georgia native is an Auburn target with four visits to the Crimson Tide's main rival and an offer from the Tigers. The quarterback remains uncommitted but seems to be leaning toward Texas A&M.
Corian Gipson: The four-star safety from Texas visited Alabama in June 2022 and has been offered by the Crimson Tide. He's the No. 15 recruit in the state.
Daniel Calhoun: Calhoun has an offer from Alabama but has not yet been on a visit. Alabama will compete with Auburn, Georgia and others for his services.
Martavious Collins: Collins, the No. 5 tight end in his class, committed to the Crimson Tide in July 2022. He visited Auburn on Jan. 14.
Zabien Brown: The No. 10 recruit in California for the class of 2024 hails from Mater Dei High School, the alma mater of one Bryce Young.
Joseph Stone Jr.: Stone is an LSU commit, and the corner is ranked No. 12 at his position in the 2024 class.
Jordan Seaton: Seaton plays as a guard in Washington, D.C., and has SEC offers from Florida, Georgia, LSU, Kentucky, Ole Miss, South Carolina, Tennessee and Texas A&M.
Myles Graham: A Florida commit, Graham has taken his share of visits to the Capstone. He has been offered by Alabama. Graham is the fifth-ranked 2024 recruit in Georgia.
Jadon Perlotte: The Class of 2025 linebacker is committed to the Georgia Bulldogs. He visited Alabama in November of 2021.
Landon Duckworth: Duckworth, an Alabama native at the quarterback position, is in the class of 2026 but already has one SEC offer (Arkansas).He's also visited Ole Miss and UAB.
New offers roll in
Alabama football's 2023 recruiting class appears set in stone, but that doesn't mean the program's recruiting efforts for future years are anywhere near finished. In fact, just the opposite is true. This week, the Crimson Tide has extended offers to many players in multiple different classes. It's been a packed week- when all was said and done, almost two dozen prospects had their offer lists graced by Alabama. Of those offered, five are from California, four are from Georgia, three are from Florida, and two each come from Alabama, Maryland and North Carolina. Rounding out the states represented are South Carolina, Ohio, Mississippi and Texas.
Efrem White, Vero Beach (Florida)
Dylan Williams, Long Beach Poly (California)
Chuck McDonald, Mater Dei (California)
Xavier Lucas, Dillard (Florida)
Jabari Brady, Monarch (Florida)
Kyngstonn Viliamu-Asa, St. John Bosco (California)
Jett White, Orange (California)
J.J. Harrell, North Panola (Mississippi)
Ify Obidegwu, St. Frances Academy (Maryland)
Carlton Smith, St. Frances Academy (Maryland)
Dakoda Fields, Junipero Serra (California)
Heze Kent, Brunswick (Georgia)
Kendre Harrison, Reidsville Senior (North Carolina)
William Satterwhite, Archbishop Hoban (Ohio)
Justin Williams, Oak Ridge (Texas)
Ethan Barbour, Alpharetta (Georgia)
Jonaz Walton, Central (Georgia)
Cameron Coleman, Central (Phenix City, Ala.)
Bryce Davis, Grimsley (North Carolina)
Christopher Jackson, Tucker (Georgia)
Amare Adams, Lake City (South Carolina)
Malik Blocton, Pike Road (Alabama)
Coach's visits continue
Nick Saban has been busy in January, paying visits to high schools around the country. This week, Saban kept up his travels and had a very busy schedule, with stops at these locations since Jan. 23. The head coach even took the time to swing by a multitude of schools in the heart of Alabama recruiting territory, the Yellowhammer State itself. Multiple players at the visited schools have offers from the Capstone.
Good Counsel (Maryland)
C.H. Flowers (Maryland)
Little Rock Christian Academy (Arkansas)
North Panola (Mississippi)
Acadiana (Louisiana)
Central (Phenix City, Ala.)
Charles Henderson (Alabama)
Pike Road (Alabama)
Booker T. Washington (Alabama)
Chilton County (Alabama)
Donnie Freeman on official Alabama visit
Class of 2024 power forward Donnie Freeman, the No. 27 recruit in the class, is on his official visit to Alabama. Freeman attended the Crimson Tide's 66-63 win against Mississippi State on Jan. 25. Per his Twitter account, his visit spans from Jan. 25 to 28. On Dec. 30, he said his recruitment was open. Alabama is not in his top five, but one current SEC school is (LSU), and so is a future one (Texas). Freeman has had an offer from Alabama since 2022.