Ready for Tuscaloosa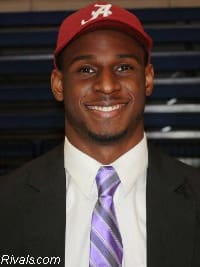 Rashaan Evans
, five-star linebacker from Auburn High School in Ala., believes he made the right decision for his future when he signed with Alabama on Wednesday.
There are plenty of people who support Evans regardless of his decision, but every fan base has a few immature individuals who take the decision of a high school stranger too personal. Those fans vent frustration on message boards and or social media.
"It's getting worse," Evans said on Monday evening. "Someone actually put out an article about my family's business telling all Auburn fans not to go there. We are going to eventually start losing money. People are telling restaurants in the town not to serve us.
"It's hard for me to go out and chill with my friends like I have always done because people keep coming up to me telling me I made a bad decision. It's grown men. They are asking me why I did this to them. I told them I had to do what is best for me.
"You know I knew this would happen. I knew people would be mad and say stuff. I didn't think it would be like this. It wasn't a complete shock to me, but I guess that's just how fans are.
"It's just crazy right now. What's getting crazy is people are going to the board at my school trying to get me in trouble. They are telling my teachers I am a bad kid and all this stuff. It's just bad right now.
"Social media has definitely been the worst. People on Instagram are telling me how they hope I tear my ACL in game one. They will laugh when I do. They are saying my family is horrible and how they didn't raise me right. It's just crazy."
All I did was commit to a university to get my education and pursue my dreams but a whole city gone try and treat me like I'm satan
#Really
- Rashaan Evans (@616evans4)
February 11, 2014
Evans has another fan base eager for the nation's top linebacker to arrive in Tuscaloosa.
"The support from Alabama fans has been by far the greatest," he said. "They have made me feel a lot better about my decision. They are doing nothing but showing me love. They make me see I have people who are always going to have my back.
"Kirby [Smart] always sends me an inspirational texts. He tells me not to worry what people are saying. He said to make sure once I get there just get ready for work.
"Auburn fans are saying I am going to ride the bench, and I am going to be like Reuben Foster. People are adding his family and how they are low-lifes. They talk about his mom. You wouldn't think some of them are human. I knew it was going to be horrible. You know it's out of hand when people come up to you saying stuff. People you don't know. People who are grown men."