RB Dee Hart no longer with the team, arrested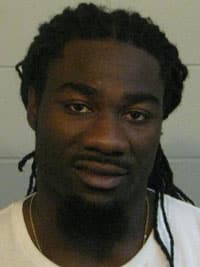 University of Alabama running back Dee Hart, 21, was arrested Sunday by the Tuscaloosa Police Department and charged with giving false information and possession of marijuana.
The Alabama Athletic Department released the following statement on Monday afternoon:
"Dee Hart has not been a part of the football team since the bowl game and has not participated in any of the off season program. Hopefully he will learn from this mistake and continue to work toward completing his degree, which he is on track to do by the summer."
Hart was booked into the jail at 9:20 p.m. on Sunday and released on a $1,300 bond at 10:33 p.m. Both charges are misdemeanors.
State law defines second-degree marijuana possession as an amount considered for personal use. The Tuscaloosa News has submitted a public records request for documents related to the arrest.
Police say that Hart tried to dump a bag of marijuana in a police car while he was being questioned for using suspected counterfeit money at a gas station.
A Texaco clerk called Tuscaloosa police Sunday night and reported that someone had tried to use counterfeit money, said TPD spokesman Sgt. Brent Blankley.
Hart was still at the business when police arrived at 5:50 p.m., he said.
He gave a false name to officers, Blankley said, before they transported him to TPD headquarters for questioning.
"When officers opened the door to let Hart out of the vehicle to be processed, they smelled a very strong odor of marijuana coming from the back seat area," Blankley wrote in press release sent Monday. "Officers located a Ziploc bag containing eight grams of marijuana beside his feet."
The investigation into the counterfeit money is still being investigated, Blankley said.
The Texaco is less than a mile from Hart's University Village apartment.
It is the second arrest for the Alabama football team in less than a month. Tony Brown was arrested Jan. 19 on charges of failure to obey and resisting arrest.
A sophomore in 2013, Hart compiled 78 yards and a touchdown on 22 carries. For his career he has 166 yards on 43 carries.
Stephanie Taylor contributed to this report.
***************
205.722.0229.