Rayam recalls fabled block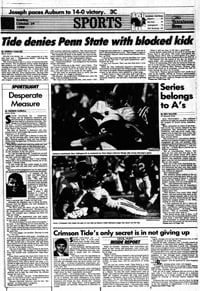 TUSCALOOSA | For Thomas Rayam, "Desperation Block" still resonates.
For the kids in Team Rayam Outreach, it still provides.
As the University of Alabama prepares to travel to Penn State Saturday for the first time since 1989, the hero from the Crimson Tide's last trip there recalls the fabled play as if only 22 minutes have passed, not 22 years. With Alabama clinging to a 17-16 lead, Penn State attempted a field goal from chip-shot rage -- a shorter distance than an extra point -- with 13 seconds remaining. Rayam blocked the field goal to preserve the win, and the play was later immortalized by artist Daniel Moore with a print titled "Desperation Block."
The notoriety from the play has stayed with Rayam throughout his life. Team Rayam Outreach, which helps underprivileged youth, benefits more than 20 years later.
"The picture from that play buys water, pays light bills, anything to help kids," Rayam said. "If we auction one off for kids with disabilities, we've gotten as much as $5,100 for it. ... Private donations come in, and that platform all comes from Desperation Block. It really is a platform to stand on and I couldn't have a better one in this state."
Penn State's star running back Blair Thomas led the Nittany Lions on what could have been a game-winning drive in the game's final minutes. He nearly scored on the play before the field goal attempt, but fell at the goal line inches short of a touchdown. Rayam said fellow defensive lineman Mike Ramil, like Rayam listed at 6-foot-7, was supposed to have blocked the kick.
"My job was to open a hole so Mike Ramil could block it, but everyone was so gung-ho to block that kick, I knocked a man out of the way," Rayam said. "I found myself back there so deep, I just reached for the sky. Then I felt the ball hit my hand."
It was something of a surprise that Rayam was even playing that day. He had injured his ankle the Monday before the game in practice when offensive lineman Charlie Dare, Rayam said, fell on his ankle for the second time that season.
"We're talking about a sprain, a hairline fracture, the whole nine yards," Rayam said. "The tape job on that ankle was more like a cast, and the cleats I wore were more like boots. It was the sheer will of God that I could even get that kind of push off of it in the fourth quarter."
Read The Tuscaloosa News' full report from Beaver Stadium 22 years ago on Rayam's block and Alabama's 17-16 win by clicking here.
Reach Chase Goodbread at chase.goodbread@tuscaloosanews.com or at 205-722-0196.