Notebook: Youthful mistakes concern Saban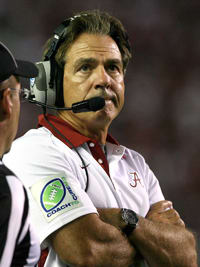 TUSCALOOSA | The idle week on the University of Alabama football schedule allows the coaching staff to re-focus on basic fundamentals, and spend more time developing the team's younger players.
Judging by UA coach Nick Saban's comments Tuesday, the timing for such a week couldn't be more ideal.
"The big question here is, if everyone in the organization is not doing everything they can do to help the team be all it can be, then we need to change the way we're doing things," Saban said. "Change the way we think, change our attitude about what we're doing, whether it's how we play our position, how we coach our position, how we coach the team, how we motivate the team."
From an excessive number of missed tackles, to its three fumbles and efficiency problems in the red zone, Saturday's 19-point win over Ole Miss left Saban and players alike less than satisfied. Getting the team's younger players to perform at a higher and more consistent level, Saban indicated, is paramount to the team's improvement as a whole. Asked about the progress of freshman running back Kenyan Drake, who could step into a larger role with the season-ending injury to Dee Hart, Saban said Drake's challenges are no different than any of the freshmen.
"With all the young players, it's can you trust and believe in what you're being coached to do. Rather than just go play fast like a horse with blinders, whether you're playing on special teams, whether you're carrying the ball, no matter what you're doing," Saban said. "That's the biggest challenge. I had a fit about that today in the special teams meeting, not just him but just all the young guys. We're coaching one thing and they're doing something else. ... We teach them how to do it every day. You get in the game and they go rat trap."
Linebacker Nico Johnson said the term 'rat trap' refers to blown assignments and mental errors.
"They do the right things in practice, and when you get in the game, you think about all the wrong things," Johnson said. "You forget your assignment."
Jones uncertain about punt return role
With Dee Hart handling punt return duties for Christion Jones over the last two games, Jones was asked Tuesday if he will be returning to the role now that Hart is out for the season with a knee injury.
Jones said he expects an open competition, noting that freshmen Amari Cooper and Cyrus Jones are capable punt returners as well..
"Right now we don't know who is going to be doing the punt returns. We just now going to look at some guys," Jones said. " ... It's time for -- we've got Cyrus (Jones), we have Amari Cooper, we have me included stepping up."
Quotable
"We didn't play to the 'Bama standard, especially on defense. We pride ourselves on stopping the run. I think they had 103 yards rushing. We just didn't play good. We kind of feel we even played to their standard and not to ours. Our intensity wasn't right. The focus wasn't right." -- LB Nico Johnson on the UA defensive performance against Ole Miss.
Tidebits
Tight end Brent Calloway did not practice at running back Tuesday. Saban suggested Monday that position changes, including Calloway to running back, might be a possibility to help depth concerns at positions depleted by injury. ... Southern Living magazine named Alabama home games as the nation's third-best tailgating experience. The first- and second-place winners will be announced later this month. ... Alabama resumes practice Wednesday afternoon.
CLICK HERE
for a 7-day FREE trial to TideSports.com!
Reach Chase Goodbread at chase@tidesports.com or at 205-722-0196.