Notebook: Tide feels the season starts now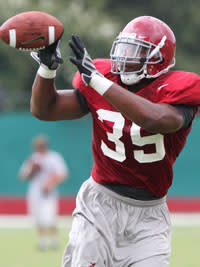 "A little bigger, faster and stronger," he responded. "We know we have to raise our game a little bit."
Although No. 1 Alabama is 3-0, having outscored its opponents 134-19, its approach is that this is when the season really starts.
The Crimson Tide will open conference play Saturday at No. 10 Arkansas, with No. 9 Florida and No. 12 South Carolina waiting in the wings. Next week's home game against the Gators will also be the last time Alabama faces an opponent not coming off a bye week.
"This is sort of a new season, when you start playing in the SEC," said Coach Nick Saban, later adding: "I think our team will find that you really are only as strong as your weakest link, and I think everyone has got to fight a better fight against better competition. I think that's the challenge for everyone in terms of doing their job."
Adding to the stakes is that Arkansas is 3-0 too and believes that the SEC Western Division could come down to this game. Although junior quarterback Ryan Mallett struggled during last year's 35-7 loss in Tuscaloosa, last week he led a three-play, 73-yard scoring drive that ended with a 40-yard touchdown pass to Greg Childs with 15 seconds remaining to beat Georgia.
"I don't believe we went into that game believing that we could win," he said of last year's loss.
Alabama leads the conference in scoring offense (44.7 points), total offense (542.0 yards), scoring defense (6.3) and total defense (253.3). Right behind the Tide, though is Arkansas, which is third in the offensive categories (35.3, 483.7) and second in the defensive rankings (11.3, 255.7).
"We've played great up to this point but we really haven't played anybody that really challenges what we do. Penn State is a great team. They're extremely well coached, but they're not built to face a team and have a lot of success against a team like us. They're built to expose the power running game and things like that, which they did. They shut it down on us and we didn't run the power real well or the inside zone real well. We beat them with speed around the edge, and we were able to break some tackles which led to some explosive plays.
"This team is built to play teams like us."
Weekly awards
"Wesley is another one of those guys that is sort of full-metal jacket all the time in terms of his effort and toughness, and he's very smart and intelligent," Saban said. "He's just really become one of those core special-teams guys for us and was really playing well early."
Alabama didn't have anyone named in the weekly SEC honors, with Ingram honorable mention for offensive player and Warmack for offensive lineman.
Florida game prime time
As expected, next week's game against Florida will kick off at 7 p.m. as part of a CBS doubleheader.
Here's the rundown:
Louisiana-Monroe at Auburn, 11 a.m., ESPNU;
Vanderbilt at Connecticut, 11 a.m., Big East Network;
Alcorn State at Mississippi State, 11 a.m., Fox Sports Net;
Kentucky at Ole Miss, 11:21 a.m., SEC Network;
Tennessee at LSU, 2:30 p.m., CBS;
Georgia at Colorado, 6 p.m., Fox Sports Net;
Florida at Alabama, 7 p.m., CBS.
Of course, Saturday's game at Arkansas will be at 2:30 p.m. on CBS.
Practice report
Coaches mixed things up at linebacker Monday, with Johnson working alongside Hightower in the interior and junior Jerrell Harris practicing with the outside linebackers. Backing up the interior linebackers were junior Chris Jordan and freshman C.J. Mosley.
Both senior defensive end Luther Davis (knee and ankle) and junior center William Vlachos (foot) suited up, with Alabama working outside in helmets and shorts despite near-100 degree conditions.
Vlachos was back in his usual spot, while Davis was behind sophomore Damion Square during individual drills. Junior linebacker Courtney Upshaw (ankle) also practiced.
"Luther Davis is the only guy who may not be 100 percent in practice today with an ankle and a sprained knee," Saban said beforehand. "He should be okay by tomorrow."
They said it
McElroy considers having the nation's best passer-efficiency rating to be the ultimate compliment for a quarterback: "That is. I told you guys during the preseason that I was really, really wanting to focus on having a high completion percentage, and we've been able to execute that pretty well to this point."
Saban on a report that the NCAA sent out letters to 20 to 30 NFL agents notifying them that NFL Players Association is requiring their fill participation into an NCAA investigation, a move that is believed to be unprecedented: "I don't really know the answers to all those questions. I do think it's a step in the right direction. I think it shows that there is some unified effort with the NCAA, the coaches association, the NFLPA and the NFL to try to create some solutions to something that has become a problem. Anytime you have this many good players suspended for two to four or however many games, it's not good for college football, it's not good for pro football, it's not good for the players, and it's not really good for anything."
Saban on his relationship with Michigan State coach Mark Dantonio, who suffered a heart attack after Saturday's victory over Notre Dame: "First of all, I haven't talked to him. I've tried to get in touch with him but it's been a little difficult, but our thoughts and prayers are with him and his family. He did a fantastic job for us a long time - five years at Michigan State and has been a very good coach everywhere he has been. He's done a great job at Michigan State and had a great win against Notre Dame. The one thing that I remember is he was always in a hell of a lot better shape than I was so that's kind of a wake-up call to me to make sure I'm doing the right things and taking care of myself. It was really kind of a shock because he was so into physical fitness, good health, and good conditioning all the time. Hopefully this will resolve and in a few weeks he'll be back to normal and won't have any future issues."
Tide-bits
Alabama updated its participation chart from Saturday, crediting 65 players as getting into the game.
Ingram on Reggie Bush relinquishing his Heisman Trophy: "I'm really not going to get into that."
Julio Jones on the block-to-the-back flag to nullify his long punt return: "I kind of saw it out of the corner of my eye. When I went back and watched it on TV it was kind of a shaky call on Dre (Kirkpatrick). He didn't really hit the guy." Kirkpatrick apologized anyway. "It's ok, it happens," Jones said.
Fans noticed that the first people to talk with freshman running back Eddie Lacy following his fumble Saturday were fellow running backs Ingram and Richardson. Their message: "Just let it go because it will hinder you," Ingram said.
Redshirt freshman defensive end Darrington Sentimore has been getting grief from teammates for pushing Mosley out of the way while trying to make a sack against Duke. "Darrington is a guy with a high motor," Square said. "If you don't get out of the way or make the play yourself he's going to come up behind and make the play, so you had better (do it)."