Notebook: Tide continues to turn out turnovers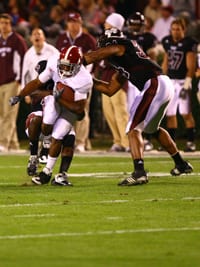 STRARKVILLE, Miss. _ The doubters now have their answers.
When the University of Alabama football team began fall practices in August, there were two main questions regarding the secondary:
1. How would sophomore
Mark Barron
replace Rashad Johnson as a starting safety, and;
2.Would teams be able to attack senior
Marquis Johnson
like Florida did last year in the SEC Championship Game?
Well, Johnson was almost ready to go thank Mississippi State coach, and former Florida offensive coordinator, Dan Mullen on Saturday night for making him improve.
"I'm opportunity I had the chance once again to prove myself," Johnson said after breaking up three passes in the end zone and nabbing an interception on Mississippi State's final offensive play of the 31-3 game.
"I needed this one," Johnson said of the pick. "I had to get it."
Meanwhile, Barron made two interceptions and now leads the Southeastern Conference in that category with six.
"It makes it easy for the cornerback when you have a safety who can play like that," senior cornerback
Javier Arenas
said. "With both of them it makes it easy for us to be more aggressive."
With three interceptions Saturday, Alabama has produced 16 turnovers in the last six games, including 10 interceptions.
Overall, the Tide has forced 20 turnovers in 10 games this season (2.0 average), while the offense has given up only 10 for a plus-10 turnover ratio.
Winning streaks continue
With Saturday's victory, Coach Nick Saban has posted back-to-back 10-win seasons for the first time in his career.
It's Alabama's 30th 10-win season, which ranks second in college football behind Oklahoma's 31.
The last time Alabama had consecutive 10-0 starts was 1973-74.
Injuries and starters
Sophomore running back
Mark Ingram
needed five stitches to close the cut on the edge of his right eyebrow, but managed to return in the second half.
Redshirt freshman Michael Williams started in Peek's place, but did not have a reception.
Senior safety Justin Woodall appeared to dislocate a finger early in the game, but returned.
Tide-bits
The one obvious area of concern after Saturday's game was kick returns, with MSU returning six for 212 yards. "We had a couple of special-teams boo boos on kick coverage," Saban said. "We thought we had improved and done a lot better, but had a couple come out tonight. We have to get that corrected."
The black jerseys surprised the Mississippi State players. "The first time I asked him about it was a while back," senior linebacker Jamar Chaney said. "I had no idea we were going to wear them until we came in the locker room after warm-ups wearing maroon. He told his he had a surprise and pulled them out."
MSU quarterback Tyson Lee on Alabama's defense: "They are similar to Florida. They are real big, fast, and they move well."
Alabama set attendance records in both appearances in the state of Mississippi this season. Saturday's game attracted a stadium-record 58,103. ... Former Alabama player Patrick Hanrahan was playing fullback for the Bulldogs. ... Alabama leads the all-time series 73-18-3. ... Team captains were Julio Jones, Mike Johnson, Rolando McClain and Cory Reamer.