Notebook: Specialty role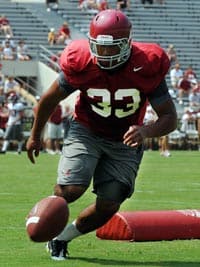 TUSCALOOSA | The first names that come to mind concerning the University of Alabama's departed football talent are the likes of Trent Richardson, Mark Barron and Dont'a Hightower.
But when it comes to special teams, guys like Hardie Buck, Will Lowery and Brad Smelley have to be replaced as well.
Along with setting offense and defense in fall camp, the Crimson Tide must also fill special teams roles on its coverage and return units, and finding the right personnel for those jobs isn't easy.
"If they're going to give effort and play with toughness, then they have to be responsible to do their job and do it with discipline so we're not getting penalties or making poor judgements and decisions," UA coach Nick Saban said. "So, it's not just about effort, it's about channeling that effort into productive performance that's going to play winning football for you on the special teams. Hopefully we'll have some young guys that do that. There have been some guys that have showed that they really want to do that and that's important to them. And that will be beneficial to us. Because the more you have to play starters on special teams, I think that affects you long-term in terms of the wear and tear that you have on guys and how they get worn down in games."
Two young players who stepped into immediate roles on special teams last year were Vinnie Sunseri and Trey DePriest, and both flourished with the opportunity. Saban said he tells players frequently that every NFL starter has to show special teams ability, and that it is far better to learn special teams as a young college player than to be inadequately prepared to face that challenge at the next level.
Sunseri and DePriest were the leading tacklers in Alabama's freshman class last year, and their performance on coverage units is one reason for it.
"It's always great when you have four or five guys that are core (special) team players and they see that as their role on the team and they're just about on every team, kind of like how Vinnie and Trey DePriest were last year and they do a great job on those teams," Saban said. "Four or five guys can have a tremendous impact."
Veteran special teams players returning at Alabama include Michael Williams and Dee Milliner.
Recruit transferring
Alabama football commitment Darius Paige intends to transfer from Pensacola (Fla.) Washington High to Foley High, a move that has raised eyebrows at the Florida Panhandle school. According to the Pensacola News-Journal, a Washington High assistant coach said the move came at the behest of UA assistant coach Jeremy Pruitt. George Schellang described feelings of "shock and dismay" about the situation, noting that Paige believed Foley would be a better option for him academically. Foley coach Todd Watson told the News-Journal Paige had "showed up" at Foley but had not yet enrolled. Schellang said Washington Athletic Director Troy Faucheaux had reported the transfer to the Alabama High School Athletic Association and the NCAA.
Under NCAA rules, UA coaches are not permitted to comment on prospective recruits.
Black questionable
Freshman wide receiver Chris Black injured his shoulder Sunday during the Fan Day practice and was to be re-evaluated by doctors on Tuesday.
"We're not sure about what his status is," Saban said. "It's very, very questionable."
Black has been at practice the last two days but has been limited during individual drills.
Saban on Twitter
Asked about a team policy on social media, Saban said players are not allowed to divulge information about the team. Beyond that, players with Twitter feeds are expected to post responsibly. Players' Twitter feeds are monitored by the program.
"Abuse brings control. ...As long as they do that responsibly, I trust them," Saban said. "When they don't, then abuse brings control. Pretty self-explanatory."
Tidebits
Twenty years after UA dethroned Miami in the Sugar Bowl, the UM quarterback and Heisman Trophy winner on that team will be the color analyst for two Alabama games this fall for Touchdown Radio Productions. The first will be UA's Oct. 13 trip to Missouri, the second its home game two weeks later against Mississippi State. ... Saban said he hoped to learn the academic status of incoming freshman Brandon Hill on Tuesday. Hill is the only 2012 UA signee awaiting word on his NCAA eligibility. ... Players practiced indoors due to rainy weather Tuesday on the first day the team was in full pads. Alabama's first two-a-day session begins today at 9:30 a.m., with an evening practice scheduled for 7:30 p.m. (closed to public).
Join TideSports.com for a 7-day free trial
HERE!
Reach Chase Goodbread at chase@tidesports.com or at 205-722-0196.