Notebook: Saban talks coaching biz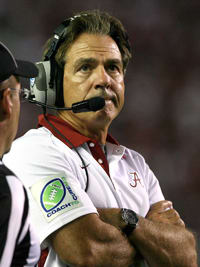 TUSCALOOSA | A member of University of Alabama coach Nick Saban's coaching "tree" was terminated over the weekend in Tennessee coach Derek Dooley, who coached for Saban at LSU and with the Miami Dolphins. A rival coach, Gene Chizik, is battling questions about his own job security at Auburn.
As the Crimson Tide prepares to host the Iron Bowl Saturday with the highest of aspirations, other programs in the Southeastern Conference are feeling winds of change. Searches are on at Kentucky and Arkansas, underway well before the Volunteers announcement. Dooley was let go after three seasons, and a 41-18 loss to rival Vanderbilt, UT's seventh loss of the year.
Saban acknowledged the nature of college coaching demands quick success.
"I think it is what it is. There's a lot of attention to what we do. I think there's a high expectation for what we do. Derek Dooley is a good friend," Saban said. "He's been very, very loyal for seven years working on our staff. Regardless of what he did or didn't do at Tennessee, he's still someone who is a professional colleague and a good friend who we would love to help in any way we can."
Chizik is less than two years removed from winning a BCS National Championship, but faces fan unrest stemming from a 3-8 season that doesn't include an SEC win.
"I personally think Gene Chizik has done a really good job. All I know is playing against him, it's always a tough game," Saban said. "They're always well coached and they're always well prepared, and that's all I can really comment about. I think that sometimes that the standard that everybody wants all of us to play to is not something that is a continuum. … I fully understand that two years from now if we don't continue to have a good team, then I'll be in the same seat that other people are in now. It's the nature of the beast in our profession."
Report: UA-CSU deal close
The University of Alabama and Colorado State are close to an agreement to play football games in Tuscaloosa in 2013 and 2015, the Denver Post reported. UA coach Nick Saban said he would leave it to the school administration to handle schedule announcements, but confirmed Alabama is short one non-conference game for 2013. Such an agreement would bring former UA offensive coordinator Jim McElwain back to the sideline in Tuscaloosa. McElwain served on four Saban staffs from 2008-2011 before taking the CSU head coaching job.
According to the report, the Rams could receive more than $1 million for each game. That would be a record payout for a Bryant-Denny Stadium visitor, topping San Jose State's guarantee of $900,000 to play Alabama's 2010 season opener. Although Kent State received $1.2 million from Alabama in 2011, UA offset some $500,000 of that when Louisiana-Monroe bought out a contract to play UA.
Noteworthy
Christion Jones is maintaining his role at punt returner. Freshman Cyrus Jones fielded punts after Christion Jones mishandled one against Western Carolina, but Saban said that move was made to get the freshman more experience. ... Junior cornerback John Fulton (turf toe) has returned to the practice field. Saban indicated Fulton would be limited Monday. ... Saban said running back Kenyan Drake, suspended for Saturday's game against Western Carolina, can play this week against Auburn.
Quotable
"It was my first Iron Bowl, as a matter of fact. It was exciting. I was ready to play that day." - UA linebacker Nico Johnson on attending the Iron Bowl as a high school senior recruit.
Tidebits
UA cornerback Dee Milliner was named to the Thorpe Award finalist list as the nation's top defensive back, while defending Outland Trophy winner Barrett Jones was named an Outland finalist. Milliner joins two other finalists, Mississippi State's Johnthan Banks and Fresno State's Phillip Thomas. The Outland cut also went to three: Jones, Texas A&M's Luke Joeckel, and North Carolina's Jonathan Cooper. … The UA coaching staff's players of the week for the Western Carolina game were Michael Williams, Chance Warmack and Anthony Steen on offense, linebackers C.J. Mosley and Nico Johnson on defense, and special teams performers Brent Calloway and Landon Collins.
Reach Chase Goodbread at chase@tidesports.com or at 205-722-0196.

Click
Here
to view this Link.